Tim Hecker, Napalm Death, Gunplay, Wolf Eyes & more playing RBMA's "Hardcore Activity in Progress"
Gregory R. Cristman
Napalm Death @ Gramercy Theatre, 2012 (more by Greg Cristman)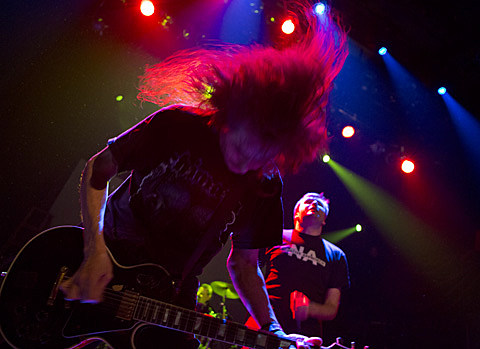 We ran down all the 2014 Red Bull Music Academyevents yesterday, and one we wanted to shed a little bit more light on is the incredible Hardcore Activity in Progress show that will be going down at the Knockdown Center in Queens on Friday May 16. Tickets are on sale now.
"Hardcore" here doesn't imply the genre -- ambient experimentalist Tim Hecker is billed alongside grindcore legends Napalm Death, while noise originals Wolf Eyes cozy up with Bible On the Dash having Gunplay. ("This is our hardcore" says RBMA.) In fact, hardcore is one of the few genres left off the bill, which looks to be one hell of an eclectic night. Regis will provide techno, and Bastard Noise will provide insanity.
Red Bull Music Academy hosted Drone Activity in Progress at the Knockdown Center last year, and as anyone who went knows, it was a blast, with dozens of experimental electronic artists split across a number of stages throughout the cavernous venue. That night featured Vatican Shadow, Body/Head, Pete Swanson, Alberich, Pharmakon and many more -- for those who attended, it was surely one of the more memorable shows of last year. All the stops were pulled out, and I imagine that will be the case for Hardcore Activity in Progress.
The Knockdown Center is a little ways out there, so hopefully they'll be running a shuttle like they did last time. Full lineup and flyer below...
Hardcore Activity in Progress line-up
Tim Hecker
Napalm Death
Gunplay
The Thing
Wolf Eyes
Regis
Bastard Noise
Lubomyr Melnyk
Skullflower
Joe McPhee/Chris Corsano
Okkyung Lee
Clipping
Yoshiko Ohara
Reg Bloor
Gnaw