Titus Andronicus & Grooms played w/ The So So Glos @ Knitting Factory (pics), playing CMJ shows (dates)
Photographer: Bryan Bruchman
Titus Andronicus @ Knitting Factory

"In a room packed with family and friends, So So Glos absolutely killed it. I love this band. Every time they get up on stage they put their all into what they are doing, and they clearly love rock and roll. You know someone really loves what they're doing when, after six weeks of the same thing every night, the guys in this band are still moshing and mouthing all the words to Titus after their own set. What a genuine bunch of dudes. When they take the stage, they make it seem like the guitars are their weapons, and they're using rock and roll to energetically fight for everything good in the world. I did once see them almost start a fight at Death By Audio, but tonight was just good vibes all around, with an energetic under-aged crowd moshing along up front and us older folk enjoying ourselves, merely absorbing the So So Glos from the back.

Titus Andronicus was about the same as well. Patrick Stickles is an amazing front man. He's totally bizarre, with an enormous black beard and eccentric stage banter. You can tell he's obviously the force behind both the literary and smart punk songs the band churns out. I'd seen Titus in the past with a bigger lineup and more instruments, including a keyboard. This time around they were just guitar, guitar, bass and drums. While I do think that they lost some of their grandeur with the departure of the keyboards, Titus didn't just power through their angst-ridden teenage tunes. Stickles mastered his guitar feedback to dramatic effect, with exciting builds and pauses. When this band releases their next album in 2010 (around March, Stickles promised), their career will certainly be unstoppable." [Breakthru Radio]
The So So Glos are currently touring Europe with The Virgins. Dates are below.
Brooklyn's Grooms (who used to be called Muggabears) have a slew of CMJ appearances coming up. They play a non-CMJ show on Tuesday (10/20) at Death by Audio, a Force Field CMJ show at Pianos on Oct. 21, the In Tandem Magazine CMJ show at Littlefield on on Oct. 23, and an After the Jump day show on Oct 24 at Brooklyn Bowl. Rejoicer, Grooms' debut, came out October 20th on the Death By Audio label.
The rest of the Knitting Factory pictures, some fliers and all tour dates, below...

Knitting Factory....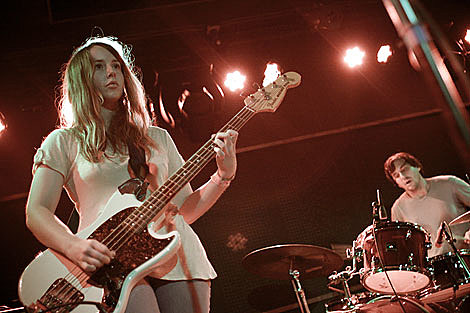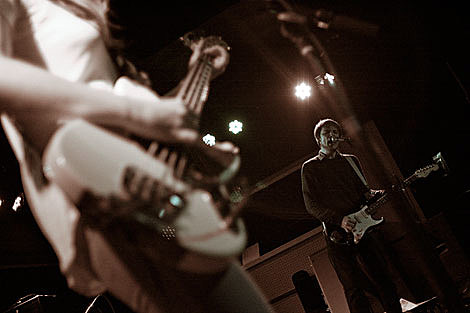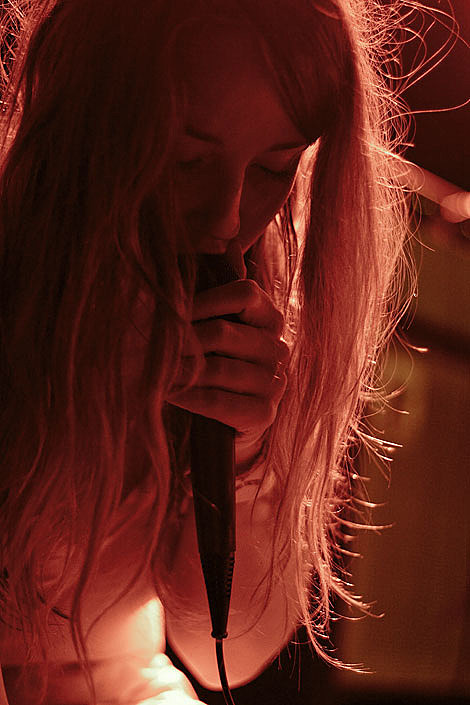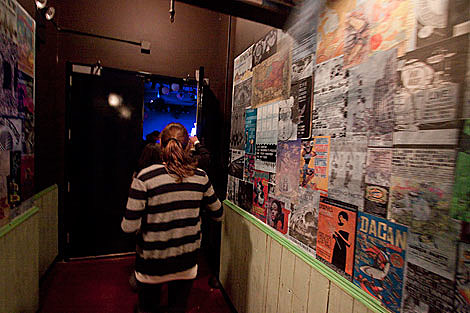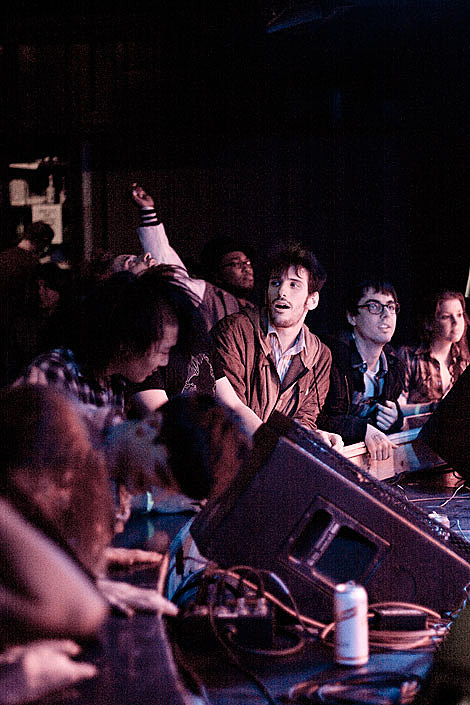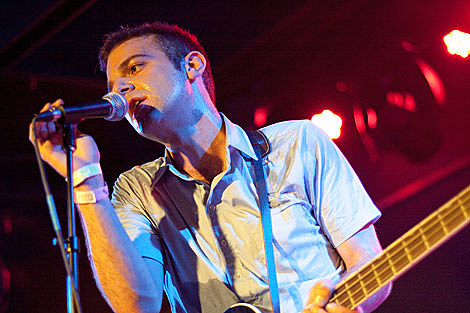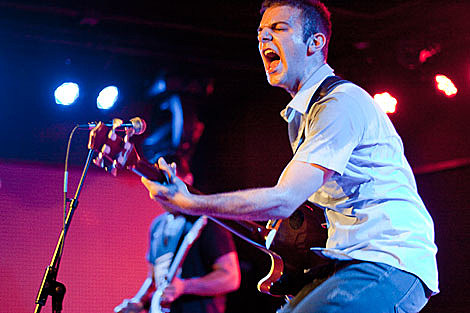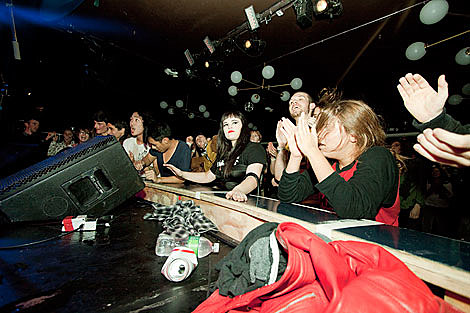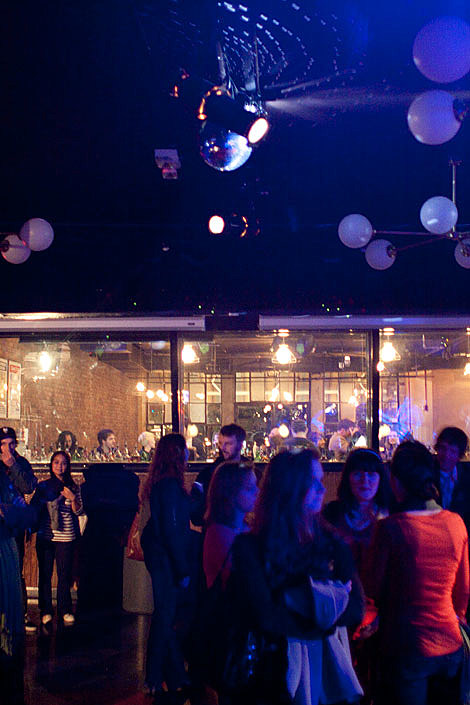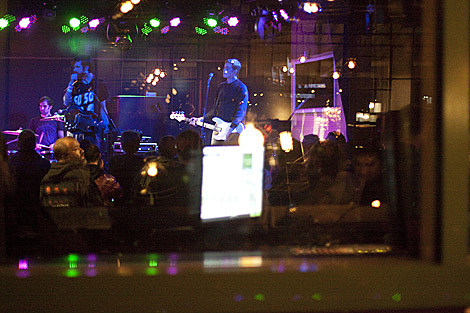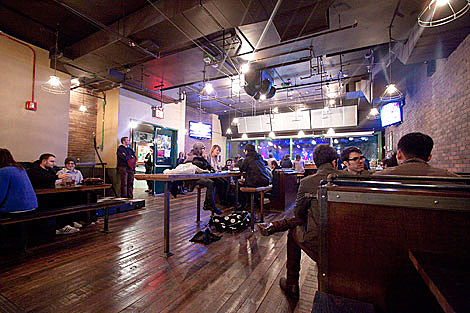 Titus Andronicus - 2009 Tour Dates
Oct 20 Webster Hall w/ Here We Go Magic, Woods, Beach Fossils
Nov 05 Brooklyn Masomnic Temple w/ Fucked Up
Grooms - 2009 Tour Dates
10/19 Washington, DC The Black Cat $
10/20 New York, NY Cake Shop (Pop Tarts Suck Toasted CMJ Party) 3:45pm
10/20 Brooklyn, NY Death By Audio
10/21 New York, NY Pianos (Force Field PR CMJ Day Party) 2:15pm
10/23 New York, NY Littlefield (IN*TANDEM CMJ Showcase) 8:00pm
10/24 Brooklyn, NY Brooklyn Bowl (After The Jump CMJ Party) 2:00pm
11/05 Danbury, CT Larry's
11/08 Providence, RI AS220
11/15 Cincinnati, OH Contemporary Space 13
11/16 Bloomington, IN Bishop Bar
11/17 Kansas City, KS Record Bar
11/24 Des Moines, IA Vaudeville Mews
11/25 Chicago, IL Ronny's
11/28 Madison, WI Project Lodge
12/05 Dallas, TX Handsome Kitten
12/10 Los Angeles, CA Silverlake Lounge
$ = w/ True Womanhood
The So So Glos - 2009Tour Dates
Oct 19 Le 106 w/ The Virgins Rouen, France
Oct 20 Olympic w/ The Virgins Nantes, France
Oct 21 Theatre Barbey w/ The Virgins Bordeaux, France
Oct 23 Bikini w/ The Virgins Toulouse, France
Oct 24 La Casa Musicale w/ The Virgins Perpignan, France
Oct 26 Bataclan w/ The Virgins Paris, France
Oct 29 Cartonnerie w/ The Virgins Reims, France
Oct 30 Autre Canal w/ The Virgins Nancy, France
Oct 31 Laiterie w/ The Virgins Strasbourg, France
Nov 01 Alte Borse w/ The Virgins Zurich, Switzerland
Nov 03 Bierhuebeli w/ The Virgins Bern, Switzerland
Nov 04 Usine PTR w/ The Virgins Geneva, Switzerland
Nov 05 Backstage w/ The Virgins Munich, Germany
Nov 06 Schocken w/ The Virgins Stuttgart, Germany
Nov 07 Schlachtof w/ The Virgins Weisbaden, Germany
Nov 09 Gebaude 9 w/ The Virgins Koln, Germany
Nov 10 Uebel & Gefaehrlich w/ The Virgins Hamburg, Germany
Nov 11 Maria w/ The Virgins Berlin, Germany
Nov 12 Gleis 22 w/ The Virgins Munster, Germany
Nov 14 Halle 02 w/ The Virgins Heidelberg, Germany
Dec 02 First Unitarian Church w/ Ted Leo + the Pharmacists Philidelphia, Pennsylvania