Titus Andronicus, Devendra Banhart, Andrew Bird, Jon Benjamin and Jon Glaser helped Yo La Tengo celebrate Hanukkah night 7 at Maxwells (pics, setlist)
photos by PSquared Photography
YLT w/ Andrew Bird / the Jons / Titus @ Maxwell's, 12/14/2012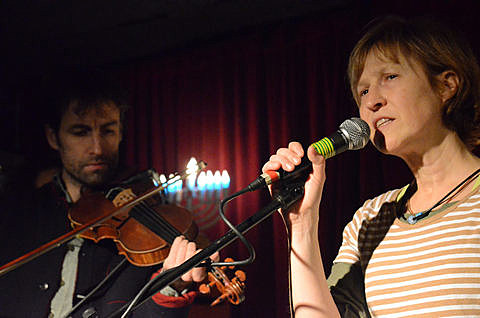 Titus Andronicus opened the night with a roar -- I always read about them as being a punk-rock group, and maybe they are in the old-fashioned (and my favorite) definition of that term as "indescribable." Patrick made the only mention from the stage of the night about Connecticut, which makes him stronger than me. A great set, closing with the breathtaking one-two of "Titus Andronicus Forever" and the seasonal favorite "Roadrunner"...

...If you spend any time around the three of us, sooner or later you'll hear one or everybody burst into "Acappella Ghostbusters," as made famous by Jon Glaser and Jon Benjamin's Soundtrackappella (or is it Soundtracappella -- I forgot to ask, but that's ok, they'd have given me two different answers). Ten years after Hanukkah 2002, we asked them if they agreed with us it was time for a return engagement. - [YLT]
On the penultimate night of Hanukkah (and a bad vibe day to put it mildly), Yo La Tengo did their best to keep spirits high, with special guest Andrew Bird (as speculated) sitting in on violin for the entirety of their set, and guest vocalist Devendra Banhart (who narrates the Tim Maia short film which screens for free in Brooklyn Sunday) singing for the encore. (Setlist is below.)
As speculated and then expected, fellow New Jersyians Titus Andronicus made for one of the highest profile openers of the week, and Jons Benjamin and Glaser brought the funny.
The night's Charity was Waves for Water's Hurricane Sandy Relief Initiative and Ira Kaplan made the mix CD. Tonight's the last night of their Hanukkah run -- who will be the openers? UPDATE: Teenage Fanclub's Norman Blake and Gaylord Fields open the final night.
Past nights included Barbara Manning, El-P, Real Estate, The Feelies, Sun Ra Arkestra, and the Raybeats.
More pictures from Night 7 are below, along with YLT's setlist.

---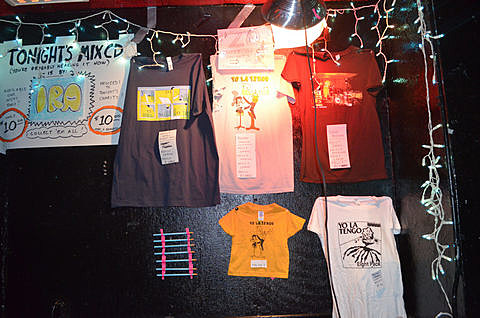 Titus Andronicus
Andrew Bird and Yo La Tengo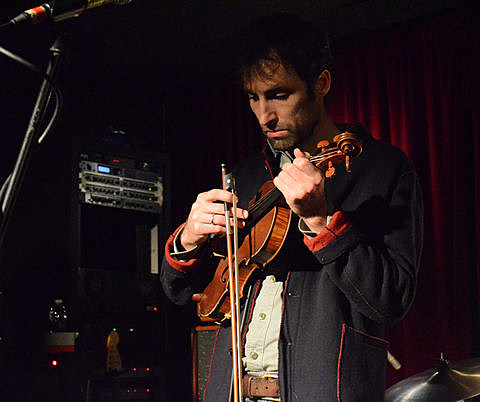 Devendra Banhart
Yo La Tengo @ Maxwell's, 12/14/2012 (Hanukkah night 7) (via Jesse Jarnow)
Everyday
One PM Again
How To Make A Baby Elephant Float
Last Days of Disco
Flying Lesson (Hot Chicken #1)
Little Eyes
I Fall In Love Too Easily (Jule Styne & Sammy Cohn) (Andrew Bird on vocals)
When It's Dark
I'll Keep It With Mine (Bob Dylan)
Stupid Things
More Stars Than There Are In Heaven
Heroin (Velvet Underground) (Roky Erickson arrangement)
*(encore)*
Griselda (Antonia)
Song For the North Star (Jorma Kaukonen) (with Devendra Banhart on vocals)
If I Only Had A Match (Lee Morris, Arthur Johnson, & George W. Meyer) (with DB)