Titus Andronicus played new songs, covered "Closing Time" at Warsaw w/ Eagulls, D'NT, Low Fat Getting High (pics/videos)
Titus Andronicus / Eagulls @ Warsaw - 6/12/14

Brooklyn's Northside Festival began last night (6/12) with multiple shows, including Titus Andronicus / Eagulls / D'NT / Low Fat Getting High at Warsaw, one of the shows we were excited to see. LFGH and D'NT provided local support, with the former ripping through Nirvana-style (think "Negative Creep" or "Breed") punk/grunge and the latter (a duo) playing something like QOTSA-style stoner rock. Low Fat also just put out a video for "Police Cop" yesterday, which you can watch below.
Then came UK post-punks Eagulls who I'd only previously seen on CMJ/SXSW showcases, and I think benefitted from the larger stage, light show and smoke machines. (They could stand to not talk to the sound guy every 3 minutes about adjustments though.) Diversity isn't this band's game just yet (though they only have one album and one EP so far), but they're a promising group for sure and their best songs ("Nerve Endings," "Coffin") sounded on point last night.
Eagulls are also play the free outdoor Space Ninety 8 Stage on Saturday afternoon (6/14) located on Bedford between N. 5th and N. 6th. They're on at 3:40 PM and the other bands on the bill are Teen Girl Scientist Monthly, traumahelikopter, Your Friend, Neighbors, and Piers.
Finally Titus Andronicus wrapped up the show with a fairly long set (roughly two hours) that included a good amount of material off that rock opera they're working on. One would assume these songs will be pieced together in a coherent, Tommy-style matter, so I don't want to judge the new songs yet, but I will say that any fans of the last three albums are likely gonna be into these too. The songs themselves all seemed on the shorter, tighter, Local Business-y side, though they did play one borderline ballad which was a highlight of the set.
A handful of favorites were of course played from the last three albums too, and the crowd of course ate up "Fear and Loathing in Mahwah, NJ," "A More Perfect Union," "In A Big City," and the rest of them. Stage divers and moshers (or more like "pushers") galore, despite Patrick Stickles basically ridiculing both moshing and stage diving more than once throughout the set. And, like many Titus shows, a few covers were played. Patrick said his mom was in the audience, and since she grew up in the '60s he graced her and the rest of the crowd with a cover of The Stones' "Jumpin' Jack Flash." And what seemed like was going to be a 15-second joke/teaser turned into a full cover of Semisonic's "Closing Time" (people even moshed to that!) before the actual set-closer, "The Battle of Hampton Roads." And if you're wondering if the "Closing Time" joke ever gets old, from the hundreds of people shamelessly singing along last night, I'd say it doesn't.
More pics of all four bands, videos of both Titus covers, and the Low Fat video, below...

---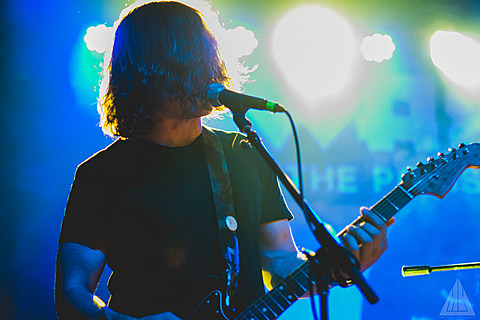 Low Fat Getting High" - "Police Cop" Official Video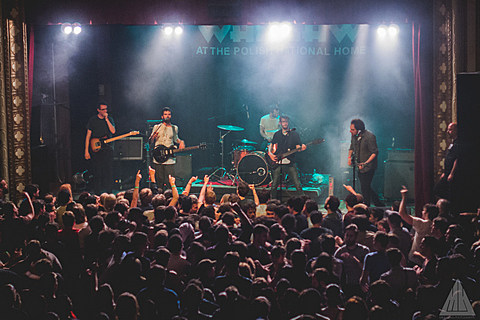 Titus Andronicus - "Closing Time" at Warsaw - 6/12/14

Titus Andronicus - "Jumpin' Jack Flash" at Warsaw - 6/12/14