Toadies – Lollapalooza pics & 2008 Tour Dates
Reunion tours are capable of taking the public by surprise: "That band is getting back together?"

But in certain cases, the band members themselves can be caught unaware. That's more or less what happened with the Toadies, an act not much heard from since it splintered a half dozen years ago, and one that's been out of the brightest of spotlights since the song "Possum Kingdom" was a major alternative-rock hit in the mid-'90s.

The notion of a reunion dawned on Vaden Todd Lewis when he was writing songs in his Fort Worth, Texas, home last year -- after his most recent band, Burden Brothers, fell apart. [STLToday]
Toadies recently sold out and played Bowery Ballroom before I even realized they were a band again (they played on a NYC rooftop that same night). I actually wasn't personally looking for them to be a band again, but more and more people I talk to are excited about it and Zach managed to catch them at Lollapalooza. Time Out Chicago was there too. They wrote...
I vaguely recall the Toadies from the heyday of alternative, when bands that sounded like Puddle of Mudd covering ZZ Top could slide a song on radio playlists. I'm not sure what's most shocking--that I recognize "Backslider," the grey-haired age of the players (were the '90s that long ago?), or the horde of Toad-heads (I think/hope I just made that up) gong nuts to hear this.
Tickets are now on sale for upcoming shows at Webster Hall and Starland Ballroom. More Lolla pics and all tour dates below...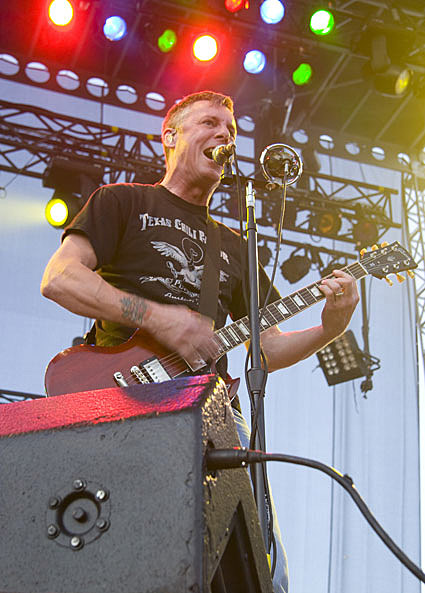 The Toadies - 2008 Tour Dates
Aug 21 - Click's Tyler, Texas
Aug 22 - The Palladium Dallas, Texas
Aug 23 - Northgate Music Festival College Station, Texas
Aug 26 - The Warehouse Shreveport, Louisiana
Aug 27 - The Varsity Theater Baton Rouge, Louisiana
Aug 29 - Verizon Wireless Theater Houston, Texas
Aug 30 - The Pavilion at Concrete Street Corpus Christi, Texas
Aug 31 - (first annual) Dia De Los Toadies @ Possum Kingdom Lake Graham, Texas
Sep 3 - Stubb's Waller Creek Amphitheatre Austin, Texas
Sep 4 - Stubb's Waller Creek Amphitheater Austin, Texas
Sep 6 - Dos Amigos Odessa, Texas
Sep 8 - The Brickhouse Theater Phoenix, Arizona
Sep 9 - Belly Up Tavern Solana Beach, California
Sep 11 - Roxy Theatre Los Angeles, California
Sep 13 - House of Blues Anaheim, California
Sep 14 - House of Blues Las Vegas, Nevada
Sep 16 - Slim's San Francisco, California
Sep 17 - Boardwalk Sacramento, California
Sep 19 - Showbox Market Seattle, Washington
Sep 20 - Hawthorne Theatre Portland, Oregon
Sep 21 - Knitting Factory Concert House (formerly known as Big Easy) Boise, Idaho
Sep 23 - Belly Up Aspen, Colorado
Sep 24 - Gothic Theater Englewood, Colorado
Sep 25 - Lonestar Events Center Lubbock, Texas
Sep 26 - Midnight Rodeo Amarillo, Texas
Nov 06 - Webster Hall, NY, NY
Nov 07 - Starland Ballroom, NJ