Tokyo Police Club, Two Door Cinema Club & Someone Still Loves You Boris Yeltsin played Terminal 5 (pics & setlist)
"Tokyo Police Club at Terminal 5. These men do indie rock well" - Luke McCormick
In the awkward land of co-headlining shows there's always one band that you think should be the headliner. Personally, going in, I knew all along that Tokyo Police Club would be that band when they and Ireland's Two Door Cinema Club performed at Terminal 5 on Friday. Having been thwarted in three previous attempts to see them live (the most notable being an unfortunate corresponding time slot opposite My Bloody Valentine at All Points West in 2009) I was still hoping the band that drew me way in with their excellent Lesson In Crime EP and followed it up with two hook-laden full-lengths would be the same one taking the stage as part of "The Last.fm Festival".
But going on after Two Door Cinema Club and their highly polished electro-pop anthems, complete with blinding light show, Tokyo Police Club seemed to spend most of their set trying to match TDCC in both sound and arena rock grandeur, when their songs, as brash and catchy as they are, beg for slightly more nuance. Or perhaps restraint. I was a tad let down, but more on that later
Two Door Cinema Club's set, for long periods, sounded like the same song over and over - did they just play "Undercover Martyn" or "Something Good Can Work"? - with the same high hat-led dance beat as well as recorded backing track and even canned horns on set opener "Cigarettes in the Theater". "What You Know" was a highlight as Alex Trimble crunched out a solitary guitar riff and then sang without accompaniment before the rest of the band launched in to support him. Yet, even then, the catchy guitar pluck so noticeable on record was lost, such the volume of the backing track.
Bloc Party instantly comes to mind but for all the pulsing lights and clear, bigger venue ambition TDCC have a long way to go and are still short on variety before they can match that kind of live performance. But the sold-out crowd was very much into the set and prior to the sing-along of set closer "I Can Talk" (also a highlight) Trimble pulled extra applause when he mentioned how great their CMJ performance at Webster Hall was last October but that "tonight was even better."
Happy Birthday Dave Monks

That Tokyo Police Club entered to the dying strains of Bill Conti's "Theme from Rocky" (their 2010 release was, after all, called Champ), underscored how much of an underdog they may consider themselves. For a band that was set to call it a day before the Pop Montreal performance that ultimately led to them signing their first record deal, their first full-length Elephant Shell was unjustly considered a let-down on the heels of the Lesson EP (though it was featured quite a bit on Friday.)
"We're Tokyo Police Club and we're fucking excited to be here," said birthday boy and lead singer David Monks one song into their set. And you could tell how excited they were - Monks and guitarist Josh Hook pressed heads during "Nature Of The Experiment" and then Monks scurried over and pressed his head into keyboardist Graham Wright's back and then he was coaching the crowd in how to clap during "Tessellate".
But as Monks' vocals continued in a hollowed echo - like he was in a hangar instead of a terminal, it pulled more and more away from the rest of the band's sound. Monks is not shy on packing loads of lyrics into the band's sub-three-minute songs and it was frustrating to have them lost in the mix at times.
Though on songs like "End Of A Spark" which featured Passion Pit's Ian Hultquist on acoustic guitar, and the slow build of Champ's lead track, "Favourite Food" - songs that weren't straight forward postpunk - "Breakneck Speed" was another, everything fell into place and they showed why they deserve to be tops in the pecking order with their tour mates.
After they finished their set with "Wait Up", complete with audience participation on the "woo oooh ooohs" and "Your English Is Good" both Tokyo Police Club and Two Door Cinema Club came out for the encore. "We're going back to 2001," said Monks (who was 14 then), before the ensemble launched into The Strokes' "Last NIght". It was fun, wonderfully timed and the crowd ate it up. It was hands down the highlight of the evening as Monks and Trimble took turns on vocals and everyone else ended up on the drum riser playing to TPC drummer Greg Alsop.
Lost in the fray were Someone Still Loves You Boris Yeltsin who opened the night with a straightforward set of easy, indie-pop numbers. Including those from last year's subtly underrated, Chris Walla-produced, Let It Sway.
Andrew St. Clair was on hand for TPC's soundcheck and caught all three bands including the TPC birthday cake moment. More pictures from all of it, and the setlists below...

-
Tokyo Police Club soundchecking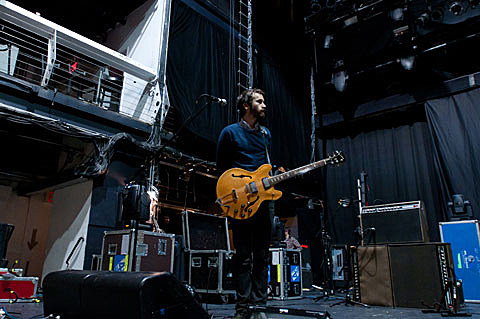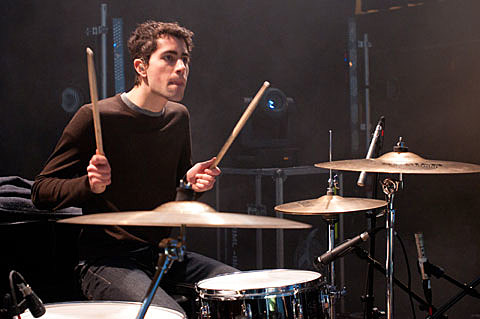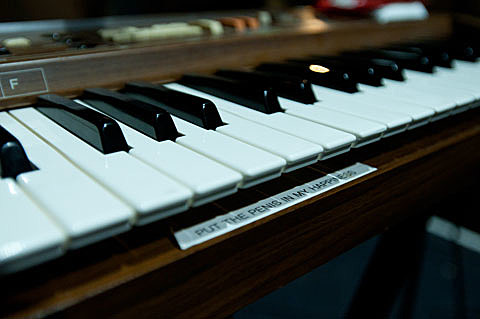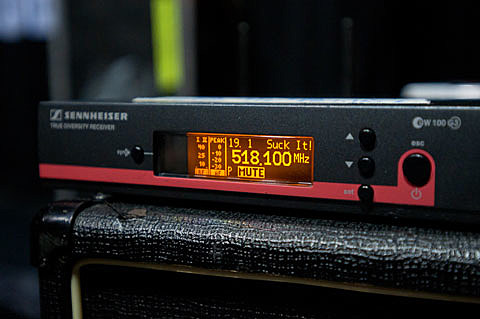 Someone Still Loves You Boris Yeltsin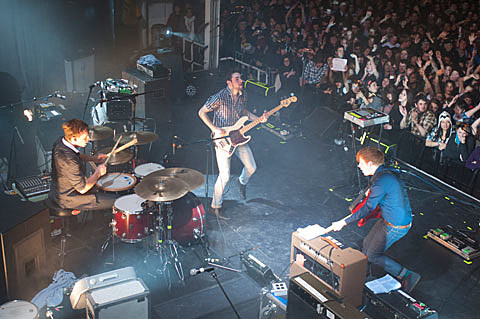 Tokyo Police Club (and Two Door Cinema Club)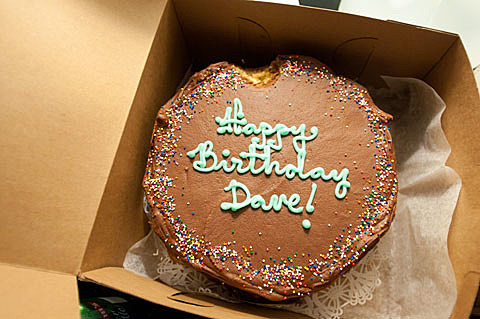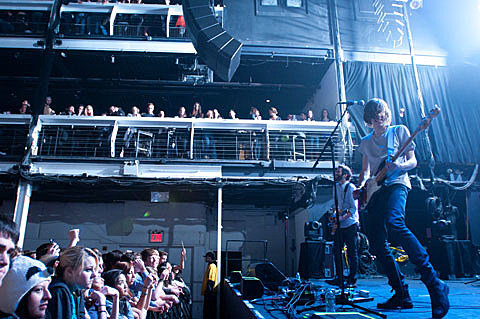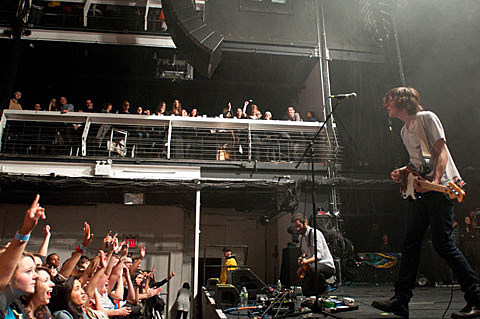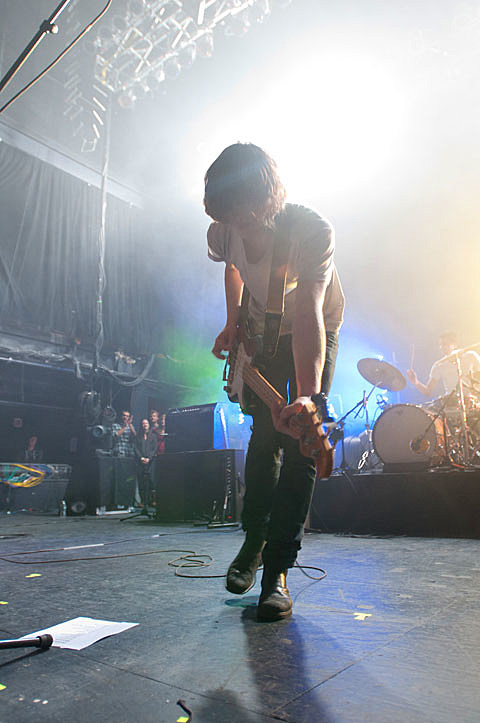 TPC Setlist
------
Favourite Colour
Nature Of The Experiment
Graves
End Of A Spark (Ian from Passion Pit)
Elephant Shell
Tessellate
Favourite food
Cheer It On
Be Good
Bambi
Frankenstein
Breakneck Speed
Citizens of Tomorrow
Wait up
English is good
"Last Nite" (Strokes cover with Two Door Cinema Club)