Tom Tom Club releasing an album & touring this fall (dates)
Tom Tom Club @ McCarren Pool in 2008 (more by Zach Dilgard)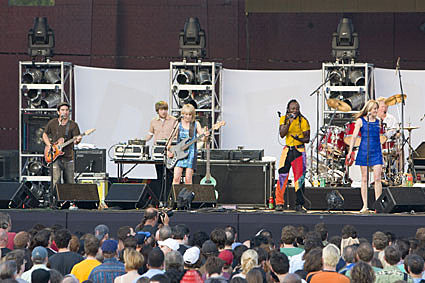 "Nacional Records is proud to announce the September 28th release of Tom Tom Club's 'Genius Of Live.' The iconic group's new album will feature select tracks from classic album 'Live At The Club House' as well as a Latin alternative remix tribute to the smash hit, "Genius Of Love." Tom Tom Club will embark on their first lengthy U.S. tour in 10 years this fall.

"It will be a real pleasure for us to see so much of the USA again this fall," says Tom Tom Club drummer/founder Chris Frantz. "We are all very excited about this tour, to go out and make new friends and reconnect with old friends. The band consists of seven players, is smoking hot and completely live. We don't use any sequencers or backing tapes at all!""
Tom Tom Club will kick off their tour on September 21st in Fairfield, CT and, after going all the way west, head back to end things at Santos Party House in NYC on October 14th (with Caravan of Thieves and Tony Castles). Tickets are now on sale. All dates and a video below...


Tom Tom Club - 2010 Tour Dates
9/21 - StageOne - Fairfield, CT
9/22 - - StageOne - Fairfield, CT
9/23 - Rock and Roll Hotel - Washington, DC
9/24 - Grog Shop - Cleveland, OH
9/25 - Midpoint Music Festival - Cincinnati, OH
9/26 - Exit In - Nashville, TN
9/27 - The Old Rock House - St. Louis, MO
9/28 - Metro - Chicago, IL
9/29 - Mickey Finn's Pub - Toledo, OH
9/30 - Phoenix Theatre - Toronto, ON
10/1 - Cabaret Mile End - Montreal, QC
10/2 - Higher Ground Showcase Lounge - Burlington, VT
10/3 - Paradise Rock Club - Boston, MA
10/8 - Great American Music Hall - San Francisco, CA
10/9 - The Getty - Los Angeles, CA
10/10 - Echoplex - Los Angeles, CA
10/12 - Casbah - San Diego, CA
10/14 - Santos Party House, New York, NY