Tom Vek, Wild Beasts, Urge Overkill, Wooden Birds, Rayon Beach, King Creosote, Radio Dept & more in This Week In Indie
by Bill Pearis
DOWNLOAD: Wild Beasts - "Loop the Loop" (MP3)
DOWNLOAD: The Wooden Birds - Two Matchsticks (MP3)
DOWNLOAD: Rayon Beach - Wave Pool Ether (MP3)
DOWNLOAD: John Wesley Coleman - Ooh Basketball (MP3)
DOWNLOAD: Urge Overkill - Effigy (MP3)
Tom Vek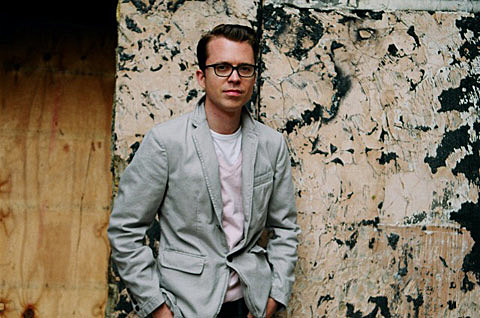 This week is kind of nuts. I know you're all probably just going to be spending it reading A Dance with Dragons or going to see Harry Potter, but here's your TWII action... let's get into it.
Tom Vek is here for two shows, his first U.S. shows since 2005: an early show tonight (7/12) at Mercury Lounge and tomorrow (7/13) at Union Pool. I don't think either are sold out. His second album Leisure Seizure -- six years in the making -- has remained in constant rotation on my stereo since getting a copy in May and I'm pretty excited for these shows.
The new record still sounds like Tom Vek -- the staccato drum beats, sparse arrangements, his laid-back vocal style -- and maybe it's the absence but it still sounds fresh. It's a great record and a welcome return. I have no idea who is in his band these days, but he was fantastic live back when he toured for We Have Sound in 2005. I have a feeling he's still got it.
Wild Beasts

Wild Beasts are over for four East Coast shows, including two nights at Le Poisson Rouge on Wednesday (7/13) and Thursday (7/14). (They're also playing Philly and D.C.) These will be the first the band have done since releasing their third album, Smother, back in May. As I've said before, this is subtler album than Two Dancers that shows the influence of Talk Talk and The Blue Nile in particular. It's a grower, as they say, and a worthy successor to 2009's best album. Check out "Loop the Loop" at the top of this post.
Live, Wild Beasts are truly something to behold,  transcending their records every time (at least every time I've seen them). Sky Larkin's Katie Harkin is playing keyboards with the band on this Stateside jaunt which is an added bonus for some of us. The rest of North America will get a chance to see Wild Beasts in September when they come back for a proper tour.  All 2011 dates are at the bottom of this post.
Urge Overkill

Shifting gears wildly, we've got Chicago rock gods Urge Overkill in town for two shows this week. They play the Rocks Off cruise on Wednesday (7/13) and then the Rock Shop on Saturday (7/16) as part of the venue's big One Year Anniversary which is happening all this week.
Urge Overkill were odd men out in the '90s, doing suave, heavily postured cock rock in an era dominated by slacker indie and stoner sludge. 1993's Saturation is one of the decade's classics, all big riffs and attitude that has only gotten finer with age. The same can't be said for 1995's Exit the Dragon, which found the band succumbed to the rock n' roll excesses the band exemplified. (There were even rumors the band were too fucked up to even play on its recordings, having most parts subbed by session musicians.)
There were various comeback gigs in the '00s but I don't think anybody expected them to make a new album. Which made this year's Rock'n'Roll Submarine (great title) a double shock: it exists and, more importantly, it's pretty awesome. Kato and Roeser keep the same flame alive: badass riffs, supercatchy choruses, and that unfakeable rock n' roll spirit. (No Blackie Onassis, but some chemistry is just too volatile apparently.) There's also a world-weariness that keeps it all real. They aren't trying to pretend they haven't been through some serious shit. But to paraphrase "Effigy" (downloadable at the top of this post), they've always taken the loud way.
The Wooden Birds

Lovely Austin band The Wooden Birds play two shows this week as well: Thursday (7/14) at Mercury Lounge and Friday (7/15) at The Rock Shop. As you may know at this point, this is Andrew Kenny's post-American Analog Set band, which still has his drony motorik style but in a much more acoustic setting. The Wooden Birds' sophomore album, Two Matchsticks, is (in my opinion) much better than their debut: the arrangements are more dynamic and the addition of Matt Pond (both on guitar and vocally) adds a lot. (Matt Pond PA's Chris Hansen is a touring member as well.) You can check out the title track to the new album at the top of this post.
Tune-Yards @ MHOW (more by Amanda Hatfield)

What else? Hudson River Rocks starts this week (Thursday 7/14) with tUnE-yArDs and Austra which is a pretty hard-to-pass-up free show. While I don't reach for her album much, there's no denying Merril Garbus is a magnetic performer who can win over crowds easily. While Austra's Katie Stelmanis doesn't quite have that charm, there is no denying her stage presence either and I'm a big fan of Austra's debut album which came out earlier this year. Thursday is supposed to be beautiful and this show seems like a no-brainer.
Rayon Beach

Austin's Rayon Beach play three shows this week: Thursday (7/14) at Don Pedro, then Friday (7/15) at Bruar Falls and Saturday (7/16) at Death by Audio. I wrote this a year ago and I think it still holds true:
Like a lot of the bands on Hozac Records (or bands from Austin for that matter), this trio fit under the psych/garage umbrella but there's a decided Brit bent to their music. Baroque garage, is that a thing? Think Syd-era Pink Floyd or The Pretty Things more than Woven Bones. Make no mistake -- Rayon Beach can and do get plenty loud. It's just sometimes with pinkies extended.
Rayon Beach are on tour with fellow Austinite John Wesley Coleman III who is awesome in his own right. Last year's Bad Lady Goes to Jail, on Goner, incorporates country, soul and R&B into his sound (not to mention a unique worldview). He definitely stands out amongst the garage pack. If you feel like you've heard enough of this stuff, do give JWCIII a shot.
Anglophiles might already know that Scottish indiefolk cult legend King Creosote is in town this week, playing a late show at Mercury Lounge on Thursday (7/14) and then at the Rock Shop on Sunday (7/17). Both shows are with the equally talented Jon Hopkins. I wrote about King Creosote back in March:
Scottish indie folk royalty Kenny Anderson, aka King Creosote. Anderson (whose brother Gordon was a founding member of The Beta Band and now fronts The Aliens) has been cranking out album after album of melancholic, wry songwriting since the late '90s. (Seriously, check out his discography.) Many of these have been self-released, but he's had records on Warner Brothers and Domino too.
Anderson teamed with Hopkins for his new album Diamond Mine that revisits and reworks gems from Anderson's 40-plus releases. You can check out the video for "Bubble" at the bottom of this post.
The Radio Dept

And now another weekend of Seaport-related shows. Friday (7/15)  is the final night of this year's abbreviated Seaport Music Festival, with The Radio Dept. The band are in the U.S. for this and the Pitchfork Festival in Chicago and that's it -- so we should count ourselves lucky. If you wanted to see them somewhere small, you're out of luck. (Unless you maybe found yourself at a shop that rocked on, say, Thursday night. Maybe.) Last year's Clinging to a Scheme was one of 2010's best albums (according to me) and though I do wish they'd get a drummer to play with them at shows, they still sound pretty great live.
I'm hoping the merch table has the new 180 gram vinyl reissues of the band's three albums. In particular I want to pick up their classic debut Lesser Matters, one of the best albums of the '00s. Opening are Asobi Seksu which is a pretty perfect pairing. The weather's supposed to be gorgeous, the show is free...this'll be sweet.
Saturday is the Village Voice 4 Knots Festival which is going out of its way to let us know it's not trying to be the Siren Festival. It's a nice line-up of bands, though, scaled to fit the Seaport. Apart from Eleanor Friedberger and Oberhofer, it is a pretty rock line-up what with headliners Black Angels, Titus Andronicus, Davilla 666 and Mr. Dream. If you like to dance, they've got an indoor lounge over at 210 Front Street with an all DJ lineup that includes Yeasayer, Dan Deacon, Brahms and the Finger on the Pulse dudes (also DJing as Punches) spinning tunes. Things kick off at 1PM.
Then Sunday (7/17) is the last show of my Sound Bites Series down at the Fulton Stall Market and I'm super pleased to have Hospitality on cleanup. When I found out we were going to be doing the series again, Hospitality were the first band I thought of. If you haven't heard them, you can download their 2009 EP for free from their Bandcamp site. It's quite lovely. The band have gotten less precious since then, though no less charming, and recently the band expanded to a four-piece with drummer Nathan Michel moving to guitar making them decidedly more skronky now.
I am quite enamored with this band and you should definitely come down and see them. They are seriously good. If you come to only one Sound Bites Show this summer... this is your last chance. Hospitality are on at 3PM sharp and I'll be spinning tunes from around 1:30 or so. It's free!
And right after Hospitality finish, you can head across South Street to the Beekman Beer Garden for this week's Beach Party show with Frankie Rose and Xray Eyeballs. Both bands feature on that free downloadable mix you can get over at Insound. The Frankie Rose track is one I hadn't heard before, a cover of Slapp Happy's "Blue Flower" which you may know from covers either by Mazzy Star or Pale Saints.
Last week (Cheeseburger and Hard Nips) was fun and pretty fairly low-key. The spot -- formerly Water Taxi Beach -- is a pretty popular spot on its own, so expect a mixed crowd of those there for the show and those there just for the view/vibe. Bands start at 4PM. It's free.
And that's about it for this week. A few more daily picks are below.
TUESDAY, JULY 12
It's a heatwave today but Cold Cave will have the A/C cranked for their show Knitting Factory tonight. I do really like their new album Cherish the Light Years which kind of reminds me of '80s band Lords of the New Church. The show is with gothy sea chanty singers Cult of Youth, and Zambri who are newly signed to Kanine Records (and who were impressive at Knitting Factory during the Northside fest). The show is part of a tour that ends at Bowery Ballroom with Austra.
The newly reunited Cibo Matto are at Brooklyn Bowl. Though advance tickets sold out, there will be limited availability at the door. Go early. The show is one date of a tour that also hits Bowery Ballroom.
continued below....

--
Cibo Matto

WEDNESDAY, JULY 13
Bushwick superior shoegazers Sweet Bulbs are at Death by Audio with Monitors, American Sun, and Big Soda.
THURSDAY, JULY 14
Superchunk, OFF!, and Lemuria play House of Vans. The show is free if you RSVP here.
I'm Turning Into

FRIDAY, JULY 15
Dinosaur Feathers, Shark?, and I'm Turning Into are at Monster Island. I'm Turning Into's debut album, Parcel of Marbles, just came out on cassette and digital download. It's worth a listen for sure, especially as you can download it for free this week only at their Bandcamp site.
SATURDAY, JULY 16
Part time Brooklynite Sondre Lerche plays a free in-store at Sound Fix. I found his new self-titled album a bit disappointing but he's always a charmer live.
Hooray For Earth (whose debut True Loves is a lot of fun), Amber Coffman (of Dirty Projectors) are at Brooklyn Bowl. Only $5 but you gotta deal with Brooklyn Bowl on a Saturday night.
OK that's it for this giant edition of TWII. Tour dates and videos are below.
--
Cold Cave - Villains of the Moon

Cold Cave - 2011 Tour Dates
Tuesday, July 12 - Brooklyn, NY -- Knitting Factory (Cult of Youth Supports)
Wednesday, July 13 - Montreal, QC - La Sala Rossa (Cult of Youth Supports)
Thursday, July 14 - Toronto, ON -- Legendary Horseshoe Tavern (Cult of Youth Supports)
Friday, July 15 - Detroit, MI -- Magic Stick (Cult of Youth Supports)
Saturday, July 16 - Chicago, IL -- Pitchfork Festival
Sunday, July 17 - Minneapolis, MN -- Varsity Theater (Cult of Youth Supports)
Monday, July 18 -- Fargo, ND -- The Aquarium (Cult of Youth Supports)
Thursday, July 21 - Vancouver, BC -- Biltmore Cabaret (Austra Supports)
Friday, July 22 - Portland, OR -- Doug Fir Lounge (Austra Supports)
Saturday, July 23 - Seattle, WA - Capitol Hill Block Party
Monday, July 25 - San Francisco, CA -- Great American Music Hall (Austra Supports)
Tuesday, July 26 - San Diego, CA -- Casbah (Austra Supports)
Wednesday, July 27 - Los Angeles, CA -- Los Angeles Ukranian Center (Austra Supports)
Friday, July 29 - Salt Lake City - Urban Lounge (Austra Supports)
Saturday, July 30 - Denver - Bluebird Theater (Austra Supports)
Sunday, July 31 -- Omaha NE -- Waiting Room (Austra Supports)
Monday, August 1 - Saint Louis, MO -- Firebird (Austra Supports)
Tuesday, August 2 -- Cleveland, OH -- Grog Shop (Austra Supports)
Thursday, August 4 - Washington, DC -- Rock N Roll Hotel (Austra Supports)
Friday, August 5 - Philadelphia, PA -- Voyeur (Austra Supports)
Saturday, August 6 - New York, NY -- Bowery Ballroom (Austra Supports)
Tom Vek - World of Doubt

Wild Beasts - Albatross

Wild Beasts - 2011 Tour Dates
7/12 World Cafe Live, Philadelphia, PA, USA
07/13 Le Poisson Rouge, New York, NY, USA
07/14 Le Poisson Rouge, New York, NY, USA
07/16 9:30 Club, Washington, DC, USA
09/16 Austin City Limits Festival, Austin, TX, USA
09/20 Variety Playhouse, Atlanta, GA, USA
09/21 Cat's Cradle, Carrboro, NC, USA
09/27 The Paradise, Boston, MA, USA
09/28 Cabaret Du Mile-End, Montreal, QC, Canada
09/29 The Mod Club, Toronto, ON, Canada
09/30 Magic Bag, Ferndale, MI, USA
10/01 Lincoln Hall, Chicago, IL, USA
10/02 Turner Hall Ballroom, Milwaukee, Wisconsin, Canada
10/04 Varsity Theater, Minneapolis, MN, USA
10/07 Neptune, Seattle, WA, USA
10/08 Biltmore Cabaret, Vancouver, BC, Canada
10/09 Doug Fir, Portland, OR, USA
10/11 Rio Theatre, Santa Cruz, CA, USA
10/13 Echoplex, Los Angeles, CA, USA
Urge Overkill - Effigy live in Chicago

Urge Overkill - 2011 Tour Dates
07/12/11 Philadelphia, PA North Star Bar United States
07/13/11 New York, NY ROCKS OFF Concert Cruise United States
07/14/11 Washington, DC Rock and Roll Hotel United States
07/15/11 Long Branch, NJ The Brighton Bar United States
07/16/11 Brooklyn, NY The Rock Shop United States
09/02/11 - 09/03/11 Santander & Benidorm Turbo Rock Fest Spain
09/05/11 Seattle, WA Bumbershoot United States
Wooden Birds - "Two Matchsticks"

The Wooden Birds - 2011 Tour Dates
7/12 - Boston, MA @ Great Scott
7/14 - New York, NY @ Mercury
7/15 - Brooklyn, NY @ Rock Shop
7/16 - Washington, DC @ DC9
7/17 - Atlanta, GA @ The Earl
7/18 - Houston, TX @ Cactus Records
7/20 - Austin, TX @ The Mohawk
Rayon Beach - 2011 Tour Dates
7/13- MONTREAL - L'ESSCOGRIFFE
7/14- NYC - DON PEDROS
7/15- NYC -BRUAR FALLS
7/16- NYC - DEATH BY AUDIO
7/17- PHILADELPHIA - LITTLE BAR
7/19- DURHAM, NC - THE LAYABOUT
7/20- CHAPEL HILL - THE NIGHTLITE
7/21- ATLANTA - THE EARL
7/22- NASHVILLE - FOOBAR
7/23- MEMPHIS - BUCCANEER
7/24- NEW ORLEANS - SIBERIA
7/26- EL PASO, TX - LIPS LOUNGE
7/28 - FULLERTON, CA - BURGER RECORDS
7/29 - LA, CA - PERMANENT RECORDS (EAGLE ROCK)
7/30- SF, CA - EL RIO
8/2- RENO, NV - TBA
8/3- BEND, OR - THE HORNED HAND
8/4- PORTLAND - SLABTOWN
8/5- SEATTLE- FUNHOUSE / PIZZAFEST
8/6- MISSOULA, MT - TBA
8/8- FARGO, ND - THE AQUARIUM
8/9- MINNEAPOLIS, MN - TBA
8/10- CHICAGO- CROWN LIQUORS TAP ROOM
King Creosote and Jon Hopkins - Bubble

King Creosote and Jon Hopkins - 2011 Tour Dates
Mon Jul 11 - Toronto, ON - The Drake
Wed Jul 13 - Boston, MA - Brighton Music Hall
Thu Jul 14 - New York, NY - Mercury Lounge
Fri Jul 15 - Vienna, VA - Jammin Java Music Cafe
Sat Jul 16 - Philadelphia, PA - World Cafe Live Upstairs
Sun Jul 17 - Brooklyn, NY - The Rock Shop
Tue Jul 19 - Chicago, IL - Schuba's Tavern
Wed Jul 20 - Minneapolis, MN - 7th Street Entry
Cibo Matto - "Sugar Water" on MTV's Oddville