Tombs & A Storm of Light releasing new LPs, touring (MP3s, dates & an interview w/ Josh Graham)
Save the date, June 9th at The Studio at Webster Hall! BrooklynVegan is proud to announce a DOUBLE record release party featuring Tombs and A Storm of Light, as well as special guest Panzerbastard and one more TBA. Tickets are on sale for the NYC show which is the kick-off of a short tour for the two bands. All dates are listed below.
Tombs is welcoming their new LP Path to Totality, the follow-up to their uber-triumphant Winter Hours due on June 7th via Relapse Records. The new LP was recorded at Elmwood Recording studios in Dallas, TX with John Congleton, a man responsible for works by artists ranging from Baroness to St. Vincent to Explosions In The Sky. Interestingly enough, Path of Totality also features the first recorded appearance of "new" drummer Andrew Hernandez, though the former ASRA pummeller has actually been on board with the band since Winter Hours was released. Check out the 6th track on the LP, "Vermillion", available for download above and streaming below and a second track "Silent World" at NPR. Preorder Path To Totality at Relapse.
A Storm of Light's new LP As The Valley of Death Becomes Us, Our Silver Memories Fade is due a bit sooner, on May 17th via Profound Lore (North America/UK)/Burning World (EU). The album boasts guest shouts from names like Kim Thayil (of Soundgarden), Jarboe, long time collaborator Nerissa Campbell, and Kris Force (Amber Asylum) over its nine tracks, and features new drummer BJ Graves behind the kit. The new LP is decidedly more "metal", as Storm is clearly moving away from their previous post-rock heavy output and ever-closer toward the riff. Stream three tracks from the As The Valley below: "Missing" with Kim Thayil and Nerissa Campbell, "Collapse" with Jarboe, and "Black Wolves" with Kim Thayil and Nerissa Campbell (which makes its premiere in this post). Download "Collapse" and "Black Wolves" above.
Since its been a while since we caught up with Josh Graham, we threw him a few questions about the A Storm of Light record, his new drummer, and the current status of the new Neurosis LP. The results of that conversation are below alongside all streams and tour dates...

===============
A Storm of Light at Brooklyn Masonic Temple (more by BBG)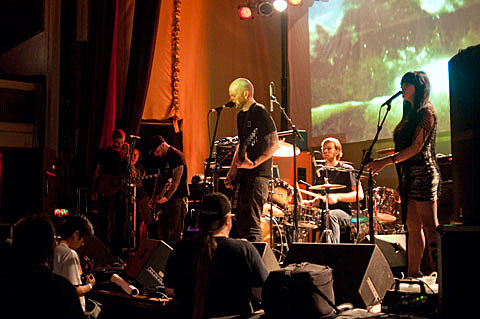 First of all, why the move from Neurot to Profound Lore, especially considering your ties to the label.
I have somewhere around 7 releases out on Neurot. As part of Neurosis and Neurot it wasn't something that came to mind right away, it kinda took a while. While the label has a great audience, I think we can expand the base by working with different labels; sort of the same ideal as doing split releases between bands. Branching out will inherently make the family larger and potentially bring new listeners into the fold. Profound Lore is a great label with great artists and run by a great guy, Chris Bruni. They were our first choice and it really has been awesome so far.
A Storm of Light - "Black Wolves" featuring Kim Thayil & Nerissa Campbell

A Storm of Light - "Collapse" featuring Jarboe

You have pretty much released one album per year since A Storm of Light came into existence. What were your goals going into this LP and how has your vision changed from album to album?
Yeah we have been super busy! It's both exhausting and rewarding at the same time, but it's kind of impossible to stop making music. As our sound has been mutating we have moved out of post rock. At first we were surprised by the more 'rock' influences peaking through, but we just had to embrace what was emanating. Black Ocean and Forgive Us have their places in our hearts and we will continue to play those songs, but it is nice now to have a strong variety of music to play live.
A Storm of Light - "Missing" - featuring Kim Thayil and Nerissa Campbell

The new LP is the first to feature B. J. Graves on drums, how did that selection come about?
Billy plays in US Christmas and in Generation of Vipers and we thought he needed a third band. He is an awesome drummer and a awesome guy, and his vision fit perfectly into the Valley.
Lets play a game called "I'm Jealous" Please fill in the blanks with names of people that inspire you.
I'm jealous of Robert Johnson because of his amazing guitar tone.
I'm jealous of Peter Saville because of his amazing design work.
I'm jealous of Igor Stravinsky because of his amazing songwriting.
Storm at The Studio at Webster Hall with Wolves In The Throne Room (more by Paul Birman)

You are heading out for a string of dates with the awesome Tombs that will include your NYC record release party at The Studio at Webster Hall. Outside of your current company, who would you like to hit the road with and why?
Oh man, that is a tough question. I'll give myself 30 seconds to think of who... all of these bands rule, and we would love to tour with them: Pink Floyd, Subrosa, Yob, Baroness, Torche, Soundgarden(!), Ken Mode, PJ Harvey, Deftones, and probably 100 more.
As someone involved in Neurosis's art direction and visual element, I can't leave without asking about
new material. Is there a new LP in the works?
Yes! there is! I hope it comes out in 2012.
---
TOMBS & A STORM OF LIGHT - 2011 TOUR DATES
Wed. June 8 Boston MA Great Scott*
Thu. June 9 NYC Studio @ Webster Hall (DUAL Record Release show w/ special guest PANZERBASTARD)
Fri. June 10 Montreal QC Catakombs (18+)
Sat. June 11 Toronto Sneaky Dee's (18+)
Sun. June 12 Detroit, MI Smalls
Mon. June 13 Chicago IL Pancho's (21+)
Tue. June 14 St. Louis MO Fubar
Wed. June 15 Oklahoma City OK The Conservatory
Fri. June 17 Austin, TX Red 7
* no A Storm of Light