The Year in Heavy Part 2 — Top 10 lists of 2012 from various metal/punk/hardcore bands & more
RJ Ober w/ Magrudergrind at Warsaw in June (more by Joe McCabe)

RJ Ober of Magrudergrind, best non-punk/metal releases of 2012
Action Bronson - Blue Chips/Rare Chandeliers
Why pick one? Put anyone, let alone Alchemist, behind this dude and he's gonna beast out.
Andy Stott - Luxury Problems
With only a hint of the suffocating terror of last year's Passed Me By and We Stay Together, this one still feels like music from another planet, albeit a sexier, more ethereal planet.
Kendrick Lamar - Good Kid, m.a.a.d City
Somehow we're living in a time when this is what plays on Hot 97, and we could do a lot worse.
Martial Canterel - Empire
Every Martial Canterel release is impossibly better than the last and makes a year without a Xeno and Oaklander record slightly more bearable.
Swans - The Seer
To say this is a synthesis of every epoch of Swans doesn't do it justice. A beautiful throbbing, oversized, violent cave of sound. Thankfully their MHoW got rescheduled.
John Talabot - Fin
How you can make a record that feels like house music but completely obliterates the notion of genre is beyond me. This record makes me want to dance and I have no business dancing.
Burial - Street Halo/Kindred
I don't think I know what dubstep is anymore but I'm pretty sure someone lumped Burial in with that mess at some point. Fuck that. This is everything that is not: a collection of understated, muted, gorgeous sounds that never shows its full hand.
Merchandise - Children of Desire
Former Cult Ritual weirdo punks became indie music press darlings thus year, and with good reason - these songs are fucking gigantic.
Joey Bada$$ - 1999
Nothing that hasn't been done before, just done better and done by a teenager. Addictive flows over a lot of beats that should have been his in the first place.
Chromatics - Kill For Love
I didn't want to, but if I'm going to be honest with myself this one has to be here too. Doesn't really play like a cohesive LP, but that doesn't preclude Kill For Love from containing two of the most unstoppable tracks I heard this year.
Chris Bruni of Profound Lore, Top Ten Favorite Moments From The New Order Concert (10.23.2012, Toronto, Ontario)
1. When they played "Temptation"
2. When they played "Ceremony"
3. When they played "True Faith"
4. When they played "Age Of Consent"
5. When they played "Regret" (hahaha BBG, I couldn't resist)
6. When they played "Love Will Tear Us Apart"
7. When they played "Your Silent Face"
8. When they played "Bizarre Love Triangle"
9. When they played "The Perfect Kiss"
10. When they played "Isolation"
---
Jamie Getz of ex-Gods & Queens, R5 Productions, Top 10 of 2012
1. Cool Hearts Muay Thai Philadelphia morning classes
2. Fight Amp "Birth Control" & Live
3. Hop Along "Get Disowned" & Live
4. D-Clone "Creation And Destroy" & Live
5. Orgreenic 10" Fry Pan (if you're burning things, you just didn't season it right...)
6. Cloud Nothings "Attack On Memory"
7. The Personal TV's in the back of the seats on Quantis Airlines
International Flights
8. Bob Mould "Copper Blue" Live
9. Cult Of Youth "Love Will Prevail"
10. http://www.unwoundarchive.com/ - Yes.
--
Nate of Witch Mountain, June 2012 (more by Fred Pessaro // BBG)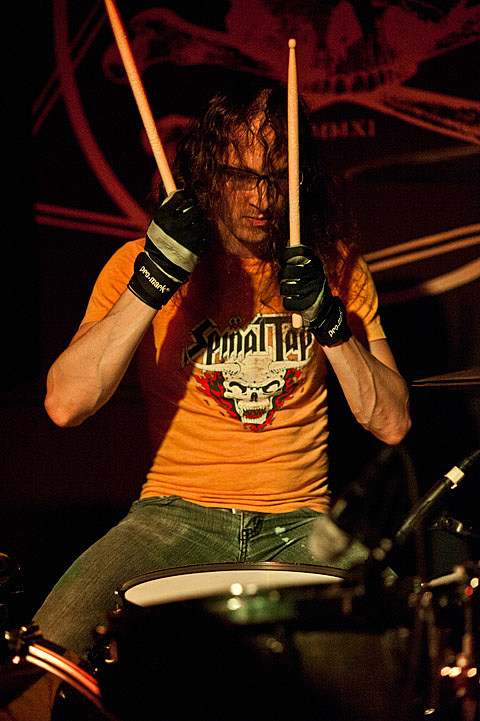 Nathan Carson of Witch Mountain, Best of 2012
13 Cities that I played in 2012 for the First Time Ever...
As Brian Wilson said, "I get around." But this year marked the most extensive touring that Witch Mountain has done to date, so I ended up marking some new territory.
1. Centralia, WA 4/27/12 - This was a lot like the "Rawhide" scene from the Blues Brothers. A real small cowpoke town in central Washington. A dive bar/diner with a four foot stage run by doom metal heads with hearts of gold. Local band was awful, and both our vehicles got pulled over on the way home. I got my first breathalyzer test. Blew a .006 and got sent home scott free.
2. Belmont, NC 6/5/12 - We played in a Haunted Mill run by Juggalos. 'Nuff said!
3. Portland, ME 6/11/12 - Six band bill in a motorcycle mechanic warehouse where they projected Holy Mountain and vintage porn on us while we performed. None of this was as memorable as seeing Prometheus earlier in the day and eating lobster with Lord Dying.
4. Toronto, ON 6/13/12 - Epic night as we shared the stage with our friends Blood Ceremony and Castle. The cops came and turned us down. In the US, police pull the plug on loud shows. But those polite Canadian mounties just asked us to bring it down a notch.
5. Rochester, NC 10/24/12 - Strangely enough, a local cop showed up at this gig too. Only this officer friendly was a fan, rocked out, and bought our new album. Great roast duck at the Vietnamese place across the street from Bug Jar too!
6. Hamilton, ON 10/26/12 - One of the worst gigs we played this year, and I entirely blame the promoter, who disappeared like a fart in the wind the second we were done playing. The bar still paid us, but we were left comparing Hamilton to even worse places, imagining potential future album titles like Hamilton Awaits, or Highway to Hamilton.
7. Ottawa, ON 10/27/12 - It was Halloween weekend, and this promoter did her job. Kick-ass show with special shout out to our friends in Monobrow and the amazing Muffler Crunch. Even better was the reception we got from the local radio DJs that took us back to their family home for refreshments and laundry.
8. Montreal, QC 10/28/12- Our first stop in Montreal back in June was a total bust. But the follow-up gig at Katacombes in October was sheer delight. The place looks like HR Giger designed it, with a central pillar of skulls and a spinal column on the bar. Great local bands (check out Show of Bedlam!) and great sound. It was Rob Wrong's birthday too.
9. Burlington, VT 10/29/12 - Apparently Nectars is the club where Phish made its name. Anyway, it was packed and we played well, but the vibe of the night was absolutely ruined by the nu-metal DJ. At least there were gravy fries...
10. New Haven, CT 10/31/12 - Halloween night, and we made a run to Walmart on they way there to get the cheesiest costumes we could muster. I was a gangster with a fedora and pinstriped zoot-suit, Neal had dreadlocks and a toga, Rob had a metal mask and vampire cape. And on lead vocals--Darth Uta. Also, the pizza was very very good. Too bad it was one of those venues where the bouncers practically carry you off stage so the dance party can start...
11. Worcester, MA 11/1/12 - "Woostah!" Wow, this place had been described to us as similar to the bar from Dusk Til Dawn and I cannot argue. Very lively crowd in a very rustic setting. My only complaint is that the Galaga machine cost 50 cents.
12. Asheville, NC 11/5/12 - Static Age records is a classy vinyl shop in a cute college town. I assume there are other sorts of towns in North Carolina, but I haven't been to any. Behind the back wall there's a tiny stage, perfect for the packed crowd we had on this Monday night. They wouldn't let us stop playing! Oh and I totally scored a Harold Budd record there. Rad.
13. Fullerton, CA 11/14/12 - Certainly one of the highlights of our tour was playing the Slidebar in Fullerton. Actually friendly security in that place (unless you're the drunk guy that got thrown out of our sound check). Was a real pleasure to finally play with Ides of Gemini. Wino came out to see us too. And the crowd was fantastic. In many ways, this was the finale of our year.
--
Best Albums of 2012
1. Rush - Clockwork Angels
2. Lost Lockets - Love Not Fear
3. Agalloch - Faustian Echoes e.p.
4. Wizard Rifle - Speak Loud Say Nothing
5. Ides of Gemini - Constantinople
6. Chelsea Wolfe - Apokalypsis
7. Show of Bedlam - Roont
8. Occultation - Three & Seven
9. Pinkish Black - self/titled
10. Atriarch - Ritual of Passing
--
R. LOREN of Pyramids / Handmade Birds
1. Locrian And Christoph Heemann "S/T"
2. Pinkish Black "S/T"
3. Fiona Apple "The Idler Wheel Is Wiser Than..."
4. Blut Aus Nord "777 Cosmosophy"
5. The XX "Coexist"
6. Neurosis "Honor Found In Decay"
7. King Dude "Burning Daylight"
8. Theologian "Finding Comfort In Overwhelming Negativity"
9. Horseback "Half Blood"
10. Panopticon "Kentucky"
---
Paul Delaney of BLACK ANVIL
1) Van Halen - A Different Kind Of Truth
2) The Devil's Blood - The Thousandfold Epicentre
3) Ofermod - Thaumiel
4) Shining - Redefining Darkness
5) Marduk - Serpent Sermon
6) Behexen - Nightside Emanations
7) Rush - Clockwork Angels
8) Aura Noir - Out To Die
9) Glaciation - 1994
10) Secrets Of The Moon - Seven Bells
---
Corey Bing of FISTULA, Top 10 live shows this year
1. Coffinworm
2. INSULT
3. WINTER
4. Torche
5. Napalm Death
6. Vulture
7. Keelhaul
8. Midnight
9. Brujeria
10. BLOWFLY
---
Nicktape of Coke Bust, November 2011 (more by Fred Pessaro // BBG)

Nicktape of COKE BUST, Top 10 of 2012
1. Coke Bust & Sectarian Violence European Tours and our driver, Didi
2. Satan's Satyrs - Wild Beyond Belief LP (Trash King Records) + Live (Sick every time)
3. Suicidas (Spain) - Demo / New Tracks
4. Peacebreakers - Demo (Not sure if this is 2012 or older, but I got this year and love it)
5. Violent Reaction 7"
6. Graveyard Live @ The Underworld in London
7. Free Spirit Live @ Asefu's in Washington, DC
8. Pentagram Live @ The Filmore in Silver Spring, MD
9. Meeting Nika from Post Regiment
10. Stripmines - Crimes of Dispassion LP
Honorable mentions to: Double Negative live at the Black Cat in Washington, DC., Seeing Turbonegro in Gothenburg Sweden, The Flex Demo, Self-Employment, Chad Troncale (DHD) moving into my house, Prisoner Abuse, Belgrado live, Punchbowl Falls in Oregon, Devils Hand live/demo/advanced tracks.
---
Evan Patterson of Young Widows / Old Baby, best of 2012
Experiences:
Lying on a cliff and watching the moonrise over the mesas at Monument Valley.
Santa Fe, NM and my desert flower.
My first all covers performance as The Troggs.
Old Baby sharing the stage with Mike Watt and the Missing Men.
24 hour notice Young Widows pop-up show with Shannon Wright.
Records:
Fred Neil - self titled/Everybody's Talkin'
Daughn Gibson - All Hell
Thin Lizzy - self titled
Dr. John the Night Tripper - Gris, Gris
Tangerine Dream - Sorcerer
Mark Lanegan - Blues Funeral
The Peace - Black Power
Shin Jung-hyeon - Beautiful Rivers and Mountains
Mickey Newbury - harlequin melodies
---
Brad Boatwright of From Ashes Rise, Top 10 of 2012
The Secret "Agnus Dei" LP
Deviated Instinct "Liberty Crawls... To the Sanctuary of Slaves" LP
Wolfbrigade "Damned" LP
Xibalba "Hasta la Muerte" LP
Lynyrd Skynyrd, Entombed, Integrity, Amon Amarth, and Victims live at Hellfest in France
Territory "Sic Semper Tyrannis" LP
Lace Pickups
Fred Pessaro's karaoke performance of Ratt's "Round and Round" in LA
The 2012 Seattle Seahawks
And last but not least- my son, Wesley James Boatright.
---
Ryan Lipynsky of The Howling Wind / Serpentine Path, Top 10 of 2012
The Melvins - The Bulls & The Bees
Tragedy - Darker Days Ahead
Chelsea Wolfe - Unknown Rooms
HAARP - Husks
Drudkh - Eternal Turn Of The Wheel
Old Man Gloom - NO
Mgła - With Hearts Toward None
Deathspell Omega - Drought
Nekromantheon - Rise, Vulcan Spectre
Saint Vitus - Lillie: F-65
---
Jim Vrdrbr of Urfaust, Best of 2012
Satan's Satyrs-Wild Beyond Belief : Vinyl
Punk n Roll sleaze filth with nasty hooks and cuts! Fucking love this shit... Didn't knew it before, until I stumbled upon them through the amazing world of internet. This is how I like my drinking music: the soundtrack to any night of Intoxication!
Svartidauði - Flesh Cathedral : Cd
This is one hell of a sick monster! We had the honor of doing a couple of shows with them in Iceland and in Germany. Total crushing, sick and twisted Black Metal to the bone! A fist in the face of God, total Mayhem and Destruction! If you thought that their recordings are impressive: check them live when you have the chance.... This is a force to be reckoned with!
Those Poor Bastards - Behold the Abyss : Vinyl
As being a huge fan of Those Poor Bastards for a long time, I could;t wait to get this piece of vinyl on my player. I didn't listen to anything before I bought, I just wanted to listen to it and see if they could manage to get a sicker atmosphere than their previous records: They succeeded... Nothing more to add!
Best show of 2012 for me was easy: MENTORS at Vera, Groningen (The Netherlands)! I could not believe at first that MENTORS was doing a show in my hometown! And apparently, so didn't many others since there where sonly 25 people around (including the staff of the place)... My hopes weren't to big, but hell: they where excellent! The sound of the evening was superb, the band played really tight as hell, which was something considering the fact that Sickie Wifebeater was missing due a hand injury. One of the Hammerhawk guys filled in on guitar. They've played all their hits and did tons of encores! The retarded girls dancing on stage where the icing on the cake...
---
Stavros of The Atlas Moth, Best Albums of 2012
1. Koi No Yokan - Deftones
2. All We Love We Leave Behind - Converge
3. Aut Caesar Aut Nihil - Sektemtum
4. The 2nd Law - Muse
5. CVI - Royal Thunder
6. (III) - Crystal Castles
7. Failure Tactics - Millions
8. Ritual Of Passing - Atriarch
9. Confess - Twin Shadow
10. Pinkish Black - Pinkish Black
---
Kevin Hufnagel of Dysrhythmia / Gorguts, Top 10 meals I ate on tour in 2012 (In no order):
1. Huevos Racheros at Honey's Sit 'n Eat - Philadelphia, PA
2. The Pele Wrap at Highline - Seattle, WA
3. Sweet Potato and Coconut Soup at Cafe Kino - Bristol, UK
4. Migas with Sweet Potato Fries at Kerby Lane - Austin, TX
5. BBQ Pulled Chicken Plate at Central BBQ - Memphis, TN
6. Veggie Tofu Pita at The Earl - Atlanta, GA
7. Aztec Burrito at Golden West - Baltimore, MD
8. Homemade Meatballs and Pasta at Mean Metal Fest - Mean, Belgium
9. Smoked Bratwurst with Potato Salad at Restaurant Burgwächter -
Nuremberg, Germany
10. Mystery Ukrainian food at Metal Heads Mission Festival -
Evpatoriya, Crima, Ukraine
---
Mike Wohlberg (illustrator/graphic designer), Top 10 of 2012
Gaza "No Absolutes in Human Suffering"
Converge "All We Love We Leave Behind"
Pig Destroyer "Book Burner"
Cattle Decapitation "Monolith of Inhumanity"
Bone Dance "Bone Dance"
Unraveller "Kinship Synthesis"
Early Graves "Red Horse"
Fight Amp "Birth Control"
Napalm Death "Utilitarian"
The Secret "Agnus Dei"
--
Dom of Pulling Teeth, Jan 2012 (more by Fred Pessaro // BBG)

Domenic Romeo (A389 Recordings), Top Ten Of 2012
1. My wife, children, cats and friends.
2. All things A389
2. EYEHATEGOD
3. KISS circa 1978-1982
4. Filling in on guitar for RINGWORM over the summer
5. All things ILSA, ISLA or LISA
6. FULL OF HELL live
7. Rediscovering THE UNDERTAKER AND HIS PALS
8. GEHENNA Rawwar demos
9. LEFT. FOR. DEAD.
10. DEVELOPING NATIONS STUDIO/Baltimore's hottest hipster: Kevin Bernstein
--
Matt Martinez of Landmine Marathon, Top 10 of 2012
Atriarch - Ritual Of Passing
Bouquet - Cave Life
Jar'd Loose - Goes To Purgatory
Asphyx - Deathhammer
Napalm Death - Utilitarian
Seas Will Rise - Disease Is Our Refrain
Grave - Endless Procession Of Souls
Mount Eerie - Clear Moon
Deviated Instinct - Liberty Crawls To The Sanctuary Of Slaves
Territory - Sic Semper Tyrannis
--
Krysta Martinez of Landmine Marathon, Best of 2012
Favorite live performances 2012:
Napalm Death
Yob
Refused
Trash Talk
Top 10 albums released in 2012 that I liked and don't see on every other top albums list:
Stoneburner - Sickness Will Pass
Lozen - Para Vida
Black Hole of Calcutta - ST
Mike Scheidt - Stay Awake
Gaytheist - Stealth Beats
Old Man Gloom - No
Killer Mike - Georgia Dirt
Robocop / Detroit Split LP
Roskopp / Needful Things (split 7")
Green Day - Uno
Other albums I listened to a lot in 2012 but that were not released in 2012:
The Body - All the Waters of the Earth Turn to Blood (2010)
Suffering Mind - Scourge Schematic Split (2010)
Honduran - Self titled 7" (2010)
Wormrot - Noise EP (2011)
Elitist - Fear in a Handful of Dust (2011)
Visceral - CTTTOAFF (2011)
Favorite movies 2012:
Ridley Scott's Prometheus
Marvel's The Avengers