Torche, Big Business & Helms Alee played MHOW (pics)
Torche (and wig) @ Music Hall of Williamsburg

Torche headlined a triple threat of massive riffery with Big Business and Helms Alee at Music Hall of Williamsburg on Wednesday (7/20) as part of their larger tour together. For Helms Alee, the show was one of two that night with the band signing on for a late night show with The Austerity Program at The Charleston. The HydraHead trio of bands are currently in upstate New York and tour their way back to the West Coast by early August before splitting with Helms Alee and linking up with Thrones for more dates.
Big Business are currently touring in support of their new Quadruple Single EP out July 26th via their own Gold Metal Records imprint. Look for a full EP stream on Monday at BrooklynVegan.
Stream audio from part of Torche's set alongside more pictures of the band, Big Business, and Helms Alee below....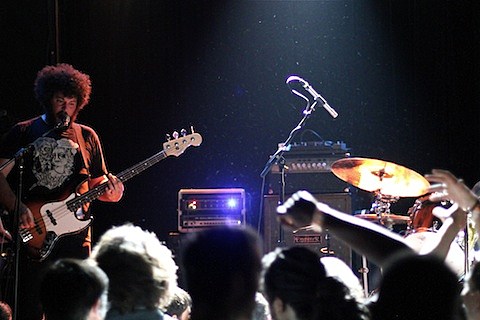 Torche at the Music Hall of Williamsburg (7/20/2011)


TORCHE, BIG BUSINESS - 2011 TOUR DATES
07/22/11 Buffalo, NY Mohawk Place *w/ Helms Alee
07/23/11 Cleveland, OH The Grog Shop *w/ Helms Alee
07/24/11 Newport, KY The Southgate House *w/ Helms Alee
07/26/11 Detroit, MI Magic Stick *w/ Helms Alee
07/27/11 Indianapolis, IN The Hoosier Dome *w/ Helms Alee
07/28/11 Chicago, IL The Bottom Lounge *w/ Helms Alee
07/29/11 Minneapolis, MN Triple Rock *w/ Helms Alee
07/30/11 Omaha, NE The Waiting Room-Street Stag *w/ Helms Alee
07/31/11 Denver, CO Bluebird Theater *w/ Helms Alee
08/02/11 Salt Lake City, UT Club Vegas *w/ Helms Alee
08/03/11 Boise, ID Neurolux *w/ Helms Alee
08/04/11 Seattle, WA Neumos Crystal Ball Reading Room *w/ Helms Alee
08/05/11 Portland, OR Hawthorne Theatre *w/ Thrones
08/06/11 San Francisco Slim's *w/ Thrones
08/07/11 Los Angeles The Troubadour *w/ Thrones
08/08/11 San Diego, CA Casbah *w/ Thrones
08/09/11 Scottsdale, AZ Martini Ranch *w/ Thrones
08/10/11 Albuquerque, NM Launchpad *w/ Thrones
08/12/11 Dallas, TX Club Dada *w/ Thrones
08/13/11 San Antonio, TX Korova *w/ Thrones
08/14/11 Austin, TX Red 7 *w/ Thrones