Torche, Harvey Milk & Pollution @ Music Hall of Williamsburg in Brooklyn – pics
© Justina Villanueva
Harvey Milk salutes you!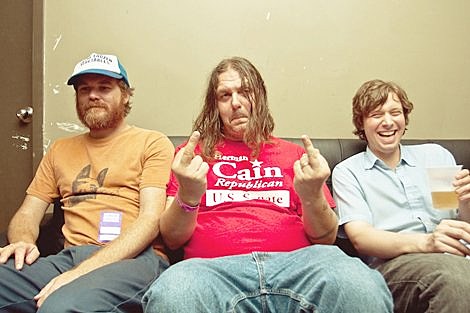 My answers are mosh pits and dry-humping, but unfortunately, I witnessed both when the pair played Music Hall of Williamsburg on 7/26 as part of an ongoing tour/victory lap in the wake of their critically acclaimed 2008 LPs. Since the release of those LPs, both bands have undergone lineup shifts (one officially, one not so officially- Joe Preston was absent from Harvey Milk again) and, at least for one band, their live firepower recently seemed diminished (see Torche at Scion).
Pollution was the first band on the bill, and it was beyond odd (but very welcome) to see the band's crust-laden metal pouring from the stage at MHOW. The venue is larger than they usually play, and they were playing to a much larger crowd then I've ever seen them play to at The Charleston or Union Pool.
Harvey Milk followed, and though they were sans Joe Preston and his voice, the otherwise soft-spoken Creston Spiers's cro-magnon howl needed no such vocal accompaniment. The band ran through moments from across their output including "I've Got A Love" and my favorite from Life... The Best Game In Town, "Motown". With Joe absent, along with the base layer of heavy rhythm riffage that he provides, it becomes apparent what Harvey Milk really is: a cross-eyed, demented, southern heavy-blues band.
"Is this fucking George Jones?" someone yelled jokingly at the stage.
From behind a trucker hat emblazoned with "fresh frozen vegetables", bassist and smiley southern boy Stephen Tanner laid down a rumbling low-end to match the goings-on outdoors (it was raining like a mutha). Meanwhile, clean cut drummer Kyle Spence kept time, adding Keith Moon-style fills.... when the song was over 80 BPM that is.
"How many people saw Torche last time they were here?", asked Creston Spiers of Harvey Milk.
That may be a testament to the (lack of) power of dredg (who Torche played with last time they were here) and the short opening set Torche played on that tour, or that may be a testament to the growth of Torche since their days on Robotic Empire. Both make sense to me. Either way, call it a small victory that the band played to a mostly-full bottom floor (mezz was closed) as opposed to the house shows of days passed.
Torche hit the stage around 1130. One of my main complaints from their performance at Scion Rock fest was the lack of middle tones along with that patented "thunder string" that make up the signature Torche sound. Those middle tones are still not present in the wake of Juan Montoya's departure, but the trio have figured out a way to make a fuller sound which approaches that high watermark... an impressive feat.
And the band is a trio of showmen. Steve Brooks crowd-surfed, rubbed his ass on the first row, and pogo-ed around blissfully while Jonathan Nunez thrashed about. Besides the fact that Rick Smith is an absolutely punishing drummer, which in and of itself is a spectacle, he did his part to be as showy as his bandmates. Smith would stand up and smash down on his kit, forcing his whole body downward as he swung his drumsticks. As they closed the set, Rick Smith raised his cymbal above his head triumphantly like a Tusken Raider (yes I am a Star Wars nerd).
The band played new-new material (as in "King Beef", post-Meanderthal) and relatively older ("Meanderthal", "Across The Shields", and "Healer", the latter of which started a mosh pit) including my favorite Torche jam, the uber-heavy "Tarpit Carnivore" off of the monolithic In Return EP.
Besides my admittedly petty gripes about the loss of Juan Montoya, as well as the lack of any encores, the show would have been otherwise beyond incred-amazing if it weren't for a pair of "fans" standing next to me during the show. The couple were literally making out and dryhumping during a good portion of Harvey Milk and into Torche. (Gag) This ain't no R. Kelly people.
More pictures from the show below...

Harvey Milk....