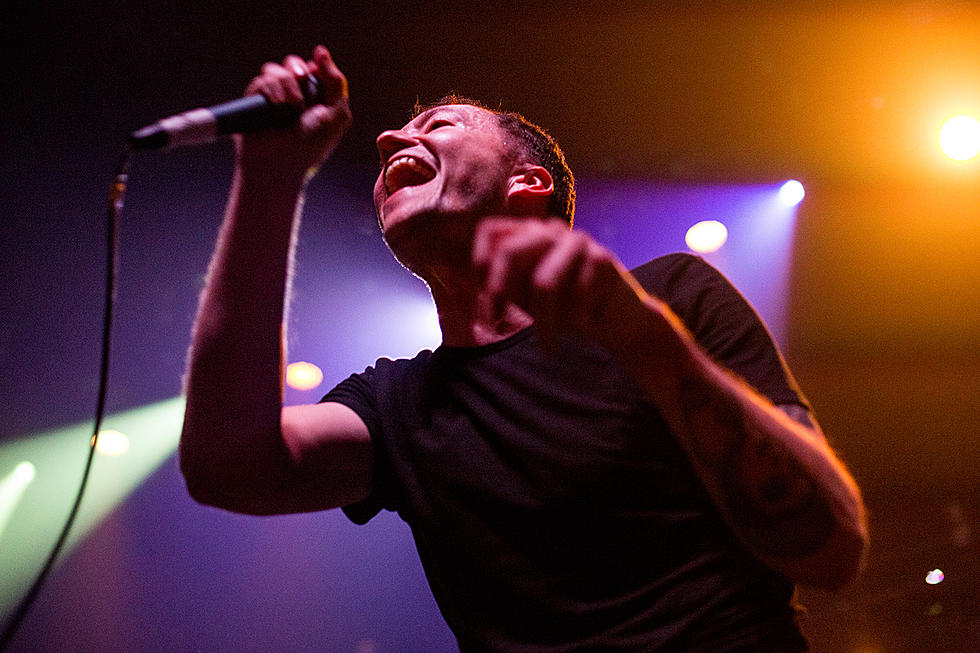 Touche Amore's Top 10 Albums of 2016
photo by Amanda Hatfield
Touche Amore released the very powerful Stage Four on Epitaph earlier this year, an album that has gotten some best of 2016 love. We asked TA for their own list of their favorite 2016 albums, and they sent one that includes David Bowie, Angel Olsen, Leonard Cohen, Bon Iver, Culture Abuse and more. Check out the full list below.
They're also touring Europe in 2017 with Angel Du$t (who also make their list) and those dates are listed below too.
Pictures of Touche Amore's recent Terminal 5 show with Hum are in the gallery above.
Touche Amore's Top 10 Albums of 2016
David Bowie - Blackstar
Angel Olsen - My Woman
Culture Abuse - Peach
Angel Du$t - Rock the Fuck on Forever
Leonard Cohen - You Want It Darker
Bon Iver - 22, A Million
Praise - Leave It All Behind
John K Samson - Winter Wheat
Sun Kil Moon / Jesu - S/T
Nothing - Tired of Tomorrow
Touche Amore / Angel Du$t -- 2017 Tour Dates
Jan 19 Dynamo Basement Eindhoven, Netherlands
Jan 20 Trix Club Antwerp, Belgium
Jan 21 Skater's Palace Munster, Germany
Jan 22 Gebaude 9 Cologne, Germany
Jan 24 Klubben Stockholm, Sweden
Jan 25 John Dee Oslo, Norway
Jan 26 Pumpehuset Copenhagen West, Denmark
Jan 27 Hafenklang Hamburg, Germany
Jan 28 Musik & Frieden Berlin, Germany
Jan 30 Pod Minoga Poznan, Poland
Jan 31 Hydrozagadka Warsaw, Poland
Feb 02 Conne Island Leipzig, Germany
Feb 03 Futurum Prague, Czech Republic
Feb 04 Flex Wien, Austria
Feb 05 A38 Budapest, Hungary
Feb 06 Hansa 39 Munich, Germany
Feb 07 Gala Hala Ljubljana, Slovenia
Feb 09 Legend Cesano Boscone, Italy
Feb 10 Covo Bologna, Italy
Feb 11 Dynamo Werk Zurich, Switzerland
Feb 12 USINE Geneve, Switzerland
Feb 13 La Maroquinerie Paris, France
Feb 14 MELKWEG AMSTERDAM Amsterdam, The Netherlands
Feb 15 The Haunt Brighton, United Kingdom
Feb 17 Fleece Bristol, United Kingdom
Feb 18 Sound Control Manchester, United Kingdom
Feb 19 Academy 2 Newcastle Upon Tyne, United Kingdom
Feb 20 Stereo Glasgow, United Kingdom
Feb 21 Brudenell Social Club Leeds, United Kingdom
Feb 22 Academy 3 Birmingham, United Kingdom
Feb 23 Islington Academy Street, United Kingdom