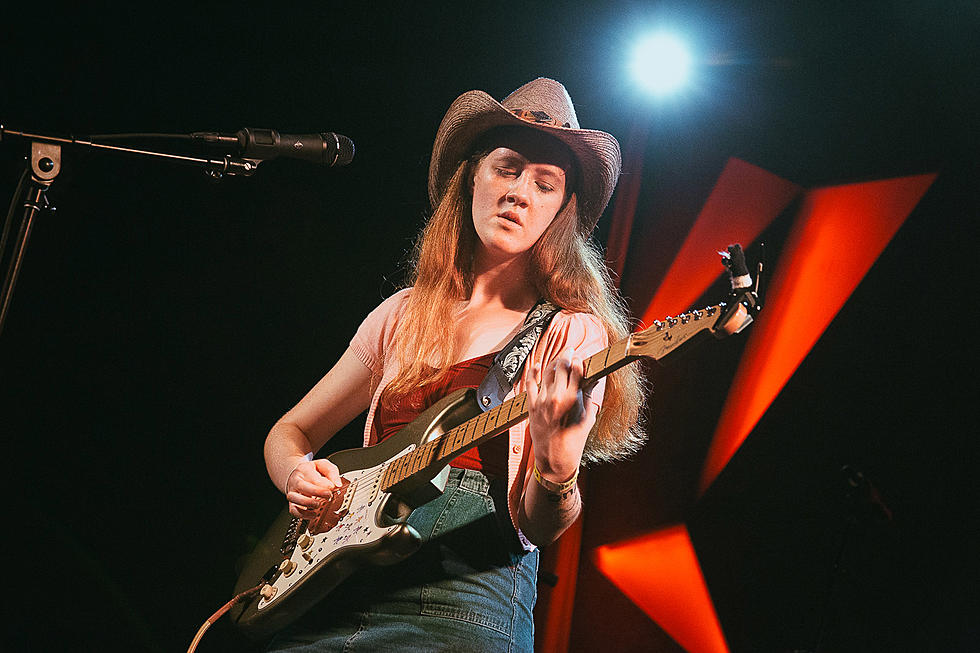 tours announced: Cat Power, Every Time I Die, Kadhja Bonet, IDK, Sidney Gish, more
Sidney Gish at Elsewhere (more by Em Grey)
The following new tours were announced. Check the Tour Dates category every day for more.
Chan Marshall's highly-anticipated tenth album Wanderer is out tomorrow (10/5), and she's recently added a few more dates to her upcoming tour, which stops at NYC's Brooklyn Steel on 12/18. Newly-added dates include a stop at Oakland's Fox Theater on 11/20, and two Australian shows in February. Find all updated dates here, and watch her stunning performance of lead single "Woman" last night on The Late Show with Stephen Colbert below.
Singer and multi-instrumentalist Kadhja Bonet released the great Childqueen back in June, and she'll be doing a few shows in support of the album this fall. After playing some European dates in October, she'll stop at Brooklyn's National Sawdust on 11/9, backed by pop chamber orchestra Little Kruta. The NYC show is presented by The Hum, "an exclusively female and nonbinary series" of collaborative live shows. View all dates here.
Maryland rapper IDK (formerly Jay IDK) announced a tour behind his great 2017 album IWasVeryBad, dubbed "The Very Bad Run" tour. He'll be playing a few shows across North America later this year, including stops in San Francisco, Boston, NYC (SOB's on 11/16), Los Angeles, and others, before opening for some of Denzel Curry's European tour dates. View all of IDK's upcoming dates here.
Boston songwriter Sidney Gish is riding the success of her sophomore LP No Dogs Allowed, having notably opened for Mitski and the Camp Cope/Petal joint tour earlier this year. She's recently been added to Cavetown's tour across the east coast, and they'll be playing together in Washington D.C., Philadelphia, NYC (Bowery Ballroom on 12/15), and Boston. Apart from those shows, Sidney has a previously-announced show at NYC's Rough Trade on 10/7 with openers gobbinjr and Daisy The Great, and an appearance at Tigers Jaw's Otherly Love Festival on 12/27 in Philly. Find all newly-added dates here.
With his new album Utopia Teased out in November, the very talented Stephen Steinbrink (who has also played in live lineups of Dear Nora and Girlpool) will be playing some West Coast dates, including Seattle, Olympia, Los Angeles, Phoenix (w/ Lomelda), and San Francisco (w/ Advance Base). Head here for details.
In addition to releasing his great new single "Mogambo," actor/rapper Riz Ahmed (aka Riz MC) has announced shows taking place in NYC and London.
LA metalcore vets Strife are doing a Northeast run that will see them playing their 1997 sophomore LP In This Defiance in full.
Cro-Mags' tour schedule includes a West Coast run with Eyehategod in November, a hometown NYC show the weekend between Christmas and New Year's, and Maryland Deathfest 2019.
MUMFORD & SONS / MAGGIE ROGERS
Browse our Tour Dates category for even more tours you may have missed.