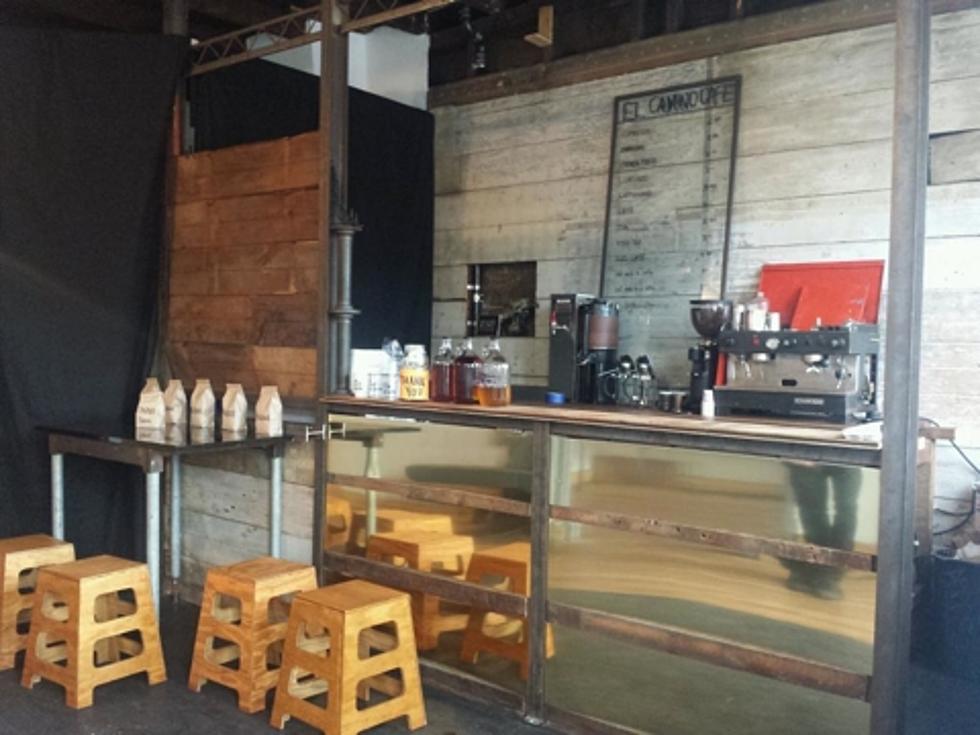 Trans-Pecos updates: liquor license being issued, cafe open, backyard complete, schedule includes Mount Eerie & more
Trans-Pecos' El Camino Cafe (via @Ridgefood)

Ridgewood, Queens venue Trans-Pecos (915 Wyckoff Ave) has some updates for the fall, including that they've finally got their liquor license approved, the cafe is open, and the backyard is complete. Here's the details:
GOOD NEWS! Trans-Pecos' full liquor license is in process to be issued by the New York State Liquor Authority, and was recently approved by Queens Community Board 5. In the service of garnering our license, the venue must "go dry" for a period in September, beginning 9/13. During this time Trans-Pecos will refrain from selling alcohol, and cannot allow "BYOB" of any kind of alcoholic beverages. We thank our patrons in advance for cooperating with us in this regard during a handful of 'dry' shows. We will be selling non-alcoholic beverages during this time, including soda, water, and Club Mate, and we will be allowing our patrons to bring in outside non-alcoholic beverages, so long as they are not in alcoholic beverage containers. We our full liquor license to be issued in a matter of weeks, and we will be sending out an update as soon as celebrations are in order - THANKS IN ADVANCE FOR YOUR COOPERATION!

In the mean season, the EL CAMINO cafe is open! Currently the cafe is in "soft opening" status, open most days from noon until 8PM. The cafe will be expanding hours in the near future to include morning commute as well as during nightime events. Ridgewood-ites will be especially excited to gain a high quality, low-key coffee spot serving quality espresso drinks and light cafe fare - with ample seating indoors and out - plus high speed wifi - in the hood! The cafe is operated by Bradford Sill and Colin Crockett of Ft Greene's Red Lantern bike shop & cafe. Come on down.

Finally, the expansive Trans-Pecos back yard, which we have lovingly dubbed 'the urban blight beer garden' is finally complete! Replete with goergeous custom wood tables and stools, patio tiki lighting, and plant life, the Trans-Pecos back yard brings a legit low key spot to enjoy inexpensive libations in East Bushwick/Ridgewood while also taking in the finest off the radar musical offerings to be had in NYC. Get it.
They've also announced their roster of guest curators for the fall which includes Excepter, Matana Roberts, Wet Ink Musics, PC Worship, Ratking + Letter Racer, Terrible Records + Sick Feeling's Don Devore, In Context Music and a new film series curated by Jim McHugh (NYMPH) and Joe Denardo (Growing). These are in addition to their ongoing curators Todd P, The Bunker, Northern Spy and more (full list below).
A recent addition to the schedule is Mount Eerie on September 23, the day before he plays Le Poisson Rouge. Those shows are part of a tour where he'll be debuting material off his new album, Sauna, which is due out in 2015. Mecca Normal open both NYC shows.
All Mount Eerie dates are listed, with the full Trans Pecos schedule and more, below...

---
Trans-Pecos Fall 2014 Schedule
WED 9/3 - $8 - 8PM
NORTHERN SPY presents Aa, Zula, Baked, Bueno
THURS 9/4 - $10 - 8PM
Erstwhile Records, Shared Shapes and Ad Hoc present Jason Lescalleet, Kevin Drumm, C. Spencer Yeh
FRI 9/5 - $8 - 8PM
HOWIE SOLO presents Coke Weed, Predator Prey, Ember Schrag
FRI 9/5 - $10 - 11PM
OTHER PEOPLE RECORDS presents A Pleasure, Visuals, High Water, Bryce Hackford (DJ)
SAT 9/6 - $10 - 8PM
MV CARBON presents Loren Connors, Aki Onda and VioletRaid, Silk Purse
SAT 9/13 - $10 - 8PM
M.A.P.S presents
Bastard Noise, Anthony Saunders, Andrew Hock, Chris Pitsiokos, Weasel Walter, HCOD, Penchant, Skinner, Arbiter, Negation, Field Graves
THRS 9/18 - $10 - 8PM
LIVING MYTH presents PEP TALK (Shayna Dunkelman, Preshish Moments, Angelica Negron) + IMA (Jeannie-Aprille Tang & Nava Dunkelman) w/ special guest Michael Mersereau + PERIOD (Mike Pride, Charlie Looker, Chuck Bettis)
FRI 9/19 - $8 - 8PM
ICM presents ICM001 Remix Release Show: Shelley Burgon, James Conduit (TBC), Helado Negro (TBC)
SAT 9/20 - $10 - 8PM
LIVING MYTH presents Kayo Dot + Islaja (from Finland) + Ill Convoy (Judith Berkson & Brandon Seabrook)
TUES 9/23 - $12 - 8PM
TODD P presents Mt. Eerie and Mecca Normal
THURS 9/25 - $8 - 8PM
CHAOS BODIES presented by Andrew Hock and Charlie Looker of Psalm Zero
FRI 9/26 - $8 - 8PM
MIKE SUGARMAN presents Je Suis Le Petit Chevalier
SAT 9/27 - $20-30 - 10PM
THE BUNKER LTD Giegling Showcase: Vril, Kettenkarussel, Konstantin
SUN 9/28 - $8 - 6PM
WORDS + DREAMS presents Arrington de Dionyso + more
TUES 9/30 - $7 - 8PM
NORTHERN SPY presents Celestial Shore, Jealousy Mountain Duo (from Germany), Don Vito (from Germany), killer BOB
FRI 10/24 - $ - 8PM
SACRED BONES SHOWCASE Moon Duo, Marissa Nadler, Amen Dunes, Dream Police
Ongoing Trans-Pecos Curators
The Bunker LTD
Chaos Bodies (Psalm Zero)
MV Carbon
Living Myth (Chuck Bettis)
Perfect Wave (Camilla Padgitt-Coles)
Oracle DJs (Sam Hillmer)
Todd P
Victoria Keddie of ESP TV
Northern Spy records
Mount Eerie -- 2014 Tour Dates
09-10 Dayton, WA - Mace Mead Works
09-11 Boise, ID - The Crux
09-12 Salt Lake City, UT - Diabolical Records
09-13 Denver, CO - Goldrush Music Fest
09-14 Lawrence, KS - Wonder Fair
09-15 Bloomington, IN - The Church
09-16 Youngstown, OH - Historian Recording Co.
09-17 Purchase, NY - SUNY Purchase
09-18 Easthampton, MA - the Flywheel
09-19 Biddeford, ME - The Oak & The Ax
09-20 Providence, RI - Columbus Theatre
09-21 Middletown, CT - Wesleyan University
09-22 Annandale-on-Hudson, NY - Bard College
09-23 Brooklyn, NY - The Trans-Pecos *
09-24 New York, NY - Le Poisson Rouge *
09-25 Oberlin, OH - Dionysus Club
09-26 Gambier, OH - Kenyon College
09-27 Chicago, IL - Co-Prosperity Sphere
09-28 Minneapolis, MI - the Cedar Cultural Center
09-29 Minot, ND - Pangea House