Trap Them, Red Chord, Gaza, Kvelertak & Zoroaster played shows on 3/11, on way to SXSW (pics & dates)
Trap Them in NJ

The Red Chord, Trap Them, and Gaza played The School of Rock in South Hackensack, NJ on Friday (3/11) on the road to SXSW where each band will play a BV event, Trap Them & The Red Chord play Full Metal Texas on 3/17 and Gaza are playing Lovejoys on 3/18 with Ringworm, Wormrot, Magrudergrind, many others. Pictures from the NJ show are in this post
Also on 3/11, but on the other side of the U.S., another participant in Full Metal Texas, Kvelertak, made it into the country and played their first US show at Thee Parkside in San Francisco, CA. Pictures of them and tourmates Zoroaster (unfortunately none of Weedeater) are below.
As you can see in the pictures below, founding bassist Brent of Zoroaster is not on board as part of the current trek. Creative Loafing has more on his absence:
In February, stoner metal stalwarts Zoroaster announced that they were embarking on U.S. and European tours without bassist and founding member Brent Anderson. Although no one involved will divulge any details surrounding the temporary split, it's being characterized by the band as a case of tough love. "The future of Brent and Zoroaster is up to him," drummer Dan Scanlan says. "We felt that he needed to take some time to get his personal affairs in order."

Scanlan adds that Anderson has not been kicked out of the band, but his reinstatement depends on how things look for him when the group's schedule slows down in June.

In the meantime, Scanlan and guitarist Will Fiore have recruited Whores' drummer Travis Owen to fill in playing bass on the road.
Speaking of Full Metal Texas, we're happy to announce that Fireball Whisky is on board as a sponsor (free drinks). Another FMT sponsor, March is Metal Month, is giving away a downloadable comp from bands like Wormrot, Hour of 13, Deicide & others, and while you're there check out some records that are currently on sale as part of March is Metal Month.
More pictures and all dates below...

--
Gaza in NJ by Brian Reilly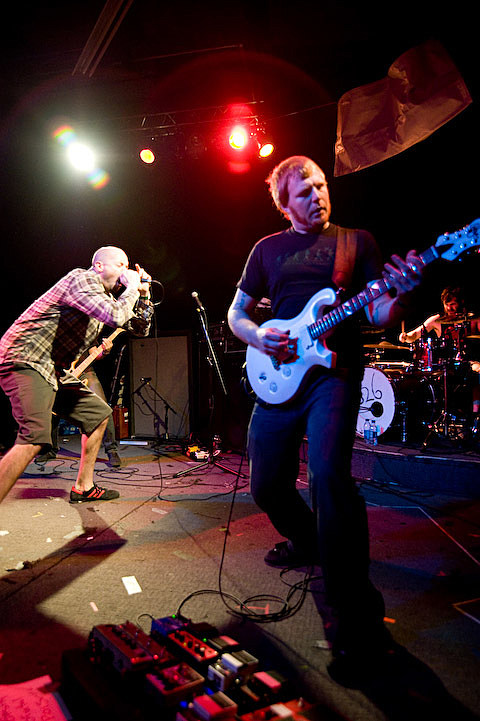 Trap Them in NJ by Brian Reilly
The Red Chord in NJ by Brian Reilly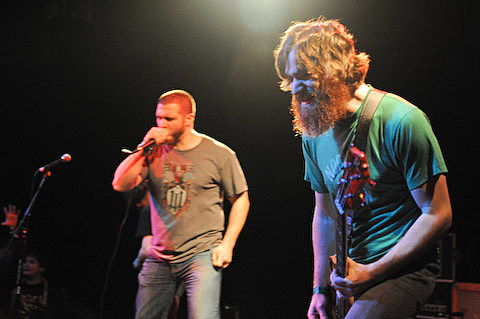 Kvelertak in San Francisco by Taylor Keahey
Zoroaster in San Francisco by Taylor Keahey
THE RED CHORD, TRAP THEM, GAZA - 2011 TOUR DATES
3/14 Greensboro, NC @ Greene Street Club
3/15 Johnson City, TN @ The Hideaway
3/16 Nashville, TN @ Exit In
3/17 Austin, TX @ Emo's (Brooklyn Vegan showcase w/ Rwake, APMD, Hull, plus more TBA) 12pm - 6pm*
3/18 Austin, TX @ ND @ 501 Studio (Power of the Riff showcase w/ Eagle Twin, APMD, The Secret, Masakari) 12pm - 6pm**
3/18 Austin, TX @ Emo's Annex (NEMHF SXSW w/ The Red Chord, Gaza, plus more TBA)
3/18 Austin, TX @ Lovejoys (BV/1000Knives w/ Ringworm, Wormrot, plus more TBA)***
3/19 Austin, TX @ The Scoot Inn (Thrasher/Converse Texas Death Match showcase w/ Eyehategod, Mammoth Grinder and a fuck bag bunch of bands)**
3/20 Little Rock, AR @ Downtown Music Hall
*No Gaza
** Trap Them only
*** Gaza only
ROTTEN SOUND, TRAP THEM - 2011 TOUR DATES
01.04.11 Germany Karlsruhe @ Stadtmitte
02.04.11 Germany Köln @ Underground
03.04.11 Germany Rosswein @ Juha
04.04.11 Czech Rep Prague @ Exit Chmelnice
05.04.11 Slovakia Bratislava @ Randal
06.04.11 Germany München @ Feierwerk
07.04.11 Austria Salzburg @ Rockhouse
08.04.11 Italy Mezzago @ Bloom
09.04.11 Italy Rome @ Init
10.04.11 Switzerland Zürich @ Dynamo Werk21
11.04.11 France Paris @ Glazart
12.04.11 UK London @ Underworld
13.04.11 UK Plymouth @ White Rabbit
14.04.11 UK Colchester @ Arts Centre
15.04.11 Belgium Antwerpen @ Trix
16.04.11 Holland Venlo @ Perron55
17.04.11 Germany Hamburg @ Hafenklang
18.04.11 Denmark Lyngby @ Templet
19.04.11 Sweden Gothenburg @ Henriksberg
20.04.11 Oslo, Norway @ INFERNO Festival
21.04.11 Sweden Stockholm @ Debaser Slussen
22.04.11 Finland Turku @ Klubi
23.04.11 Finland Jyvaskyia @ Lutakko
24.04.11 Finland Helsinki @ Nosturi