Trash Talk played Afro-Punk Fest, headlining 285 Kent during tour w/ Danny Brown & Action Bronson (pics & dates)
Trash Talk at Afro-Punk Festival 2013

Sacramento hardcore punks Trash Talk just came to NYC over the weekend for the free free two-day Afro-Punk Festival, which went down in Fort Greene's Commodore Barry Park. A few pictures from their set on Sunday (8/25) are in this post. There's more at Facebook and still more on the way. Meanwhile, day 1 pictures are up now.
Trash Talk were also recently added to Danny Brown and Action Bronson's upcoming tour. That tour doesn't hit NYC, but in the midst of it, Trash Talk will stop in NYC on their own for a headlining show at 285 Kent on September 28. Tickets for that show are on sale now. All dates are listed below.
Danny Brown also played Afro-Punk on Sunday, and he'll play NYC again on Labor Day (9/2) for Fool's Gold Day Off, which happens in Williamsburg Park. Fool's Gold label boss A-Trak just confirmed that Danny's new album, OLD, will be released via the label on September 30.
All Trash Talk dates are listed, along with a few more pics from Afro-Punk, below...

---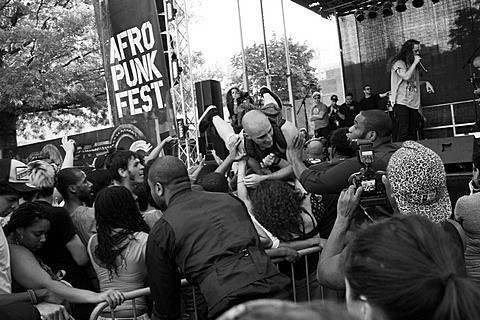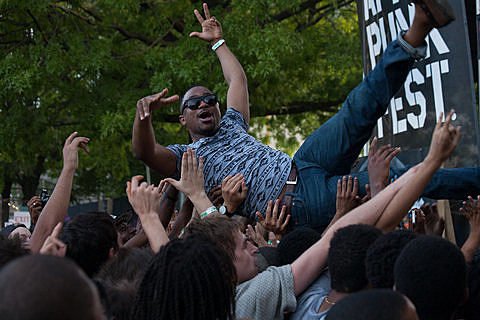 Trash Talk -- 2013 Tour Dates
09-17 Denver, CO - Ogden Theater *
09-18 Lawrence, KS - Liberty Hall *
09-20 Milwaukee, WI - Rave *
09-21 Iowa City, IA - Blue Moose *
09-22 Minneapolis, MN - First Avenue *
09-24 Bloomington, IN - Bluebird *
09-25 Grand Rapids, MI - Intersection *
09-26 Pittsburgh, PA - Altar *
09-27 Philadelphia, PA - TLA *
09-28 Brooklyn, NY - 285 Kent
10-01 Toronto, Ontario - Danforth Music Hall *
10-02 Montreal, Quebec - Telus Theater *
10-03 Boston, MA - Wilbur Theater *
* - w/ Danny Brown and Action Bronson