Traxman, Howse, Octo Octa, Bok Bok, Kingdom, Lazer Sword and other electronic artists playing NYC this weekend
After So So Glos, Lost Boy, Life Size Maps, and Big Ups play 285 Kent tonight (5/25), an entirely different show will go down at the venue. Weird Terrain is throwing a dance party which will kick off at midnight and reign until the wee hours of the morn. The party's being headlined by Traxman (aka Cornelius Ferguson), who's pretty much running the game of footwork right now and has been a mainstay in the Chicago dance scene since the 90s. He recently released a great new full length, Da Mind of Traxman, on Planet Mu and you can stream the track, "1988" from that release below.
Tonight's lineup also includes Howse (aka Nathaniel Oak), one of the newest members of the small, but always impressive Tri Angle Records family. Like labelmates Balam Acab, Clams Casino, and oOoOO, Howse's beats emerge from dark, otherworldy swamps, rarely feeling like they've ever seen the light of day. And he'll be a great fit with Traxman tonight too -- underneath those swampy layers, he's blasting minimal footwork patterns that no doubt are inspired by the scene Traxman has long been part of. Tri Angle will issue Howse's most recent EP, Lay Hallow, on May 28. Listen to the track, "VBS" below.
Also on tonight's bill is 100% Silk artist Octo Octa (aka Michael Morrison), who dropped a collaborative 12" with La Vampires (aka Amanda Brown) last week. The collaboration is some of the strongest material I've heard from either artist. See for yourself by checking out the video for "Freedom 2K" and stream another track from the collab, "Wherever, Boy" below.
Joining Traxman, Howse, and Octo Octa tonight will be Naka Naka (who's in town from Mexico), The Range, and Rezzie (Weird Magic). Check out more info at the facebook event. Flier below.
You can keep the party going at 285 Kent on Saturday (5/26) too when Lazer Sword (who are on Modeselektor's Monkeytown label) come through on their North American tour which kicks off tonight in Charlotte, NC. Tomorrow's show is with Night Slugs producers MORRI$ and Helix, along with resident Fade to Mind, Weird Magic, and S!CK DJs. Tickets are available. The tour is in support of Lazer Sword's new album, Memory, out now on Monkeytown. Stream the track, "Missed a Spot," from that release below.
Another dance option for tonight (5/25) is the Turbotax party at Santos Party House, which is billed as 'Fade to Mind vs Night Slugs." It's part of a North American tour that Bok Bok (Night Slugs) is on, and tonight he'll by joined by Rizzla (Fade to Mind) and Kingdom (who has releases on Night Slugs and runs Fade to Mind), along with Turbotax regular Rem Koolhaus. Check out a recent Night Slugs mix Bok Bok made, which features material from Night Slugs labelmates Girl Unit and Jam City, here. A list of all Bok Bok dates, his tour flier, and the flier for tonight's show are below.
Speaking of Night Slugs, both Jam City and Girl Unit have new releases out on the label this month. Stream clips of Girl Unit's Club Rez EP below and stream a genesis mix for Jam City's Classical Curves LP (his debut full length) here. Jam City is currently supporting that release on tour and will come to NYC for a turbotax party on July 27. A list of all Jam City dates and the tour flier are below.
One last related bit, LA duo Nguzunguzu, who have released material on Kingdom's Fade to Mind label, have a new EP coming called Warm Pulse. It will be out July 3 digitally and August 14 physically via Hippos in Tanks. The cover art is below.
A list of all dates, streams, video and fliers below...

---
LA Vampires by Octo Octa - "Freedom 2K"

LA Vampires by Octo Octa - "Wherever, Boy"

Lazer Sword - "Missed a Spot"

Girl Unit - Club Rez EP clips

Nguzunguzu - Warm Pulse

Bok Bok -- 2012 Tour Dates
May 25 - NYC - NS x Fade To Mind x Turrbotaxx w/ KINDOM
May 26 - DETROIT - RBMA Stage @ Movement
May 29 - DENVER - Carventes Masterpiece Ballroom
May 31 - VANCOUVER - Waldorf Hotel
June 01 - LOS ANGELES - Fade To Mind w/ KINGDOM & PRINCE WILLIAM
June 02 - SAN FRANCISCO - 222 Hyde
June 07 - WASHINGTON DC - U Street Music Hall w/ KINGDOM
June 09 - MONTREAL - Le Belmont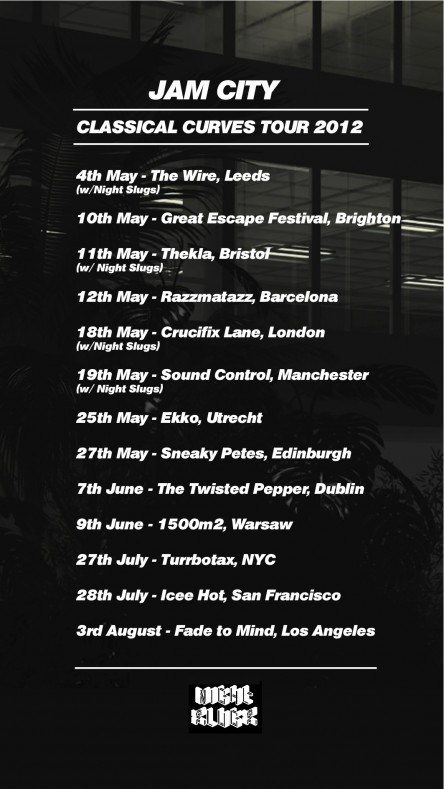 Jam City -- 2012 Tour Dates
25 May - Ekko, Utrecht - NL
27 May - Sneaky Petes, Edinburgh - UK
07 June - The Twisted Pepper, Dublin - Ireland
09 June - 150m2, Warsaw - Poland
27 July - Turrbotax, New York City - USA
28 July - Icee Hot, San Francisco - USA
03 August - Fade To Mind, Los Angeles - USA
Lazer Sword -- 2012 Tour Dates
Fri. May 25 - Charlotte, NC @ The Fillmore Charlotte
Sat. May 26 - New York, NY @ 285 Kent
Sun. May 27 - San Francisco @ Public Works
Thu. May 31 - Toronto, ON @ The Drake
Fri. June 1 - Portland, OR @ Holocene
Sat. June 2 - Arcata, CA @ Jambolaya
Tue. June 6 - Minneapolis, MN @ 7th Entry
Thu. June 8 - Denver, CO @ The Bluebird Theatre
Fri. June 9 - Phoenix, AZ @ Ghost