tUnE-YaRdS played Union Hall, a museum for Pop Montreal (pics), another Take-Away show (pics & video)
"The band on everyone's lips [at Pop Montreal] was local solo artist tUnE-YaRdS, a.k.a. Merill Garbus, whose looped ukulele electronica captured many people's attention at the festival. (Her track "Sunlight" was also the de facto Plateau coffee shop jam.) Though attendees planned to give it up for Faust, and sang the praises of local heroes like The Luyas, you couldn't escape the giddy enthusiasm they had for Think About Life. Dancing in a packed room with everyone I'd met that week, I finally understood just how small the Anglo music scene really was. And I kinda liked it that way." [Eye Weekly]
"Tune-Yards blew me away this time when she played at the Museum of Contemporary Arts.
This time she had a backing band and sounded alot better than her being just one musician.
There was also visuals during the show.
Totally packed the small theatre." [MW Music Review Blog]
And finally there was a private performance that was being filmed by Vincent Moon for a new La Blogoteque Take-Away show. It's her second Take-Away show as tUnE-YaRdS. The first was made at SXSW. You can watch the older one below.
Last night (10/6), tUnE-YaRdS shared a bill with Dragons of Zynth at Union Hall in Brooklyn. In November she's touring with Dirty Projectors (with four more NYC shows on that schedule). Ryan Muir, who spent a bunch of time with Vincent at Pop Montreal, was at all three of Merill's performances. More more pictures of both of the tUnE-YaRdS ones, below...


tUnE-YaRdS filming a new Take Away show w/ Vincent Moon in Montreal...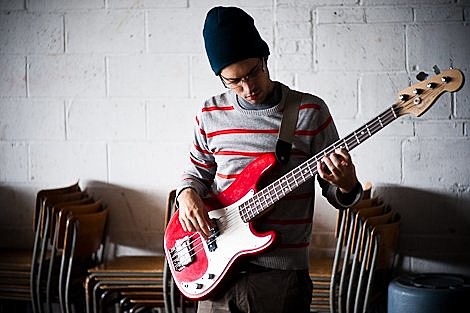 (Stay tUnEd for the footage in the above pictures to be released as a video. )
...and tUnE-YaRdS in a museum for Pop Montreal...
video of the first Tune Yards take-away shhow....
The Sister Suvi pictures are HERE.