Turbonegro prepares for 'Sexual Harassment'; listening party tonight, check out in-studio photos
I've been photographing Turbonegro for about a decade, and when they came to Electric Lady Studios in January to record their new album, Sexual Harassment, they asked me to come shoot. I got into Turbo during the Ass Cobra era and one of my favorite records is their first, Hot Cars and Spent Contraceptives. It's referred to as 'the birth of deathpunk' for good reason. Hot Cars began Turbo's legendary assault on pretty much every kind of rock'n'roll stereotype that has existed since Link Wray invented the power chord. Being there while they recorded, I could tell that Sexual Harassment is definitely going to be the rebirth of deathpunk. I hoped they would move in this direction after seeing their punishing cover of Negative Approach's 'Nothing' at Santos last fall. They had taken the glam/arena rock act for a long, world-wide ride with Apocalypse Dudes and subsequent records but as they have done for over twenty years, Turbo has defied everyone's expectations, again, returning with a new singer, a new sound, and a new record.
Turbonegro formed in 1989 and have gone through a multitude of line-ups before this one. Happy Tom has been the single constant member, playing drums and then bass, writing music and lyrics, and singing backing vocals. Rune Rebellion is the other current founding member, taking off in 2007 and rejoining last July. Pal Pot Pamparius, an original guitar player until Euroboy joined in 1996, is still part of the denim gang, playing some European show encores, but nothing on a regular basis. New members, singer Tony Sylvester and drummer Tommy Manboy, were both loyal members of the Turbonegro Navy (Tony was head of the Turbojugend chapter in London and Tommy toured with them as a tech,) and the group loved Tony in the Dukes of Nothing and Tommy in Serena-Maneesh and Silver . Just like Abercrombie and Fitch, if you are good looking, patient, and help move merchandise, you can move up the ranks, because Turbonegro promotes from within.
I've seen people online claim that this line-up isn't the real Turbo because it has a different singer. Shedding singers like a snake sheds skin, Turbo is now on their fourth singer. Pål Erik Carlin sang during the formative Route Zero/Turboloid era. Harald Fossberg sang on the landmark Hot Cars album. After he left Hank von Helvete joined and sang up until the last album, Retox. When Hank's commitment to the group wavered, Tony Sylvester was recruited. His voice in the studio is strong, and live he's a tattoo covered wrecking ball. With the addition of Tommy's powerful drumming, this reincarnation of Turbo is a force to be reckoned with.
Long Live Deathpunk.
Sexual Harassment comes out this Wednesday (6/13) on Volcom Entertainment. Turbonegro is playing a bunch of festival dates in Europe this summer. There is a pre-release listening party tonight (6/12) at Niagara from 9PM-11PM. Until then, check out some exclusive pictures of Turbonegro in the studio recording Sexual Harassment along with a set from their Santos appearance last year.

Turbonegro at Santos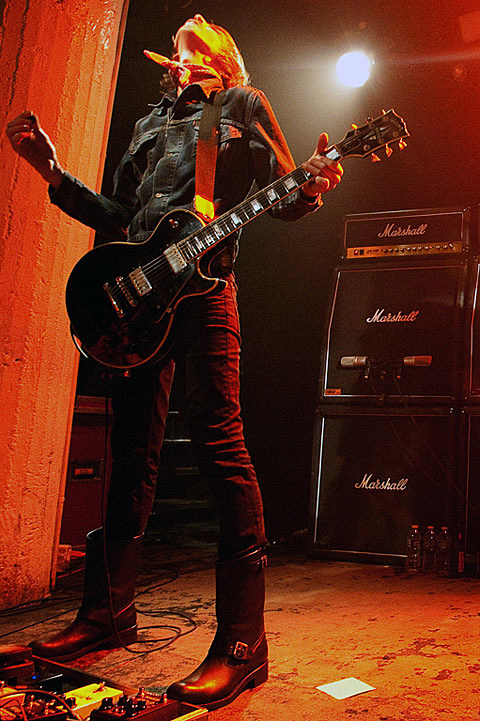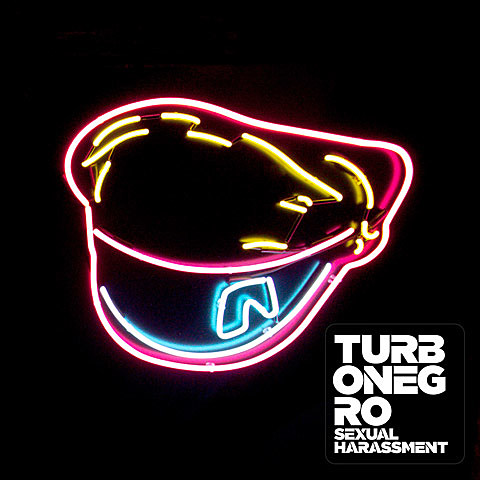 TURBONEGRO - 2012 TOUR DATES
6/15/2012 HellFest Clisson, FR
6/23/2012 Bergenfest Bergen, Norway
6/29/2012 Peace & Love Festival Borlange, Sweden
6/30/2012 Kollen Festival Oslo, Norway
7/20/2012 Knust
7/21/2012 Malakoff Festival Nordfjordeid, Norway
7/28/2012 Rock La Roca Loreley, Germany
7/29/2012 Greenville Festival Berlin, Germany
8/03/2012 Porispere Pori, Finland
8/11/2012 Heitere Open Air Zofingen, Switzerland
8/18/2012 Pstereo Festival Byscenen, Trondheim, Norway
8/23/2012 Dognvill Tromsø, Norway, . LMFAO, Reckless Love, & many more 8/24/2012 Leeds Festival Leeds, UK
8/25/2012 RXR Festival Stavanger, Norway
8/26/2012 Reading Festival Reading, UK