TV on the Radio's cover of "Heroes" in 'Game of Thrones' Season 5 trailer; 'Winds of Winter' is NOT coming in 2015
Varys & Tyrion / Jon Snow & Stannis, Game of Thrones S5 (courtesy HBO)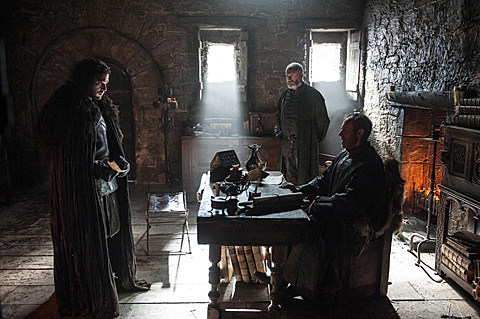 Last night was the big IMAX Game of Thrones event where they screened the show's Season 4 finale at theaters around the country. A lot of people went just to get a first look at the Game of Thrones Season 5 trailer which premiered at the event. Reports are, the show will seriously begin to diverge from Georger RR Martin's books, and will likely merge 2005's A Feast for Crows and 2011's A Dance with Dragons' stories, which followed different characters along parallel timelines. Vulture points out that, at least from the trailer, a new contender to the Iron Throne that makes his debut in A Dance with Dragons may have been excised from the story entirely. We shall see. Of course, an "unofficial" version of the trailer has made its way to the internet today which you can watch in its muffled, in-and-out-of-focus splendor, below. One thing you can make out is TV on the Radio's cover of David Bowie's "Heroes" which was recorded in 2009 for a Warchild benefit album.
UPDATE: They've released the official trailer online, and you can watch that below.
In other news, it looks like fans of Martin's A Song of Ice and Fire series are going to have to keep waiting for the next book. HarperCollins told The Guardian today that Winds of Winter (the title of the next book) is not on their 2015 release schedule. "I have no information on likely delivery," Jane Johnson of HarperCollins said. "These are increasingly complex books and require immense amounts of concentration to write. Fans really ought to appreciate that the length of these monsters is equivalent to two or three novels by other writers."
Clearly, GRRM is busy, busy writing. Or turning a former bowling alley in his Santa Fe hometown into something called the House of Eternal Return:
The artist collective Meow Wolf outlined its vision Thursday for the complex, which was purchased and is being renovated by author George R.R. Martin with Meow Wolf as the tenant. It is slated for a fall opening.

It will include a room for children's arts programs, as well as 19 affordable artists' studios with shared space for collaboration. A gift shop, gallery for emerging artists, and murals on inner and outer walls are planned.

But the major draw will be a House of Eternal Return, built on the 14,000 square feet where the bowling lanes used to be and offering 20,000 square feet of explorable space as different levels are added. More than 75 artists will collaborate on creating niches and crannies - some 50 to 70 of them - to give visitors a feeling of passing through a portal to a different time and place every time they open a door. - [Albuquerque Journal]
Watch the S5 trailer, below...

---