Tweak Bird releasing self-titled LP (MP3), touring w/ Mondo Generator (dates)
Justina Villanueva
Tweak Bird at Union Pool (more by Justina Villanueva)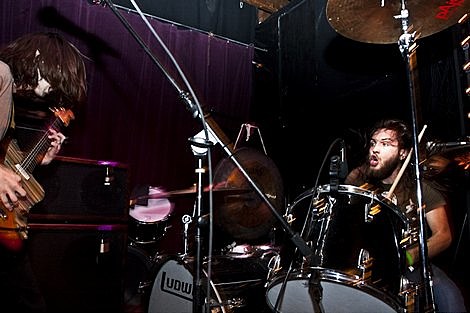 Mondo Generator will team up with Tweak Bird for a show at Santos Party House on August 19th, with support from Violent Soho and The Netherlands. Tickets are on sale.
Mondo Generator is on the road and paying homage to their new Dog Food 7" from a forthcoming album (their fourth) by the band founded by Nick Oliveri (ex-Dwarves, Queens Of The Stone Age, Kyuss). The new single features Dave Grohl, Happy Tom (Turbonegro) and Marc Diamond (The Dwarves) as well. Get yourself one, it's a limited pressing.
Tweak Bird have a joint of their own, their upcoming self-titled LP due on 8/31 via Volcom. Produced by the Deaf Nephews (Dale Crover from the Melvins and Toshi Kasai from Big Business), the album record follows in a similar path to their LA cronies/production team; big drums, big riffs, and hidden pop sweetness. Dig on a pair of tracks from that LP above.
Some video and full tour dates are below...

Tweak Bird interview

Mondo Generator "So High"

MONDO GENERATOR, TWEAK BIRD - 2010 TOUR DATES
Wed August 4th - Elbo Room, San Francisco, CA (USA)
Fri August 6th - Dante's, Portland, OR (USA)
Sat August 7th - Studio 7, Seattle, WA (USA)
Mon August 9th - Club Vegas, Salt Lake City, UT (USA)
Wed August 11th - 3 Kings Tavern, Denver, CO (USA)
Thu August 12th - Riot Room, Kansas City, MO (USA)
Fri August 13th - Triple Rock Social Club, Minneapolis MN (USA)
Sat August 14th - Frequency, Madison WI (USA)
Sun August 15th - Double Door, Chicago, IL (USA)
Mon August 16th - Southgate House, Newport KY (USA)
Tue August 17th - Smalls, Hamtramck MI (USA)
Wed August 18th - Bug Jar, Rochester NY (USA)
Thu August 19th - Santos, New York, NY (USA)
Fri August 20th - Middle East Upstairs, Cambridge, MA (USA)
Sat August 21st - Northn Star Bar, Philadelphia PA (USA)
Sun August 22nd - 37th & Zen, Norfolk VA (USA)
Tue August 24th - Casbah @ Trenton Music Hall, Charlotte NC (USA)
Wed August 25th - Stella Blue, Asheville NC (USA)
Thu August 26th - Hi Tone Cafe, Memphis TN (USA)
Fri Augsut 27th - The Conservatory, Oklahoma City OK (USA)
Sat August 28th - Emo's, Austin TX (USA)
Sun August 29th - Skillman Street Bar, Dallas, TX (USA)
Tue August 31st - Launch Pad, Albuquerque NM (USA)
Thu September 2nd - Spaceland, Los Angeles, CA (USA)