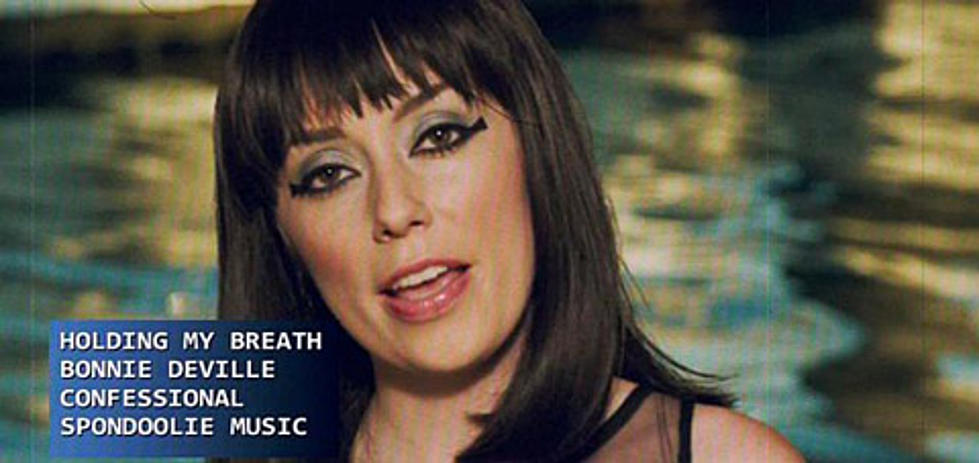 Twin Sister (or is it Mr. Twin Sister)'s Andrea Estella is in 'Veronica Mars' movie; band up to something too
(Mr) Twin Sister's Andrea Estella as Bonnie Deville in 'Veronica Mars'

It's been a while since we've heard from Twin Sister, who released their debut album on Domino back in 2011. You may have heard a couple of their songs recently if you saw the crowd-funded Veronica Mars movie, which came out back in March, and is now on home video. The plotline involves the murder of a pop star named Bonnie Deville who is played by Twin Sister's Andrea Estella, and all her songs are by that band. "All Around and Away We Go" is used pretty much verbatim, but "I Want a House" gets reworked with a new title, "Holding My Breath." (You can compare and contrast the original and revamp below.) Here's a plot twist: on the soundtrack, however, both songs are credited to Mr. Twin Sister.
The Veronica Mars soundtrack also features songs by Freddie Gibbs, Sufjan Stevens and Alejandro Escovedo who covers Dandy Warhols' "We Used to Be Friends" (which is the Veronica Mars theme song). Check out the tracklist and the Twin Sister/Mr. Twin Sister streams (via YouTube) below.

---
Holding My Breath by Mr Twin Sister

twin sister :: i want a house

Veronica Mars - movie soundtrack tracklist:
• We Used To Be Friends (Alejandro Escovedo)
• Go Captain and Pinlighter (Emperor X)
• Holding My Breath (Mr. Twin Sister)
• All Around and Away We Go (Mr. Twin Sister)
• Criminal (ZZ Ward featuring Freddie Gibbs)
• Chicago (Sufjan Stevens)
• Stick Up (Max)
• Never Give In (Mackintosh Braun)
• Prosthetic Love (Typhoon)
• You'll Never Find Another Love Like Mine (Lou Rawls)
• Second Chances (Gregory Alan Isakov)
• We Used To Be Friends (The Dandy Warhols)
• Mug Shot (Max) *bonus track - on digital album only.