Ty Segall played Mercury Lounge & Death By Audio w/ Heavy Cream, Liquor Store & Home Blitz (pics & video)
Ty Segall @ Death by Audio

Ty Segall and band stopped by on their current SXSW-inclusive tour for a pair of NYC gigs on Tuesday and Thursday. The first of those happened at a crammed Mercury Lounge, where the band played a 45-minute set that mixed Melted gems with new tunes. Last time I saw Ty, his voice was shredded from a day of grueling CMJ performances, and the set ended with a guitar-smashing outburst. Here, coming off a (hopefully relaxing) cruise, there were no such issues; Ty hit all the falsetto cues and edged down to a whisper for the quieter moments. Those lulls always have a way of roaring back, which is part of what makes Ty Segall such a compelling live act: the briefly empty spaces that explode into hair-flailing shred-work. The other part is the melodies, which are catchy and incredibly memorable, even if you can't tell what he's saying, or even what the songs are about ("Finger" something....??).
Ty's Thursday NYC show was at Death by Audio with Heavy Cream, Liquor Store, and Home Blitz. Hopefully Ty and the band will be back in New York soon (or at least by the release of his new disc, Goodbye Bread, on June 21). Heavy Cream (who have a new drummer) return to Death By Audio on April 2nd.
All tour dates, and more pictures and videos from the DBA show, below...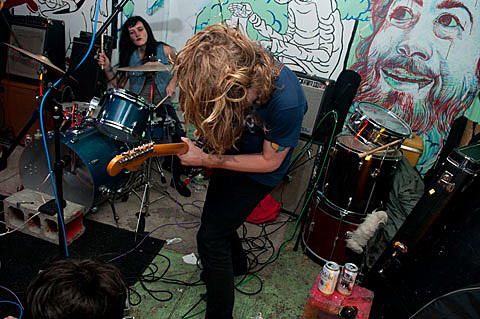 Ty Segall - 2011 Tour Dates
3/13/11 Kalamazoo, MI @ The Strutt w/ Heavy Cream
3/14/11 Chicago, IL @ Empty Bottle w/ Heavy Cream
3/15/11 Lawrence, KS @ Jack Pot Saloon w/ Heavy Cream
3/16/11 SXSW - eMusic Party @ Beauty Bar @ 2:45 PM
3/18/11 SXSW - Rhapsody Party @ Club Deville @ 1 PM
3/18/11 SXSW - Goner Party @ Beerland 12 AM
3/19/11 SXSW - Panache Showcase @ Mohawk w/ Quintron and miss pussycat, Strange Boys, JEFF The Brotherhood, Bellrays, Pujol & more
HEAVY CREAM - 2011 TOUR DATES
Mar 11 Club Lambi (w/Ty Segall & Uncle Bad Touch) Montreal, QC, CANADA
Mar 12 Wrongbar (w/Ty Segall) 19+ Toronto, ON, CANADA
Mar 13 The Strutt (w/Ty Segall) 18+ Kalamazoo, MI
Mar 14 Empty Bottle (w/Ty Segall) 21+ Chicago, IL
Mar 15 Jackpot Saloon (w/Ty Segall) Lawrence, KS
Mar 16 SXSW Austin, TX
Mar 17 SXSW Austin, TX
Mar 18 SXSW Austin, TX
Mar 19 SXSW Austin, TX
Mar 31 The Pilot LIght - 18+ Knoxville, TN
Apr 1 MACRoCk XIV Festival Harrisonburg, VA
Apr 2 Death By Audio Brooklyn, NY
Apr 3 Monkey House (w/JEFF The Brotherhood) Winooski, VT
Apr 4 The Starlab Somerville, Massachuse
Apr 8 Haverford College (w/JEFF The Brotherhood) Haverford, PA
Apr 16 The End (w/Hunx and his Punx) 18+ Nashville, TN
May 3 Drunken Unicorn (w/JEFF The Brotherhood) 18+ Atlanta, GA
May 4 Bottletree (w/Smith Westerns) Birmingham, AL
May 5 Siberia New Orleans, LA
May 6 Alabama Music Box Mobile, AL