Ty Segall, Sic Alps, OMD, Tahiti 80, Small Sins, Kurt Vile & more in This Week in Indie (part 1)
by Bill Pearis
DOWNLOAD: Ty Segall - Girlfriend (MP3)
DOWNLOAD: Ty Segall - Caesar (MP3)
DOWNLOAD: Sic Alps - Do You Want to Give $$ (MP3)
DOWNLOAD: Tahiti 80 - Keys to the City (MP3)
DOWNLOAD: Small Sins - Pot Calls Kettle Black (MP3)
Ty Segall in San Fran in January (more by kolored)

...and this is the week that SXSW comes to New York. Dear lord, there's a whole lot going on, so This Week in Indie is coming to you in two installments. This one runs, basically, though Thursday, March 10. Do take advantage of this embarrassment of indie rock riches.
We're got some quality San Francisco garage rock in town courtesy of Ty Segall, fresh off the Bruise Cruise and whose most recent album, Melted, still gets a lot of play in these parts. (Download two tracks from it at the top of this post.) Few are doing this kind of music with more melody, attitude and enthusiasm as Ty, which really comes across in the live show. He plays Mercury Lounge tonight (3/8, sold out!) and Death by Audio on Thursday (3/10).
The Mercury Lounge show is with Brooklynites Devin Therriault and The Sundelles. At Death by Audio, Ty is joined by Nashville's Heavy Cream (yes it's true, they have a new drummer), Liquor Store and Home Blitz. Ty then heads to Austin for SXSW. Look for Ty's new album, Goodbye Bread, out this summer on Drag City.
While many acts under the garage umbrella -- Ty Segall, The Intelligence, The Fresh & Onlys -- have begun to embrace mid-fi recording, Sic Alps remain happily in the sludge. Their new album, Napa Asylum, is 22 tracks -- short songs but thick as molasses. Something about this band raises the temperature, probably because it sounds like it was recorded in a moldy basement in a swamp in July. Some bands use lo-fi as camouflage. For Sic Alps it's all about atmosphere.
Live shows can be just as sweaty, even when it's freezing outside, and the less traditional the venue, the better they tend to sound. Which bodes well for these shows. Sic Alps play the Old Firehouse (aka DCTV HQ, 87 Lafayette in Manhattan) on Wednesday (3/9) and 285 Kent (next door to Glasslands) on Thursday (3/10). Both shows are with touring mates Magic Markers. The Old Firehouse show also has Gary War and Total Slacker; the 285 Kent show is with PC Worship and Hubble.
OMD

Tonight (3/8) also marks the first show first-generation synthpop group OMD have played in New York in 25 years. The show is at Terminal 5 and tickets are still available. As reported before, this is the inarguable classic line-up of the band, the one that created their first six albums. And while there is a new album they're touring for, the shows have been packed with hits. According to Unrest/TeenBeat honcho Mark Robinson's twitter feed, last night's show in Boston included "Messages," "Tesla Girls," "Electricity," "Forever Live and Die," "If You Leave" and pretty much everything else you'd want to hear.
If you're going tonight and still care about music that was made more recently than 20 years ago, do get there early for opener Oh Land who, like OMD, will be at SXSW next week. She plays the BV/M for Montreal day party in Austin on March 19 at Barbarella/Swan Dive.
Tahiti 80

What else? Parisians Tahiti 80 never got as popular as their contemporaries Phoenix but the band have made consistently engaging, danceable pop over the last 15 years, including  what's found on the band's fifth album, the just-released The Past, The Present, & the Possible. The band play Mercury Lounge on Thursday (3/10).
I don't think I've seen Xavier Boyer and the rest of the band play since catching them at Brownies on the Wallpaper for the Soul tour, but have caught a number of their shows and Tahiti 80 are a solid live group. And the new album is good, dividing time between '60s influenced pop and more dancefloor-friendly material, both of which they do well. You can check "Keys to the City" at the top of this post.
Small Sins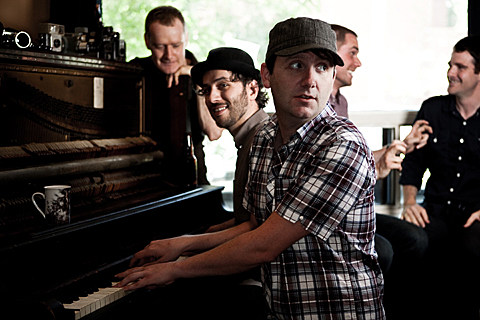 Some of you may remember Toronto band Small Sins, who made a small splash back in the mid-'00s, putting out two albums of electronic-inflected indie pop on Astralwerks. They used to play NYC quite often back then. After 2007's Mood Swings the band kind of fell off the map, and I'd assumed singer-songwriter Thomas D'Arby had moved onto something else. Small Sins were basically a solo project for him after the dissolution of his old band Carnations anyway.
But turns out D'Arby was just in hibernation. Working with Tortise's John McEntire, D'Arby and the rest of Small Sins made Pot Calls Kettle Black, which came out last summer in Canada. A little bigger, a little more serious-sounding than the two other albums, Smalls Sins retain that mix of electronics, atmospherics and solid pop songwriting. You can download the album's title track at the top of this post.
I think the last time I saw them live is when they opened for Sloan at Southpaw back in 2007, though maybe I'm misremembering. Anyway, Small Sins are back in town this week, playing Santos Party House on Thursday (3/10) and The Rock Shop on Friday (3/11). The Santos Show is with '90s-rockin' Mr. Dream (who were good at Glasslands last week) and Quitzow; the Rock Shop also has True Womanhood and Suddenland.
Ok, that's the big stuff for mid-week. Stay tuned for Part 2 of TWII where we'll talk Still Corners, Edwyn Collins, Withered Hand, Megaphonic Thrift and more. Some more day-by-day picks are listed here:
TUESDAY, MARCH 8
Kurt Vile, whose new album Smoke Ring for My Halo is out today and garnered a well-deserved Best New Music in Pitchfork. He's doing three in-stores today: Academy in Williamsburg 5PM, then into the City for a stop at Generation (7PM) and Other Music (9PM). Soon to be on tour with J Mascis.
continued below...

--
WEDNESDAY, MARCH 9
It is like Merge Day in New York. Superchunk and Wild Flag are at Radio City Music Hall opening for Bright Eyes (for the second night in a row), while Seattle power pop act Telekinesis are at Mercury Lounge with The Love Language (sold out). While we're talking about Merge, Wye Oak's amazing, amazing new album Civilian is out today -- do not wait, get it now.
The lovely Alex Winston is at Maxwell's tonight. You can also see her in Austin next week.
THURSDAY, MARCH 10
The Jim Jones Revue bring true rock n' roll to Knitting Factory with Freshkills and Hollis Browne.
It's a night of quality local indie rock at Union Pool, with Radical Dads, Purling Hiss and Night Manager.
OK that's really it (until part 2 of this post which is coming soon). Tour dates, music videos and the always-exciting etcetera are below.
--
Kurt Vile - 2011 Tour Dates
03/08 Brooklyn, NY - Academy LPs (with Northampton Wools)
03/08 New York, NY - Generation Records
03/08 New York, NY - Other Music
03/10 Ithaca, NY - Castaways (with J Mascis)
03/11 Toronto, Ontario - The Great Hall (Canadian Music Fest) (with J Mascis)
03/12 Kingston, Ontario - The Mansion
03/13 Burlington, VT - Monkey House
03/14 Milford, CT - Daniel Street
03/19 Austin, TX - Ground Control Showcase at Auditorium Shores (SXSW)
03/22 Brattleboro, MA - Headroom Stages (with J Mascis)
03/23 Philadelphia, PA - World Cafe Live (with J Mascis)
03/24 New York, NY - Mercury Lounge (with J Mascis)
03/25 Brooklyn, NY - Music Hall of Williamsburg (with J Mascis)
03/26 Boston, MA - Brighton Music Hall (with J Mascis)
03/28 Red Hook, NY - Bard College
03/29 Pittsburgh, PA - Andy Warhol Museum
03/30 Cleveland Heights, OH - Grog Shop (with J Mascis)
03/31 Ann Arbor, MI - Blind Pig (with J Mascis)
04/01 Chicago, IL - Subterranean (with J Mascis)
04/02 Minneapolis, MN - 7th Street Entry (with J Mascis)
04/03 Iowa City, IA - The Mill
04/05 Gambier, OH - Kenyon College
04/06 Nashville, TN - The End
04/07 Atlanta, GA - The Earl (with J Mascis)
04/08 Athens, GA - Melting Point (with J Mascis)
04/09 Asheville, NC - Grey Eagle (with J Mascis)
04/10 Carrboro, NC - Cat's Cradle (with J Mascis)
04/21 Los Angeles, CA - The Echo
04/22 San Francisco, CA - Bottom of the Hill
04/23 Portland, OR - Bunk Bar
04/24 Seattle, WA - Sunset Tavern
04/25 Vancouver, British Columbia - Waldorf Hotel
05/11 Berlin, Germany - Festaal Kreuzberg
05/15 Utrecht, Netherlands - Tivoli
05/19 London, England - Corsica Studios
05/20 Liverpool, England - Sound City Festival
05/21 Glasgow, Scotland - Stag & Dagger Festival @ Captains Rest
05/25-29 Barcelona, Spain - Primavera Sound Festival
06/30-7-3 Roskilde, Denmark - Roskilde Festival
--
Ty Segall - 2011 Tour Dates
3/7/11 Richmond, VA @ Strange Matter w/ Super Vacations
3/8/11 New York, NY @ Mercury Lounge w/ Devin Therriault
3/10/11 Brooklyn, NY @ Death By Audio w/ Heavy Cream, Liquor Store and Home Blitz
3/11/11 Montreal, QC @ Club Lambi w/ Heavy Cream
3/12/11 Toronto, ON @ Wrong Bar
3/13/11 Kalamazoo, MI @ The Strutt w/ Heavy Cream
3/14/11 Chicago, IL @ Empty Bottle w/ Heavy Cream
3/15/11 Lawrence, KS @ Jack Pot Saloon w/ Heavy Cream
3/18/11 SXSW - Goner Party @ Beerland
3/19/11 SXSW - Panache Showcase @ Mohawk w/
Quintron and miss pussycat, Strange Boys, JEFF The Brotherhood, Bellrays, Pujol & more
--
Sic Alps - Do You Want to Give $$

SIC ALPS - 2011 TOUR DATES
2/9/11 San Francisco, CA - Great American Music Hall w/ Thee Oh Sees, Ty Segall
2/24/11 San Francisco, CA - The Eagle w/ the Mantles, MeercaRadio Dept + tbd
2/25/11 Los Angeles, CA - The Smell w/ White Fence + tbd
2/26/11 Los Angeles, CA - Echoplex w/ Death and RTX
2/27/11 San Diego, CA - Soda Bar w/ RTX
2/28/11 Tucson, ARadio Dept - Plush
3/1/11 Albuquerque, NM - Low Spirits
3/2/11 Denton, TX - Hailey's
3/3/11 Austin, TX - Emo's
3/4/11 Houston, TX - FitRadio Deptgerald's w/ CAVE and Indian Jewelry
3/5/11 Oxford, MS - Proud Larry's w/ FLIGHT
3/6/11 Atlanta, GA - The Earl
3/7/11 Durham, NC - The Layabout w/ Magik Markers
3/8/11 Philadelphia, PA - Rotunda w/ Magik Markers
3/9/11 New York, NY - The Old Firehouse w/ Magik Markers
3/10/11 Brooklyn, NY - 285 Kent Ave. w/ Magik Markers
3/11/11 Annandale-On-Hudson, NY - Bard College w/ Magik Markers
3/12/11 Pittsburgh, PA - The Shop w/ Magik Markers
3/13/11 Cleveland, OH - Now That's Class
3/14/11 Columbus, OH - Carabar w/ Psychedelic Horseshit
3/15/11 Ann Arbor, MI - Arbor Vitae w/ Stare Case, Fred Thomas
3/16/11 Detroit, MI - Lager House w/ Stare Case
3/17/11 Chicago, IL - Empty Bottle w/ CAVE, Wet Hair
3/19/11 Omaha, NE - Slowdown (Back Room)
3/20/11 Denver, CO - Rhinoceropolis
3/21/11 Salt Lake City, UT - Urban Lounge
3/22/11 Boise, ID - Color Cube
3/23/11 Seattle, WA - Funhouse w/ Puberty and Idle Times
3/24/11 Olympia, WA - Northern
3/25/11 Portland, OR - East End
3/26/11 Arcata, CA - Arcata Playhouse
Tahiti 80 - Darlin'

--
Tahiti 80 - 2011 Tour Dates
03/09: Chicago, IL @ The Abbey (11:30 PM)
03/10, New York, NY @ Mercury Lounge (11:00 PM)
03/12: San Diego, CA @ Bar POink (10:30PM)
03/13: San Francisco, CA @ Rickshaw Stop (10:45 PM)
03/14: Los Angeles, CA @ Troubadour (10:00 PM)
03/16: Austin, TX @ SXSW (512 Rooftop, set time TBA)
03/17: Austin, TX @ SXSW (Klub Krucial, 5:00PM)
03/17: Austin, TX @ SXSW (French BUREX Party Brush Square, 5:00PM)
Small Sins - Why Don't You Believe in Me?

Small Sins - 2011 Tour Dates
Wednesday March 9th, 2011 Alliston, MA O'Brien's Pub
Thursday March 10th, 2011 New York Santo's Party House
Friday March 11th, 2011 Brooklyn The Rock Shop
Saturday March 12th, 2011 Philadelphia Kung Fu Necktie
Sunday March 13th, 2011 Washington The Red Palace