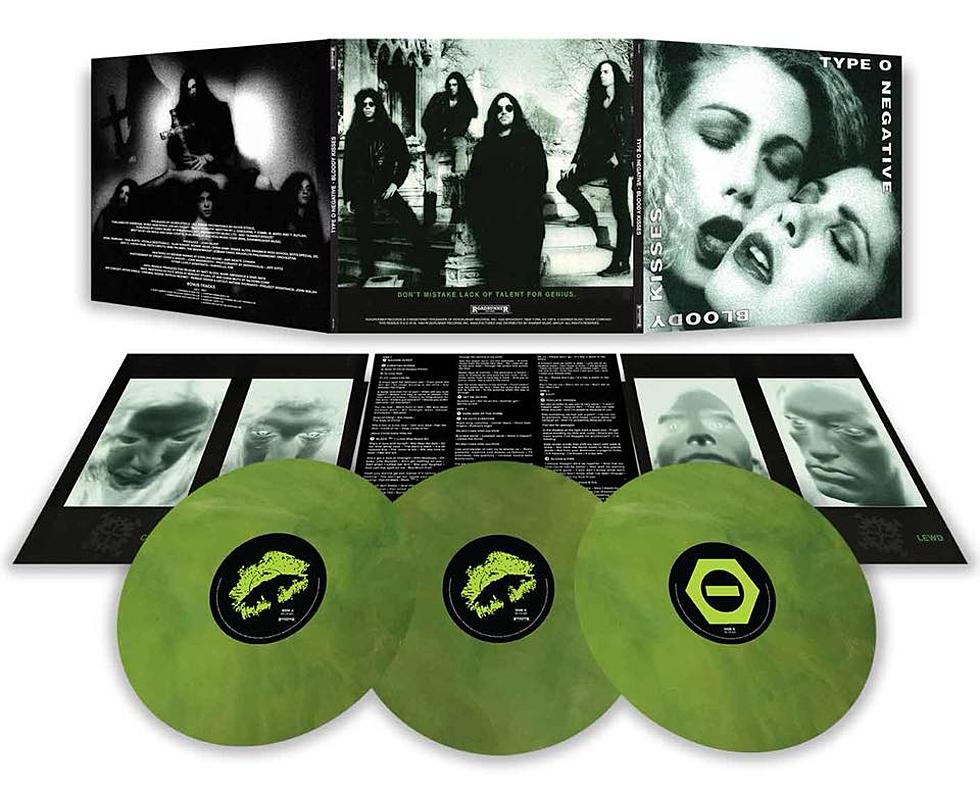 Type O Negative – 'Bloody Kisses' getting 25th anniversary 3LP expanded reissue
Official Type O Negative is pretty rare these days, so we thought we'd share this pretty exciting (relatively speaking) press release:
ROADRUNNER & RUN OUT GROOVE TO REISSUE 25th ANNIVERSARY EDITION OF BLOODY KISSES FOR BLACK FRIDAY

In support of independent record stores, RUN OUT GROOVE and Roadrunner Records are releasing an expanded 25th Anniversary edition of Type O Negative's "Bloody Kisses" that is exclusive for Record Store Day-Black Friday and will be available to purchase at participating stores on 11/23/18. This title will not be eligible for a vote or available to pre-order on www.runoutgroovevinyl.com.

Bloody Kisses was released in 1993 to critical acclaim and became the first album for Roadrunner to reach certified Platinum status in the States. For the 25th anniversary, the record is being reissued as a stand-alone vinyl release in the U.S. for the first time and will be getting the deluxe treatment which includes an extra LP of bonus tracks making their debut on vinyl. The 3LP set will be pressed on 180g green and black swirl vinyl and come in a tri-fold direct to board Stoughton jacket. "Bloody Kisses 25th Anniversary" 3LP expanded edition is a Record Store Day-Black Friday exclusive limited to 5000 copies and available at participating stores in the US and Canada only.

Track list and sequence for the 3LP set is as follows:
Side A
1 Machine Screw 0:39
2 Christian Woman 8:57
3 Black No. 1 (Little Miss Scare-All) 11:14
Side B
1 Fay Wray Come Out and Play 1:02
2 Kill All The White People 3:23
3 Summer Breeze 4:49
4 Set Me On Fire 3:29
Side C
1 Dark Side Of The Womb 0:27
2 We Hate Everyone 6:50
3 Bloody Kisses (A Death In The Family) 10:55
Side D
1 3.O.I.F. 2:05
2 Too Late: Frozen 7:50
3 Blood & Fire 5:32
4 Can't Lose You 6:05
Side E
1 Suspended In Dusk 8:40
2 Black Sabbath (From The Satanic Perspective) 7:48
3 Summer Breeze (Rick Rubin Mix) 4:57
Side F
1 Christian Woman (Edit) 4:28
2 Christian Woman (Butt-Kissing Sell-Out Version) 4:28
3 Black No. 1 (Edit) 4:39
4 Blood & Fire (Out Of The Ashes Mix) 4:38

To get involved and learn more about RUN OUT GROOVE or to get additional details about both of these exclusive Record Store Day releases, please visit www.runoutgroovevinyl.com
UPDATE: And there is also a Type O Negative / Trivium split 7" coming out on Record Store Day, which has Trivium covering Type O's "I Don't Wanna Be Me" on one side, and the original on the other.
Here's one of the tracks that's appearing on the bonus record: