U2 & Interpol played the new Meadownlands (pics, setlists)
Gregory R. Cristman
photos by Greg Cristman
Last night, U2 arrived at New Jersey's New Meadowlands Stadium in a giant green-and-orange spaceship. At least that's what the nearly 100,000 people in attendance might have assumed upon first seeing the blinking, glowing, four-legged, 167 foot tall contraption straddling the area that otherwise serves as the Jets' and Giants' home turf.

More confusion may have ensued around half past nine when the base of the structure began to smoke furiously; shortly thereafter, David Bowie's 'Space Oddity' announced a countdown over the loudspeakers. At zero, the sound of live guitars cut through the heavy air and U2 charged onto the stage as the stadium heaved with applause. The band played for over two hours, rocking through hits like 'Beautiful Day' and 'Sunday, Bloody Sunday,' punctuated with shout-outs to Amnesty International and bits of banter by Bono.

'I'm a man of simple needs, just 200 trucks, 400 tons of equipment,' he said of the group's current tour. 'A work in progress.'...

...The group's [360] tour takes its name from the aforementioned structure that allows U2 to play stadiums 'in the round'; in other words, to open up thousands of seats that would ordinarily be behind a stage - and actually sell out 80,000-seat venues (or larger). The contraption is dismantled and trucked from city to city between shows along with all the group's equipment. As a result, U2 has been playing to average crowds of 96,000 people per night and grossing just shy of $10 million per show. By comparison, Bon Jovi, the second-highest earning musical act over the past year, drew an average of 34,000 fans and grossed $3.5 million per night. [Forbes]
Interpol opened for U2 last night (7/20) at the Meadowlands, and will again for two more shows before U2 plays a final '360' date in Canada with Arcade Fire and Carney (the band who plays in the Spiderman musical!).
The July 20, 2011 show was originally scheduled July 19, 2010, but was postponed due to Bono's back injury. U2 played some of the final shows at Giants Stadium in 2009 (also expensive 360 shows).
More pictures and the setlists from last night in NJ below....


Interpol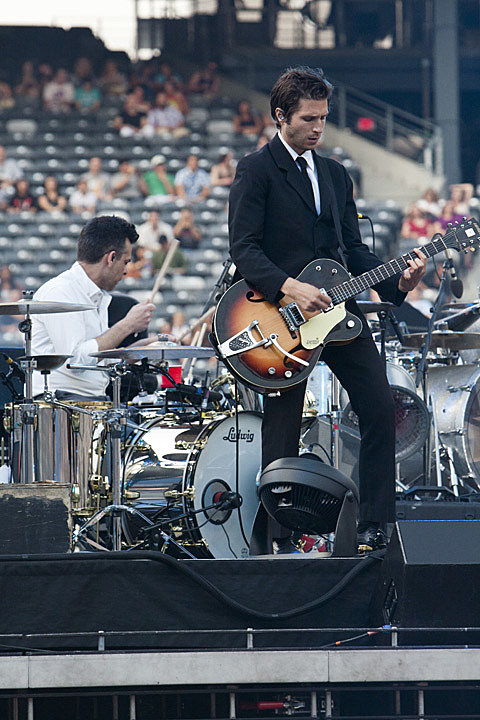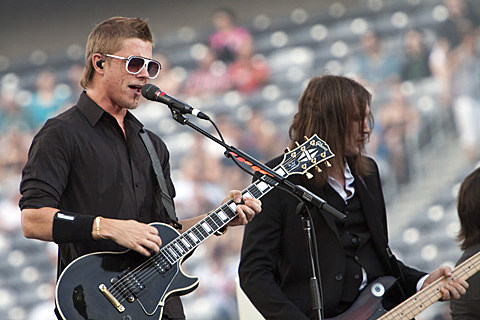 U2
INTERPOL SETLIST 7/20/11 NEW MEADOWLANDS STADIUM E.RUTHERFORD, NJ
Success
Say Hello To The Angels
Narc
The Heinrich Maneuver
C'mere
Barricade
Lights
Obstacle 1
Evil
Slow Hands
--
U2 SETLIST 7/20/11 NEW MEADOWLANDS STADIUM E.RUTHERFORD, NJ
Space Oddity (David Bowie song)
Even Better Than The Real Thing
The Fly
Mysterious Ways
Until The End Of The World
I Will Follow
Get On Your Boots
Magnificent
I Still Haven't Found What I'm Looking For (with Bruce's "The Promised Land" snippet)
Stay (Faraway, So Close!)
Beautiful Day
(with "Space Oddity" snippet)
Elevation
Pride (In The Name Of Love)
Miss Sarajevo
Zooropa
City Of Blinding Lights
Vertigo
I'll Go Crazy If I Don't Go Crazy Tonight (with "Discotheque", "Life During Wartime/Psycho Killer" snippets)
Sunday Bloody Sunday
Scarlet
Walk On
====================
One (with "Hallejulah" snippet)
Where The Streets Have No Name
====================
Hold Me, Thrill Me, Kiss Me, Kill Me
With Or Without You
Moment of Surrender
Out Of Control
--
U2 - 2011 TOUR DATES
Jul 23 2011 Minneapolis, MN TCF Bank Stadium w/Interpol
Jul 26 2011 Pittsburgh Heinz Field w/Interpol
Jul 30 2011 Moncton, NB CA Magnetic Hill Music Festival w/ Arcade Fire, Carney