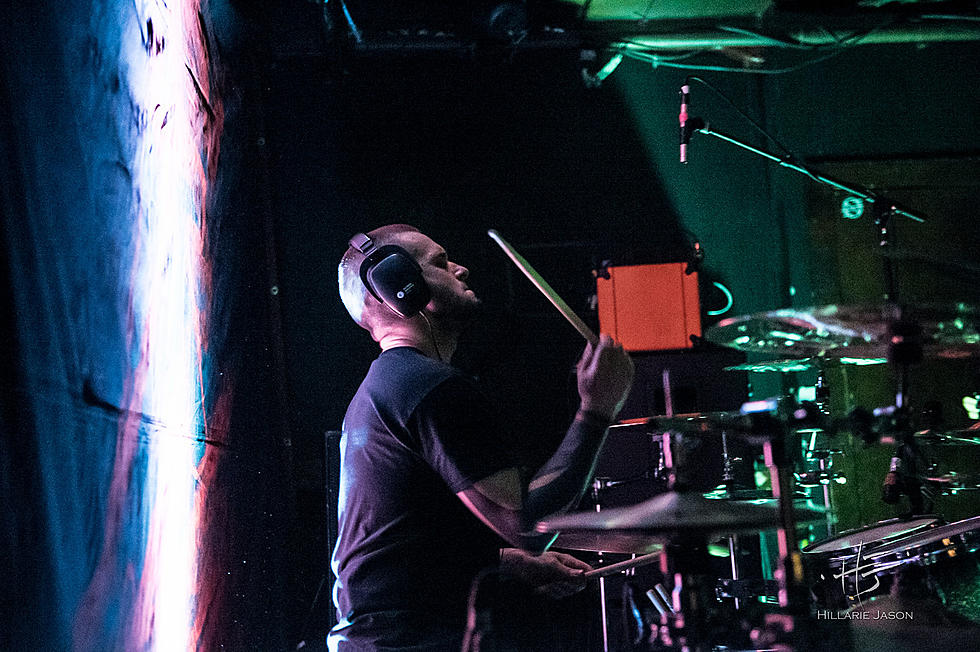 Ulcerate's Jamie Saint Merat on the music he's listening to in isolation
Jamie with Ulcerate at Great Scott in Allston in 2016 (photo by Hillarie Jason)
With the coronavirus pandemic keeping many of us home a lot more, we've been asking artists to make us playlists of the music they've been listening to in isolation, and this one comes from Jamie Saint Merat, drummer of New Zealand atmospheric death/sludge metallers Ulcerate, whose anticipated new album Stare Into Death and Be Still comes out April 24 via Debemur Morti Productions.
Jamie's list includes albums by Drastus, Ulver, Hildur Guðnadóttir (the Chernobyl soundtrack), and more, and he wrote in-depth commentary on each pick. Read on for his list...
1. Drastus - 'La Croix de Sang'
I've been a huge fan of Drastus' output since their last last release - 2009's 'Serpent's Chalice - Materia Prima' EP. Which is for me at least a completely underrated and somewhat overlooked masterpiece of the French BM canon. Skip forward 9 years, and without warning NoEvDia releases my favourite album of 2019 with 'La Croix de Sang'. With more of a focus on riff-work than atmosphere, and a harsher sound all round without losing any of the sonic characteristics that made its predecessor so powerful. Just a fucking tank of an album, it takes its time and builds unbelieavable amounts of tension - an all encompassing boot on the throat. How the vocals in Drastus get away with the oscillating melodic chanting I will never know, but they're delivered perfectly and sound extremely eerie. The sneaky skank beat change-up in Ashura to close the track at 5:17 might be my favourite use of that beat ever.
2. Hildur Guðnadóttir - 'Chernobyl' soundtrack
I first became aware of Hildur via her collaborations with Jóhann Jóhannsson (RIP), who up until he passed was easily becoming my favourite contemporary composer. With 'Chernobyl', Hildur takes the torch and runs with it completely - the first minutes into watching the HBO show I had to pause immediately to check who composed the score, it elicited such a visceral reaction. Potentially the most unsettling score I've ever heard, everything about it drips with tension and nightmarish scenarios with unconventional, glitchy instrumentation and timbre. Also the way it weaves in and out of the visuals as if it's foley sometimes is really compelling, something you don't usually hear in cinema.
3. Morast - 'Il Nostro Silenzio'
The recommendation for Morast came wholeheartedly from one of my best friends who toured with these guys. Extremely dark, down-tempo blurring of sound and aesthetic straddling doom, death and black metal. Like being head-butted in the face in slow-motion. This album especially has a really characteristic way of overlaying chorused clean guitars as accents over untold layers of filth, and enlisting simple but effective rhythms for an all-encompassing spectrum of sound. The production on this album courtesy of Michael Zech is one of the best I've heard in years, dense but satisfying on the ears, each instrument is 'glued' together just the way I like it. The drum sound especially is exactly what I like to hear in heavy music.
4. Ulver - 'Drone Activity'
Ulver's output is obviously prolific and varied, and for an improvisational performance this is amazing. Insanely cinematic in scope, this release traps you within minutes and transfixes you until it's over. The write-up on the releases Bandcamp page couldn't be more apt with phrases like 'A retreat into the sunken paradise. Half-buried misty temples, giant creatures and vaguely prehistoric figures emerged as depth and time intertwined, from the ancient Atlantis to the northernmost seas.'
Like the aforementioned 'Chernobyl' soundtrack, there's an uneasy and unsettling mood to this that I find intoxicating. Masterful release.
5. Hangman's Chair - 'Banlieue Triste'
There's a few bands for me that transcend the genre they're typically associated with (genres that typically don't do a whole lot for me), and these guys are at the top of my list. For a historically more swinging / NOLA style sludge band, it's great to witness them gradually over time straighten their feel and hone in for a leaner, more aggressive sound, while also upping the intensity and emotion in the vocal delivery. I was hooked immediately upon hearing the first few bars of "Naive" when they first released it - the way they're content to sit in grooves for as long as they need to resolve, as well as the orchestration between the instruments is incredibly satisfying. Clement's bass tone alone eats fuckin worlds.
6. Mortuus - 'Grape of the Vine'
'Tzel Maveth' is the best black metal song ever written, off the best black metal album ever released, in my humble opinion of course. This album is spun weekly.
Because we could all use some live music right now, watch this full-set video of Ulcerate at Brooklyn's Saint Vitus in 2016:
And here are all the songs currently streaming from Stare Into Death And Be Still: