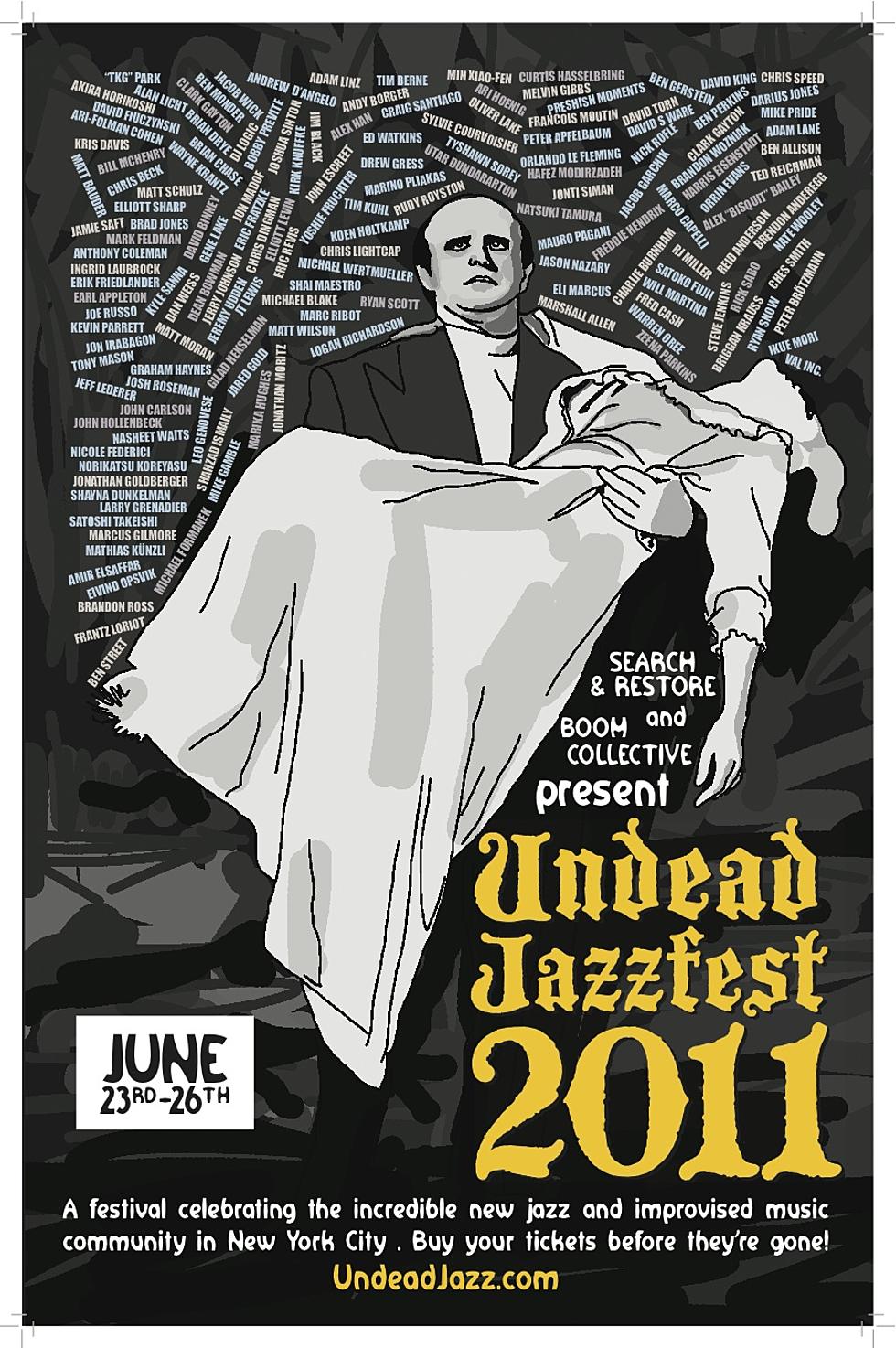 Undead Jazz Fest begins (full schedule, an event trailer & a small controversy included)
As announced a few months ago, the four-night Undead Jazz Fest kicks off tonight (6/23) with music at Le Poisson Rouge, Sullivan Hall and Kenny's Castaways. The format is similar to that of the Winter Jazz fest (and the inaugural Undead fest last year): one ticket that covers entry to a handful of neighboring venues. This year, each night offers something a little different.
Thursday night the venues are in Greenwich Village and music include Marc Ribot's Ceramic Dog, Dave King Trucking Company, Gerald Clayton and Alan Licht & Brian Chase. Friday night features a "round robin of improvised duets" at the Bell House. Scheduled participants for that are: "David Torn, Elliot Sharp, Jim Black, Erik Friedlander, Dean Bowman, Chris Lightcap, Brian Chase (Yeah Yeah Yeahs!), David King (Bad Plus!), Darius Jones, Chris Speed, Jamie Saft, Chris Dingman, Eivind Opsvik, Charlie Burnham, Marco Cappelli and Kirk Knuffke."
Saturday the music will be in the Gowanus/Park Slope area (at Littlefield and unconventional spots Homage Skateboard Training Facility and Cross Fit) where you'll be able to see Elliott Sharp (playing Thelonious Monk), David S. Ware, the Darius Jones Trio and more, all on the same Degraw Street block.
Sunday, the music (a super-varied lineup that includes The Claudia Quintet, Peter Brotzmann's FULL BLAST, Bobby Previte Quartet, Erik Friedlander and UB313 with Sun Ra Arkestra's Marshall Allen) is in Williamsburg, split between four stages at three venues: Public Assembly, Cubana Social and the Cameo.
There are copies of the Undead Jazz Fest Review floating around town that come with an excellent sampler CD, which you can stream below.
We should note that last week, the New York Times published news about an online petition asking for an increase in musician pay for the Undead and Winter Jazz Fests. Initially, it was unclear whether that situation would affect this year's festival (some of the signees are scheduled to perform), but the organizers of the petition have since clarified some points, mainly that they support this year's fest and that they didn't mean for the press to find out about what they thought was a private email, but that they're hoping to negotiate for a pay raise at future fests. Some more info on that is below, if you're interested...
Now that that's out of the way... the fest recently put together a trailer containing one second of music from each artist on the bill. That and the full schedule are below...

--
Undead Jazzfest 2011 Trailer

ABOUT THE PETITION THE NY TIMES REPORTED ON:
The petition does not call for a boycott or any other action. It was not meant as a call to action in regard to the current Undead festival. We have made no other call for strike or boycott. The Festivals' promoters have agreed to meet following the Undead Jazzfest. We certainly hope that we can negotiate an agreement acceptable to all parties without resort to these tactics. We do not feel it is in the interest of either party (the musicians or the promoters) for the Undead Festival to do poorly, and we wish success for this summer's festival. However, fair treatment for musicians is a very real issue that we believe is felt by a great majority of those musicians who are connected with the festivals. Our goal remains to come to an agreement with the festivals that will be in the best interest of all involved.....

We have made no demands regarding next weeks Undead Jazzfest, nor do we intend to make any.

We began circulating the petition because individuals requesting fair pay were told, basically, that if they didn't like what they were offered, they shouldn't play.

Before we could approach the festivals as a group, however, we needed the support of a majority of festival musicians, something we are now confident of achieving through our petition.

We began the circulating the petition now because the promoters have already begun to book musicians for the 2012 Winter Jazz festival. We know that it will be more difficult for the promoters to negotiate terms for Winter Jazz 2012 once their budget is set and individual artists' contracts are in place. we needed to circulate the petition this month in order to begin negotiations before the promoters budgets are 'locked in'.

The choice to publicize our effort at this time was not ours.

On the contrary: we sent the petition only to musicians directly involved. We didn't do a mass mailing for our own 'community support' petition precisely because we wanted to avoid publication before we had a chance to meet with the promoters.

Nate Chinen of the New York Times apparently received a copy of our outreach letter from a festival musician- and accessed the petition web site through that letter.

Although the petition is technically 'published' on the web, the web address itself was only distributed to musicians directly involved via email. To our knowledge, neither Mr. Chinen nor anyone else from the press or general public is claiming to have found the web site by any means other than through reading a private email sent to a festival musician. Mr Chinen contacted our representative, Shane Gasteyer at local 802, on Wednesday, June 15, 6:24 PM, asking for confirmation and response. The following day, Jun 16, at 5:24 PM, Shane wrote back, telling Mr Chinen that we would respond by Monday, during which time we had hoped to set up a meeting with the festival's promoters to discuss the possibility of a joint response.

However, c/a 20 minutes later, at, 5:43 PM Nate Chinen replied that he had already published the story.

Please direct all further questions about the decision to publish this story the week before the Undead Festival to Nate Chinen at the NYTimes. [From petition response to press]
June 23rd, 2011

Le Poisson Rouge
07:00 PM - Satoko Fujii ma-do
08:10 PM - Marc Ribot solo
09:20 PM - TARBABY (Eric Revis, Nasheet Waits, Orrin Evans, Oliver Lake)
10:30 PM - Escreet / Binney / Krantz / Gilmore - "The Age We Live In"
11:40 PM - Marc Ribot's Ceramic Dog
12:50 AM - David Torn's GOLDFINGER with Tim Berne and Ches Smith

Sullivan Hall
07:20 PM - Amir Elsaffar w/ Hafez Modirzade, Francois Moutin, Dan Weiss, and John Escreet
08:30 PM - Paradoxical Frog w/ Kris Davis, Ingrid Laubrock, Tyshawn Sorey
09:40 PM - Gerald Clayton
10:50 PM - Andrew D'Angelo Big Band
12:00 AM - Dave King Trucking Company
01:10 AM - Harriet Tubman Double Trio w/ Brandon Ross, Melvin Gibbs, JT Lewis, Graham Haynes, DJ Logic, and Val Inc.

Kenny's Castaways
07:40 PM - Harris Eisenstedt's Canada Day
08:50 PM - David Fiuczynski's Planet MicroJam
10:00 PM - Alan Licht & Brian Chase
11:10 PM - Doomsayer
12:20 AM - Michael Blake / Ben Allison / Rudy Royston

June 24th, 2011

The Bell House
11:00 PM - Night 2 of the Undead Jazzfest: A Night of Round Robin Improvised Duets!!
Featuring: David Torn, Elliot Sharp, Jim Black, Erik Friedlander, Dean Bowman, Chris Lightcap, Brian Chase (Yeah Yeah Yeahs!), David King (Bad Plus!), Darius Jones, Chris Speed, Jamie Saft, Chris Dingman, Eivind Opsvik, Charlie Burnham, Marco Cappelli, Kirk Knuffke.

June 25th, 2011

Littlefield
08:00 PM - Jeff Lederer's Sunwatcher
09:10 PM - Sylvie Courvoisier and Mark Feldman
10:20 PM - Darius Jones Trio
11:30 PM - Anthony Coleman Trio with Brad Jones, and Satoshi Takeshi
12:40 AM - Jamie Saft New Zion Trio

Cross Fit Gym
08:20 PM - Zeena Parkins and The Adorables
09:30 PM - Briggan Krauss H Alpha with Jim Black, and Ikue Mori
10:40 PM - Elliott Sharp plays Thelonious Monk
11:50 PM - Mountains

HOMAGE SKATEBOARD TRAINING FACILITY
08:40 PM - Min Xiao-Fen's "Dim Sum" w/ Satoshi Takeishi
09:50 PM - Matt Wilson solo
11:00 PM - Dean Bowman solo
12:10 AM - David S. Ware solo
01:20 AM - Jeremy Udden's Plainville

June 26th, 2011

Public Assembly Stage 1
08:00 PM - Bizingas
09:00 PM - The Claudia Quintet
10:00 PM - Oliver Lake Organ Quartet
11:00 PM - Ari Hoenig Quartet
12:00 AM - Peter Brotzmann's FULL BLAST

Public Assembly Stage 2
08:30 PM - Gene Lake
09:30 PM - Bobby Previte Quartet
10:30 PM - Joshua Roseman's Joshua Three
11:30 PM - Clark Gayton

Cubana Social
08:15 PM - Marika Hughes
09:15 PM - Graffito
10:15 PM - Erik Friedlander
11:15 PM - Rashanim

Cameo
08:45 PM - Jon Iragabon / Mike Pride
09:45 PM - Ches Smith's Congs for Brums
10:45 PM - UB313 w/ Marshall Allen (Sun Ra Arkestra)
11:45 PM - Aperiodic