Universal Order of Armageddon, The Body & Trophy Wife remembered Brandan Majewski @ Death by Audio (pics)
UOoA

Though Orphan unfortunately didn't play Death By Audio on 1/22 (Brendan Majewski, RIP), people were thinking of them as they watched performances from reformed hardcore greats Universal Order of Armageddon, the roaring doom oddballs in The Body, and Philadelphia sludge duo Trophy Wife. Samantha Marble reports:
The show was packed, and all of the bands dedicated the night to Brandon and Orphan. Trophy Wife, The Body and UOA all seemed to play at their best, including UOA's vocalist who mentioned to the crowd that he had been throwing up all day and had a fever. Though there was an underlying sadness, overall it was a celebration.
Presumably a celebration of both the riff and the Orphan riff-er.
UOoA also played Cake Shop one night earlier as part of a short tour. More pictures from Death By Audio are below.

--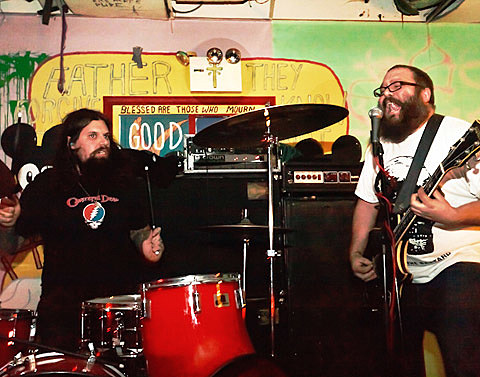 Uniersal Order of Armageddon