Unrest, Tuscadero, Bandit Teeth, Baby Birds Don't Drink Milk, Wetdog & more in This Week in Indie
by Bill Pearis
DOWNLOAD: Baby Birds Don't Drink Milk - I'm Not a Nintendo (MP3)
DOWNLOAD: Bandit Teeth - Encouragement (MP3)
DOWNLOAD: Wetdog - Lower Leg (MP3)
DOWNLOAD: The Rondelles - Please Shut Up (MP3)
Unrest @ The Bell House

Doing anything besides swimming or laying in front of a powerful A/C unit hasn't been appealing this week, let alone going into some club or DIY venue with poor ventilation, but temperatures are dropping and there are a lot of fun things to do this weekend, so it's time to buck up, camper, and go see some rock.
As you may have previously read, tonight is the first show at new Park Slope club The Rock Shop. Curiosity is enough to get me there but for those who didn't get tickets to the TeenBeat 26th Anniversary show tomorrow can see The Rondelles play tonight for free. If you liked Elastica or Veruca Salt or fellow TeenBeat band Tuscadero, you should definitely clear some time to check out The Rondelles who sit nicely amongst their '90s peers. Broken up for nearly a decade, this might be your only chance to see them again (apart from tomorrow night). Also playing are The Love Loves. Did I mention it's free? The Rock Shop is supposed to have a very nice rooftop deck as well.
Tuscadero @ The Bell House

While I'm on the subject, I went to the first of the TeenBeat 26th Anniversary shows at the Bell House this past Monday (7/5) and it was a good time. Unrest were a little rusty at first but the muscle memory kicked in around "Makeout Club" and the crowd got into it, and the parade of classics ("Isabelle," "Cherry Cream On," "Cath Carrol") undeniable. But I'm pretty certain Tuscadero stole the night, with a lot of fans there just for them, psyched to hear "Dime a Dozen," "Dr. Doom" and others. Too bad they're not also on the bill for Friday's sold-out show. They've still got it.
True Love Always, who I'd never seen before, were good too. There's video at the bottom of this post from Monday's show. Must add that the merch table is pretty sweet too. I picked up a reissue of Unrest's Imperial F.f.r.r. on clear vinyl for only $10, and got a new version of an old Unrest t-shirt I used to own back in the day.
--
We've got two bands from Lawrence, KS in town -- Bandit Teeth and Baby Birds Don't Drink Milk -- playing three shows together: Friday night (7/9) at Cake Shop, a free show Saturday (7/10) afternoon at Union Pool and then Saturday night at Death By Audio. Both bands are worth checking out.

Bandit Teeth

Bandit Teeth got their start in the late '90s but went on hiatus while singer Brad Shanks moved to NYC with his sister Courtney when their band Blood on the Wall took off. Brad moved back to Kansas a few years ago and reactivated Bandit Teeth with Zach Campbell of Rooftop Vigilantes. They're sort of sloppy, snotty and nasally -- not unlike the Jacuzzi Boys -- and you can check out "Encouragement" at the top of this post.

BBDDM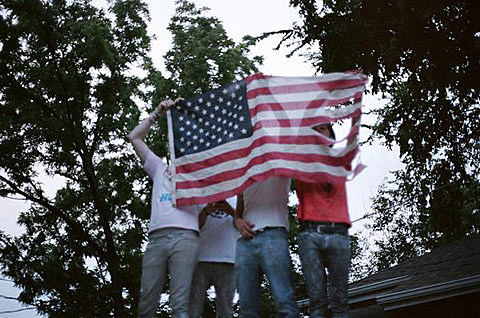 Baby Birds Don't Drink Milk features another Rooftop Vigilante, Oscar Allen, and put out records and cassettes at an alarming rate. Their hazy miasma of sound falls within the Altered Zones demographic but there is poppy song structures under the hiss and reverb. You can check out one of their more straightforward recordings, "I'm Not a Nintendo," at the top of this post.
Friday's Cake Shop show also has Blissed Out and Ana Lola Roman on the bill; the free day Saturday day show at Union Pool also features Violent Bullshit.
Rooftop Vigilantes new album, Real Pony Glue, is due out hopefully before the end of the year. Closer on the horizon is a 7" single that should hit shops in late August or September.
Wetdog

UK band Wetdog are gracing us with another visit, playing Monster Island Basement Friday (7/9) with fellow Captured Tracks band MINKS (who I profiled last week), plus YellowFever (who are out of jail!), and Larkin Grimm. I caught Wetdog back in April at Glasslands and they are definitely worth seeing, definitely within that 1979 postpunk milleiu without sounding exactly like any band of that era. The drummer's minimalist playing style, one leg propped on top of the kick, was something else. The band are playing a few East Coast shows, and all tour dates are at the bottom of this post.
And some day-by-day picks
THURSDAY, JULY 8 (TONIGHT)
In addition to tomorrow night's show, YellowFever are also playing Cake Shop tonight with Dream Diary (who have gotten really good), The Numerators,  and Pterodactyl. Has anyone been to Cake Shop this week? Wondering if they've got their A/C working.
Ann Arbor, MI's Secret Twins and Bad Indians spice up a Death By Audio bill that includes local TWII faves My Teenage Stride and Knight School.
continued below...


FRIDAY, JULY 9
Bear in Heaven play the Seaport Music Festival which I'm going to guess will be amongst the most highly-attended Fridays of the series. I think BoH are terrific live -- they have a sick drummer -- and the band really seem to enjoy playing too which makes it all the more fun. I don't know if I want to see Zola Jesus outdoors in the daylight but I guess I'll find out for sure tomorrow.
There's a double bill of Domino Records acts at Bowery Ballroom: Cass McCombs and Lightspeed Champion, a show I'd probably be going to if i wasn't dashing from the Seaport to catch the TeenBeat 26th Anniversary at The Bell House. I sort of feel like Lightspeed's new album, Life is Sweet! Nice to Meet You, got swept under the rug this year. Not sure why, it's good.
SATURDAY, JULY 10
If you're not watching the Uruguay / Germany match, you should definitely hit up that daytime Bandit Teeth / Baby Birds Don't Drink Milk / Love as Laughter / Violent Bullshit show at Union Pool. It's part of their Summer Thunder Series and it's free.
SUNDAY, JULY 11
The World Cup final between Spain and the Netherlands might actually keep lines at the first Pool Party from being too insane, but don't count on it. Xiu Xiu and Deerhoof are performing Joy Division's Unknown Pleasures in its entirety which should be interesting if nothing else. Also: Why?, Fang Island and Pictureplane.
That's it for this week. Tour dates, flyers and video (including footage from the TeenBeat show at Bell House) below...
Unrest live at Bell House, July 5 2010

Tuscadero - "Dime a Dozen" at Bell House, July 5 2010

Baby Birds Don't Drink Milk - 2010 Tour Dates
Jul 9 Cake Shop w/ Bandit Teeth, +Blissed Out+ New York, New York
Jul 10 Union Pool (Free Day Party) w/ Bandit Teeth, Violent Bullshit Brooklyn, New York
Jul 10 Death By Audio w/ Bandit Teeth Brooklyn, New York
Jul 12 The Cave w/ Bandit Teeth, Americans in France Chapel Hill, North Caro
Jul 13 Seven Day Weekend w/ Bandit Teeth Greensboro, North Caro
Jul 14 Trash Mountain w/ Bandit Teeth Murfreesboro, Tennessee
Aug 2 Jackpot w/ Run DMT, TONSTARTSSBANDHT, C V L T S (Early All Ages) LAWRENCE, KANSAS
Wetdog - 2010 Tour Dates
Jul 9 Monster Island Basement Brooklyn, New York
Jul 10 Comet Ping Pong W/Sweet Bulbs Washington D.C, D.C
Jul 11 The copycat Baltimore, MD
Jul 12 Danger Danger Gallery Philadelphia,
Jul 13 Great Scott W/So Cow Boston, MA