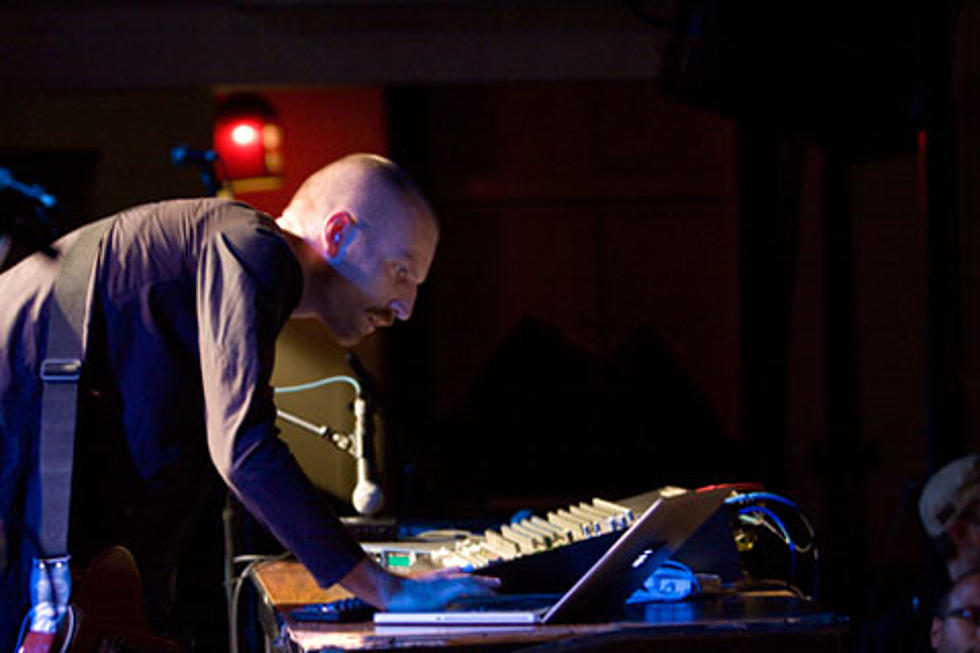 Unsound 2011 lineup updates (Ben Frost, Brian Eno, Emeralds, Lustmord, Void Ov Voices, Morton Subotnick, Atom & more)
Ben Frost at Brooklyn Masonic Temple (more by Greg Cristman)

After a successful inaugural year, Unsound returns in 2011. As discussed, the ten day festival will take place from April 1st - 10th at multiple venues across New York City with the musical program taking place from April 6th - 10th.
Kicking off April 6th at Alice Tully Hall at Lincoln Center, as also discussed Unsound will host Music For Solaris, a multimedia experience that incorporates the Tarkovsky film, Lem's written source material, and music "written for twenty-nine string players, two percussionists, prepared piano, guitars and electronics by Ben Frost (Australia / Iceland) and Daníel Bjarnason (Iceland) in collaboration with one of Poland's leading orchestras, Sinfonietta Cracovia." Brian Eno and Nick Robertson will be on hand for "film manipulations" of the Tarkovsky film.
The next three days will see events with Morton Subotnick, Atom, Lone, Badawi, Kontext, Alan Howarth, Harald Grosskopf, Emeralds, the previously mentioned debut of the new incarnation of Skull Defekts with Daniel Higgs (April 3rd at Littlefield), and so much more.
On April 10th, the festival will close up shop with with three events, one of which will feature the NYC live and dark debut of Lustmord with Void Ov Voices (aka Attila of Mayhem) and Robert Piotrowicz at Abrons Art Center.
More details on Unsound NYC are below.

--
UNSOUND NYC 2011
Working once again with the Polish Cultural Institute in New York and the Goethe-Institut New York, as well as a host of other key partners and sponsors, Fundacja Tone and Unsound are preparing to continue their mission to bring underexposed East European artists to New York and to boldly show yet again the many faces of creative music. As the Village Voice noted in February 2010, "...the purpose of the Unsound Festival is to repel the baseless, spectacle-heavy notion that only a few states in the U.S. and a few countries in Western Europe are capable of making great, weird music that is riveting, outrageous, and thought-provoking."

Unsound Festival New York starts Wednesday April 6th with Unsound's largest event to date - the festival's official opening - at Lincoln Center's Alice Tully Hall. Presented with Sacrum Profanum, Unsound's sister festival from Krakow, and organized by the Krakow Festival Office with support of the Krakow City Council, this official Unsound Festival opening night event will feature the USA debut of "We Don't Need Other Worlds. We Need Mirrors - Music for Solaris."

Developed and commissioned for Unsound, Music For Solaris is an ambitious project that celebrates the fiftieth anniversary of the publication of Krakow writer Stanislaw Lem's novel Solaris. Written for twenty-nine string players, two percussionists, prepared piano, guitars and electronics by Ben Frost (Australia / Iceland) and Daníel Bjarnason (Iceland) in collaboration with one of Poland's leading orchestras, Sinfonietta Cracovia, Music for Solaris also draws inspiration from the Andrei Tarkovsky film adaptation. The performance will be enhanced by the film manipulations of Brian Eno and Nick Robertson, drawing on moments from the original Tarkovsky film to create a visual parallel to the music composition process. This project has been strongly supported by the Adam Mickiewicz Institute as one of the leading projects of the Polish Presidency of the EU, which starts on July 1st 2011. An album of Music For Solaris will be released this year on the Bedroom Community label. The New York performance of Music For Solaris is presented with additional support from the Rolex Mentor and Protégé Arts Initiative.

Setting the ground for "Music For Solaris," Sinfonietta Cracovia will perform the music of Krzysztof Penderecki, one of Poland's greatest living contemporary composers, as well as the music of perhaps the most popular modern composer today, New York's own Steve Reich. This opening segment was curated by Sacrum Profanum to celebrate and preview the theme of their upcoming September 2011 festival in Krakow devoted to American minimalist music including many works by Reich.

The next evening, Thursday April 7th, Unsound returns to The David Rubenstein Atrium at Lincoln Center where the festival was launched last year. This time, synthesizer legend Morton Subotnick (USA) will be revisiting his first Library of Congress recognized album Silver Apples of The Moon with visual accompaniment from acclaimed video artist Lillevan (Germany). On the same bill, making his long overdue New York debut, Atom™ (Germany/Chile) will perform a solo set of music and visuals drawing from his substantial discography of over 185 releases. That same night, at a special venue soon to be announced, Sinfonietta Cracovia (Poland) will present a concert of music of recently departed composer Henryk Mikolaj Górecki (Poland).

Over the following two nights the festival will also present club-oriented evenings with the Bunker. On Friday April 8th, Unsound continue their exploration of bass in a club context with a Bass Mutations bill featuring Lone (UK), Badawi (USA), Kontext (Russia), Eleven Tigers (Lithuania), Phantom & Zeppy Zep (Poland), Chancha Via Circuito (Argentina), Dorian Concept (Austria), Spatial (UK) and others. Earlier that night (le) Poisson Rouge will play host to an event featuring synthesizer innovators from different, yet similar, walks - John Carpenter collaborator Alan Howarth (USA) with an acclaimed live set at Unsound Krakow behind his belt, will present his film music alongside former Ash Ra Temple member Harald Grosskopf (Germany) who will revisit his recently reissued album Synthesis. Rounding out the bill, Cleveland's trio Emeralds (USA) show how today's generation approach the same ideas. In addition, Emeralds will also perform as special set with Alan Howarth.

On Saturday April 9th the Bunker Unsound edition club night will feature Petar Dundov (Croatia), KiNK (Bulgaria), Jurek Przedziecki (Poland) alongside Octave One (USA) live, Glitterbug (Germany), Pulshar (Spain) and others.

Closing out Unsound Festival New York on Sunday April 10th will be three different events, including a collaborative night of dark music with Blackened Music that will feature the New York live debut of Lustmord (UK), Void Ov Voices (Hungary) and Robert Piotrowicz (Poland).

Unsound Festival New York will be preceded this year by a special series of events taking place Friday April 1st to Tuesday April 5th; Unsound Festival New York Labs will present a series of events, workshops and panel discussions under the banner "Labs" that explore the idea of a "Festival as a laboratory." The concept is that a festival environment is one in which artists can explore creativity in new ways. This theme was developed by European Cities of Advanced Sound (ECAS) and will also be presented this year at CTM - Club Transmediale (Berlin, February 2011), FutureEverything (Manchester, May 2011), Todays Art (The Hague, September 2011), CYNETART (Dresden, November 2011) and others.

Collaborating with presenters like Issue Project Room, Littlefield, Film Society of Lincoln Center's Walter Reade Theater and others, Unsound Festival New York Labs will bring underground artists like Anna Zaradny (Poland), Günter Müller (Germany), Taylor Dupree (USA), HATI (Poland), Dawid Szczesny (Poland), the New York debut of The Skull Defekts (Sweden) with Daniel Higgs (USA) and ((audience)): Cinema for the Ear, a special five-channel surround-sound program based around the theme of "Horror" with works by Demdike Stare (UK), Felix Kubin (Germany), Raime (UK) and others. Additionally, as it was last year, the Goethe-Institut Wyoming Building will be home to various related free panel discussions, also extending through into the main festival weekend.