upcoming Forgetters, Shellshag & BELLS≥ shows
Forgetters at Generation Records (cred)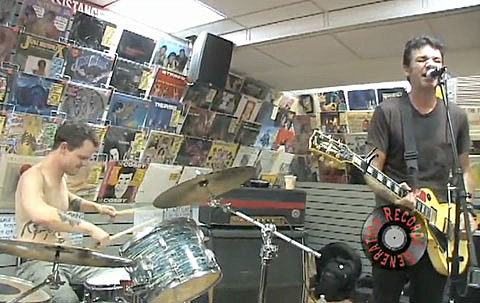 Shellshag has a few other shows coming up too. The band will play another FOUR NYC shows in the coming month. On 10/9 look for the band to play ABC No Rio with Homeowners, Aye Nako, & Mirrors and Wires and on 10/15 they'll be back at Death By Audio with The Measure [sa], Bridge and Tunnel, The New Dress, & Zombie Dogs. The next day (10/16) look for Shellshag at Lulu's with Landlord, The Fish, and Marvin Berry and The New Sound (excellent Back To The Future reference), and 10/28 will see the Brooklyn band play Bruar Falls with Hartwell & Dirty Excuse.
"Quite different, post-rock and instrumental beat tones involved four men from the Bells. Two Guitars interweaving into one another, accurate drums, a driving bass and the knowledge of the history of two members of bands such as Jawbox and the 2009 resolution, most recently at SubPop domiciled Oxford Collapse, provide a spellbound end and enthusiastic audience. Bells maintain a remarkable own blog, which also contains beautiful photos of this gig can be found further on."
BELLS≥ have a new coming up in the very near future.. at Bruar Falls in Brooklyn on 10/8 with The Carribean, Video Daughters, and Y/Y.