updated Dirty Projectors tour dates, a free Bob Dylan cover, pictures & video from Sasquatch
Dirty Projectors @ Sasquatch Fest

Between playing for David Byrne and DJing with Bjork, the band found time to cut a cover of Bob Dylan's "I Dreamed I Saw St. Augustine" for Levi's, who will give you the song for your e-mail address. Don't expect too many fireworks - their version is a pretty straightforward, dorm-room take on the song. Levi's is also giving away songs by Nas, The Swell Season, and She & Him (The Shins, Passion Pit, and The Kills all have free tracks coming up).
More Sasquatch pictures and videos (which capture the crowd singing "Happy Birthday" to Amber's dad, and some inspired "Stillness" dance moves) and all tour dates are below...

--
dirty projectors - happy birthday @ sasquatch, 05/30/10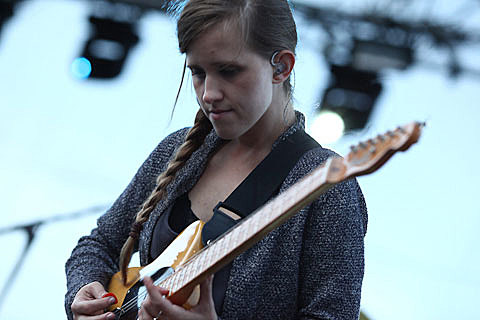 A few more pictures from Sasquatch Day Two, HERE (and more coming).
Dirty Projectors Dance Party! - Stillness is the Move - Sasquatch 2010

Dirty Projectors Stillness at Sasquatch (this one's quite a bit louder)

Dominique Young Unique, "Show My Ass"

Dirty Projectors - 2010 Tour Dates
Sept 07 WASHINGTON, DC - 9:30*
Sept 08 PHILADELPHIA, PA - Trocadero*
Sept 11 NEW YORK, NY - Terminal 5*
Sept 13 BOSTON, MA - Wilbur*
Sept 14 MONTREAL, PQ - Le National**
Sept 15 TORONTO, ON - Opera House**
Sept 19 MINNEAPOLIS, MN - First Ave**
Sept 23 POMONA, CA - Glass House ^
Sept 24 LOS ANGELES, CA - Wiltern^
Sept 25 SAN FRANCISCO, CA - Fillmore^
Sept 26 SAN FRANCISCO, CA - Fillmore^
Sept 28 PORTLAND, OR - Aladdin^
Sept 29 PORTLAND, OR - Aladdin^
Sept 30 SEATTLE, WA - Showbox^
* With Owen Pallett
** With Happy Birthday
^ With Dominique Young Unique