updated setlist & more pics from Swell Season @ Radio City
More pictures and the setlist from Monday night's show below....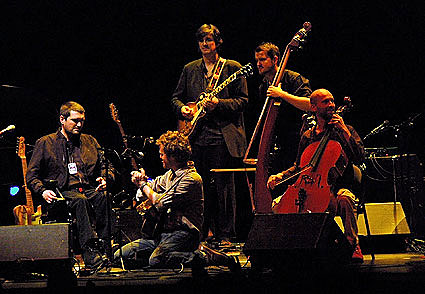 setlist - May 19, 2008
Say It to Me Now (solo acoustic)
Lies
This Low
The Moon
When Your Mind's Made Up
True (The Frames)
I Have Loved You Wrong
Falling Slowly
Leave
What Happens When the Heart Just Stops (The Frames)
Astral Weeks* (Van Morrison)
Gently Johnny (Paul Giovanni - Wicker Man Soundtrack) (w/ Marketa's sister)
(If You've Gotta Go, Go with) Happiness
Once*
---
If You Want Me
The Blue Shoes (Colm Mac Con Iomaire)
Broken Hearted Hoover Fixer Sucker Guy
Gold (by and with Interference)
Fitzcarraldo* (The Frames)
Star Star (The Frames) w/ "Pure Imagination" from Willy Wonka & The Chocolate Factory & Palace's "Christmastime In The Mountains"
Into the Mystic* (Van Morrison)

*Standing ovation.
Thanks Anonymous for the setlist (note that I also updated it a little). More pictures and commentary from the show in the last post.