US wins the gold lyric medal — Fleet Foxes tickets on sale
The Hold Steady @ McCarren Pool (more by Kyle Reinford)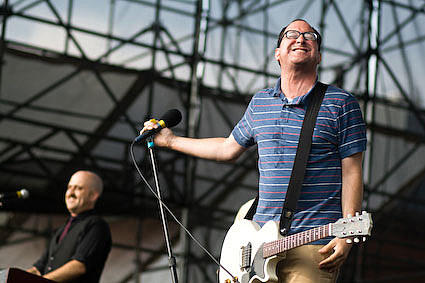 "While the UK pop scene suffers from a surfeit of homogenous guitar rock, American music is enjoying a golden moment. Literary bands, with songs that revel in intricate language, complex narratives and cinematic plot twists, are on the rise. So if you are looking for an alternative to identikit indie, the wait is over..."
[says The Observer]
The Observer goes on to name The Hold Steady, Vampire Weekend, Silver Jews, The Mountain Goats and Fleet Foxes as fine examples of American lyrics. Tickets are now on sale for the next Fleet Foxes show in NYC.
Fleet Foxes last show in NYC was on the TV.
Tickets are also on sale for a couple of Mountain Goats shows.