Valeze @ Rothko, NYC | Pics
I got to Rothko just in time to catch Valeze, and people were having fun...a lot of fun.
the rest of these pictures are not necessarily safe for work...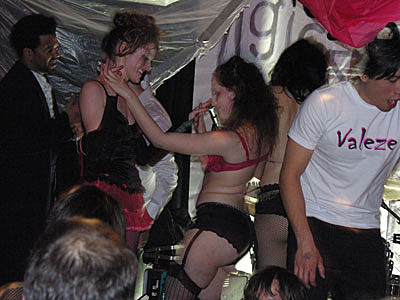 Jasper describes Valeze....
"In direct and stunning contrast to the majority of the bands of the past several years of the NYC rock wave, Valeze doesn't wait for the after-party to get down - when they're on stage and owning it, they are the party - playing a bombastically unique brand of dance rock that goes to places that Brassy, Elastica, and Garbage first explored, but where they have gone and laid waste to. Led by the classically trained Cyndi Lauper as a torch singer Tiffany Randol, their music more than most bands has a symbiotic relationship with the crowd - their shows are a whirlwind of melodically crashing songs exploding from the stage into an audience that more than anything seems to want to give energy and love back"
Jasper (jenyk.com) liked them so much, he gave them a three show residency at Pianos in November '04.
They're playing a free show at Crash Mansion in NYC tonight (March 11th, 2005....sorry for the late notice). Next week they're heading out to California for a few shows and so on.