Vampire Weekend – Columbia, Brooklyn, the world…
Vampire Weekend @ MHOW, Brooklyn, NYC - Sept 8, 2007 (CRED)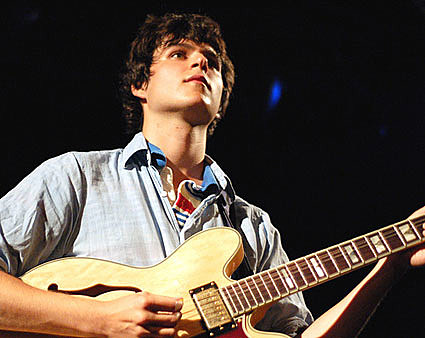 No band is more hotly debated among NYC music-heads right now than XL Recording's latest signing (and critical darlings - and don't forget Sasha) Vampire Weekend. Very few argue that the band isn't making enjoyable, catchy music. Some just seem to be offended, or confused, by the vanilla nature of it. My favorite line came from a friend who recently dubbed them the "Jimmy Buffet of indie rock". Then again, that friend hates everything. And from Central Village:...
How on EARTH did these guys become a 'blogger' favorite?.....It's perfectly good music for what it is. It just sounds a lot more like something I'd be embarrassed to tell people I liked, rather than something I'm embarrassed to tell people I've never listened to. That make any sense?
Vampire Weekend played to a sold out crowd at the new around-600-capacity Music Hall of Williamsburg in Brooklyn this past weekend. Were you there? (don't worry - this site allows commenting anonymously). A week before that, they opened for Clipse at a free show on the steps of Columbia University (their alma mater). Undisputed Wes was at the Columbia show, and he reports...
They were enthusiastically received by the students, some of which seemed to know the words to a good amount of the songs. They divided their set equally between bouncy, danceable indie rock, and Paul Simon-esque African-infused indie pop with a smidgen of world music. Dancing/awkward teenage hopping took place and the banter ranged from distractingly long to endearingly funny.
Tour dates below....

Vampire Weekend - 2007 Tour Dates
Sep 13 - M Room Philadelphia, Pennsylvania
Sep 15 - Vassar College Poughkeepsie, New York
Sep 22 - John in the Morning at Night @ Crocodile Cafe Seattle, Washington
Oct 16-20 - CMJ, NYC