Veronica Falls & Bleached tour dates, MP3s & stuff
Dominick Mastrangelo
Veronica Falls @ NYC Popfest 2010 (more by Dominick Mastrangelo)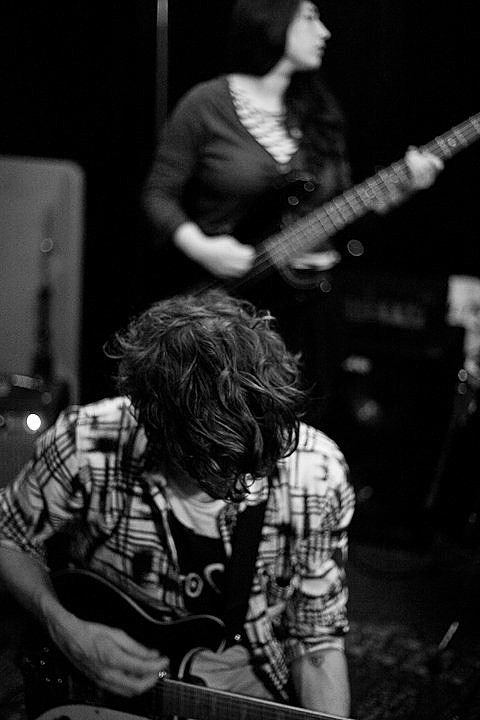 Veronica Falls released their debut LP this past September and played two headlining NYC shows at Glasslands and Pianos the same month. They'll be back on another headlining tour in early 2012 at a larger NYC venue, Music Hall of Williamsburg on February 9. Tickets go on sale Friday (12/2) at noon and are available now for AmEx presale. Some of the dates are with Bleached, though no opener has been announced for the MHOW show yet.
Their LP landed a pretty high spot on Rough Trade's Top 100 albums of 2011 (#6). If you still haven't heard it you can stream it on Spotify. It sounds more than a little like The Vaselines, definitely an enjoyable listen though.
Veronica Falls bassist Marion Herbain just made a mixtape, which you can download above, that includes songs by The Modern Lovers, Television Personalities, Roky Erickson, The Lemonheads, and others. They also recently filmed an acoustic version of "Bad Feeling" for Manchester Scenewipe, which you can watch below.
Spealing of Bleached, one of the projects featuring ex-members of Mika Miko (maybe you caught them at one of the BrooklynVegan CMJ parties this year), they're putting out the "Searching Through the Past" 7" on December 6 via Suicide Squeeze. You can download "Searching Through the Past" above. Bleached will also be touring with Smith Westerns and Porcelain Raft before they head out with Veronica Falls. That tour includes the Webster Hall show on January 31. Tickets are still on sale.
All dates, video, and song stream below...

--
Veronica Falls - "Bad Feeling" Acoustic

Veronica Falls -- 2011/2012 Tour Dates
12/08 - The Lexington London w/ Wild Flag
12/16 - Debaser Slussen Stockholm
01/12 - Rotow, Rotterdam
01/14 - Ekko Utrecht
01/27 - Norwich Arts Centre Norwich
01/28 - Brudenell Social Club Leeds
02/08 - Washington, DC @ Black Cat
02/09 - Brooklyn, NY @ Music Hall of Williamsburg
02/10 - Philadelphia, PA @ Voyeur Nightclub
02/11 - Somerville, MA @ Radio
02/13 - Montreal, Canada @ Belmont
02/14 - Toronto, Canada @ The Garrison
02/16 - Chicago, IL @ The Empty Bottle
02/17 - Minneapolis, MN @ 7th St. Entry*
02/20 - Vancouver, Canada @ The Media Club*
02/21 - Seattle, WA @ Tractor Tavern*
02/22 - Portland, OR @ Doug Fir Lounge*
02/25 - Los Angeles, CA @ Bootleg Theater*
02/27 - San Diego, CA @ Casbah*
* w/ Bleached
--
Bleached -- 2012 Tour Dates
02/17 Minneapolis, MN @ 7th St. Entry*
02/20 Vancouver, Canada @ The Media Club*
02/21 Seattle, WA @ Tractor Tavern*
02/22 Portland, OR @ Doug Fir Lounge*
02/25 Los Angeles, CA @ Bootleg Theater*
02/27 San Diego, CA @ Casbah*
01/27 Toronto, Ontario Legendary Horseshoe Tavern ^#
01/28 Montreal, Quebec Il Motore ^#
01/29 Boston, MA Paradise Rock Club ^#
01/31 New York, New York Webster Hall ^#
02/01 Washington, D.C. Black Cat ^#
02/03 Chicago, IL Metro ^#
02/04 Milwaukee, WI Turner Hall Ballroom ^#
^ - w/ Smith Westerns
# - w/ Porcelain Raft
* - w/ Veronica Falls