video & live audio (and more pics) from our '480 Pixels' photo show opening w/ Screaming Females, Hunters & Heliotropes
Screaming Females/Hunters/Heliotropes 92yTribeca 8/16/2012

Here's another set of pictures from the opening party of "480 Pixels," the BrooklynVegan photo exhibit that's on display at 92YTribeca now through September 6. (Gallery hours are at the bottom of this post.) In addition to pics of Screaming Females, Hunters and Heliotropes from Chris La Putt, who put the whole show together, there are also videos by Jessica Amaya of each band that are well worth checking out. A review of the show is here.
NYC Taper was also on hand and you can download Screaming Females entire "480 Pixels" set here. Setlist is at the bottom of this post.
Heliotropes have a new single coming out in September and you can stream that below. The band's next show -- September 2 at Rippers in Rockaway Beach -- now includes Library Is On Fire, Hunktronik, Electric People and NAAM.
Pics, streams, videos and setlists are below.

---
480 Pixels: An Exhibition of BrooklynVegan Music Photography at 92YTribeca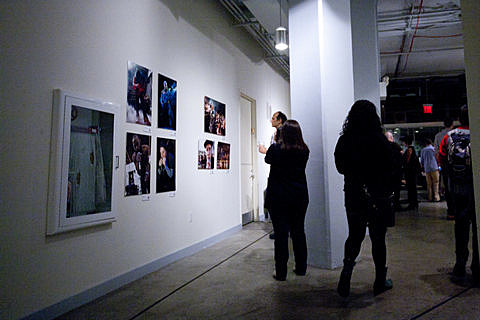 Heliotropes - "Psalms" - 92YTribeca, NYC

Hunters at 92YTribeca, NYC

Screaming Females - 92YTribeca 8/16/2012 setlist:
01 Rotten Apple
02 Extinction
03 Bell
04 Doom 84
05 Buried In The Nude
06 Expire
07 It All Means Nothing
08 Boss
09 Fall Asleep
10 Tell Me No
11 Starve The Beat
92YTribeca Gallery Hours for '480 Pixels' (through 9/6):
Monday, 8/20: open 8am-3pm
8/21- 8/24; 9/4-9/5: 8am-8:30pm
8/27-8/31: 8am-3pm
9/3: Closed for Labor Day
Closed on Sats & Suns.