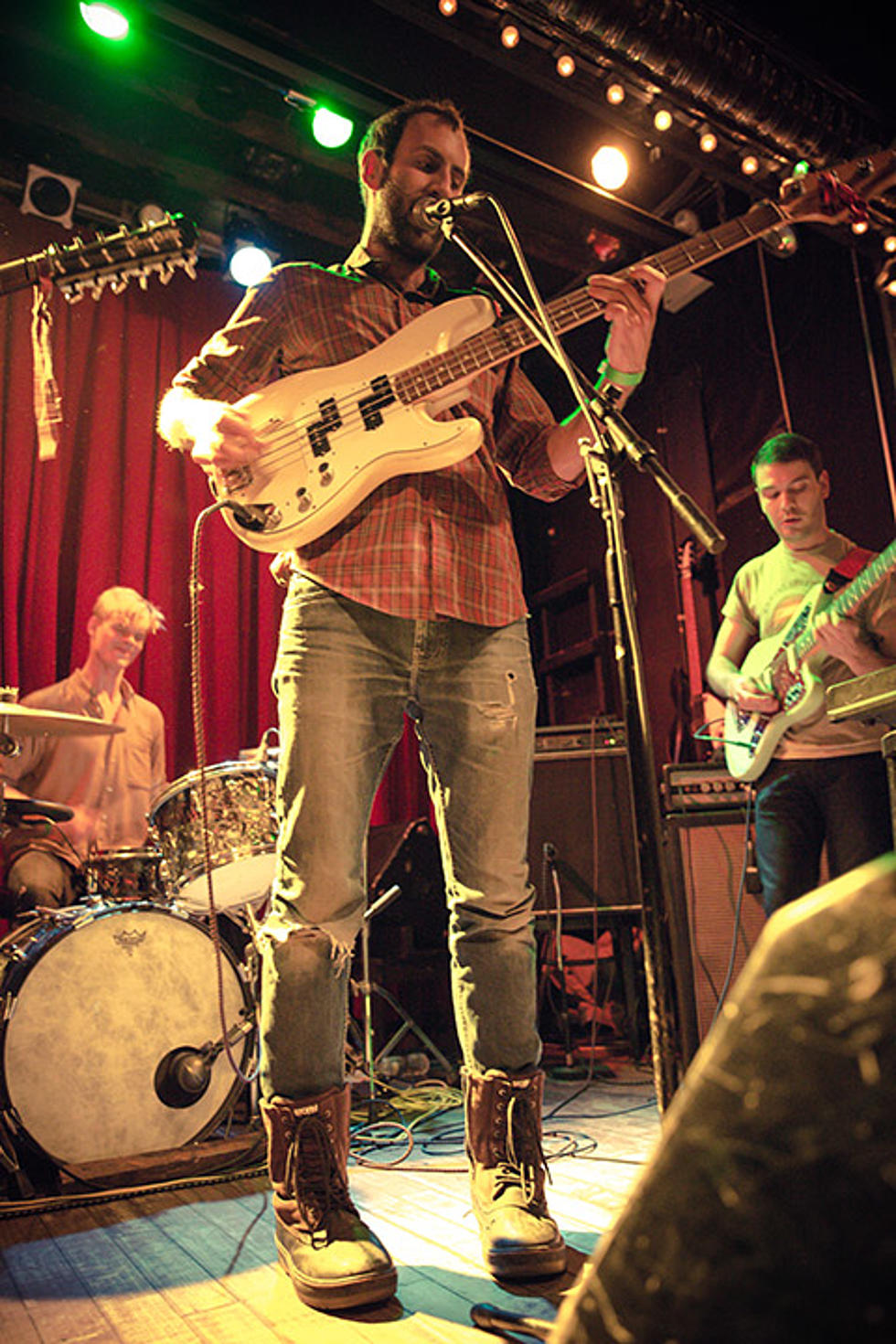 Viet Cong played Union Pool with Honey & PC Worship (pics). UPDATE: And Mercury Lounge too
Viet Cong @ Union Pool, 1/28/2014

After having flights canceled twice (due to Winter Storm Juno), Canadian band Viet Cong made it into NYC just in time for their first of two sold-out record release shows, which happened at Union Pool Wednesday night (1/28). I had seen them twice last year -- at one of our SXSW parties and at 4 Knots -- but this was the first time where I had actually gotten to listen to a lot of their music beforehand. Which certainly helps, given their sometimes gnarled, labrynthine sound.
While there are definite echoes of Gang of Four, Wire, Neu!, Joy Division and other postpunk/kraut influences, Viet Cong don't really sound like any of them. It's a weird, complex blend of those things, put through a kaleidoscopic lens filter. It makes a lot more sense watching them live, where you can see that something you thought was just one guitar part is actually two separate ones, or "oh that's a keyboard." Add to that drummer Mike Wallace (who's mom flew in from Calgary just for these NYC shows) rarely plays a straight 4/4 beat. Some of the best parts of their live show, however, happen when they burrow into a groove or bring a Fall-like level of repetition, like the pounding middle of "Death" which closes their new album (and last night's set). A really great show.
Both openers at Union Pool were terrific: Honey, whose brand of rock seems born straight from Detroit, 1970; and the arty/skronky PC Worship (Viet Cong frontman/bassist Matt Flegel was up front for their whole set). Viet Cong play again tonight (1/29) at Mercury Lounge with What Moon Things, which is also sold out. Hopefully they'll be back sooner than later.