VOD, Yuppicide, Inside Out, Grey Area, Deathcycle, 1.6 Band & other hardcore bands playing shows (dates)
Vision of Disorder at Irving Plaza (photo by Keith Wick)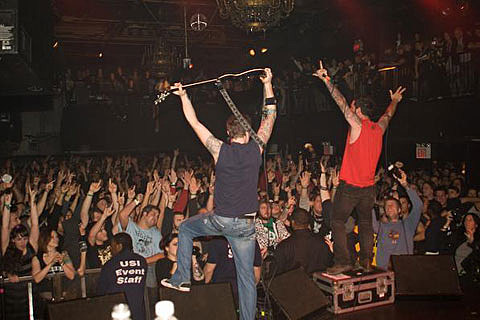 Reunited Long Island metalcore-rs Vision of Disorder have a new show scheduled at Gramercy Theater on August 20th. Tickets are on sale, but no word on who will support the reactivated team. VOD is currently working on new material that will appear on an upcoming LP.
Yuppicide brought their ska-influenced hardcore to their first show in twelve years at Black & Blue Bowl, and the band has added a second NYC show at Santos on July 10th with Primitive Weapons and Old Yorke. Tickets are on sale. The show is one of two US dates currently scheduled, as the band is also scheduled to play El N Gee Club in New London, CT on 7/31 after their appearance at the Full Force Festival in Germany on 7/3.
NYC's Inside Out will play their first show in 21 years at Santos Party House with Razorblade Handgrenade, No Tolerance, Vigilant Hotel and Activator on August 14th (tickets). NYC's Inside Out is not to be confused with the west coast version, which featured Zach of Rage Against The Machine and Vic of 108/Burn.
Finally, Grey Area will reunite for a show at Cake Shop on June 25th with Static Radio and The Revelling. Tickets are on sale (for the show that IS at Cake Shop - not Europa like the ticket link says). For the unfamiliar, the band features members of Warzone, Kill Your Idols, Black Train Jack, and Token Entry melding their sound into a more melodic approach to NYHC that yielded two LPs. At one point the band featured bassist Syd Butler (of Les Savy Fav), though it is not known who will fill in on bass at Cake Shop. It's one of two upcoming shows or the band. The other is in Philly. Flyer below.
On a different note, Sick of It All played Gramercy on 6/11 (Friday). How was it?