Voodoo Fest in New Orleans this weekend & streaming online: check out the schedule (Toyota Music Den included)
photos: Voodoo Fest (more by Dana (Distortion) Yavin)

The 2015 The Voodoo Music + Arts Experience aka Voodoo Fest is about to kick off in New Orleans. Running from October 30-November 1, the annual Halloween weekend fest features Florence + The Machine, Modest Mouse, Jane's Addiction, Jason Isbell, Giorgio Moroder, Chance the Rapper, Public Image LTD, Metric, Gerard Way, Joey Bada$$, Babes in Toyland, Peaches, Title Fight and Ozzy Osbourne with a new supergroup that involves Tom Morello, Geezer Butler and Slash, among many other acts. Tickets are still on sale. Check out the full schedule.
If you can't make it, Yahoo will be streaming select performances live (streaming schedule below).
Nola.com has a great guide to the fest that should have you covered in terms of where to park, what to eat, and all important things like that (unfortunately there might be some rain).
BrooklynVegan will be back at the fest this year taking pictures, and helping out in the Toyota Music Den which we helped curate along with SPIN and Stereogum. Stop by the tent to catch some of the fest's artists play a 2nd set in a much more intimate environment. Friday's Music Den schedule includes Wax Motif, Gerard Way, Frank Turner and The Joy Formidable. Saturday has Django Django and Babes in Toyland. Sunday includes Fishbone and July Talk. Check out the full schedule below.

--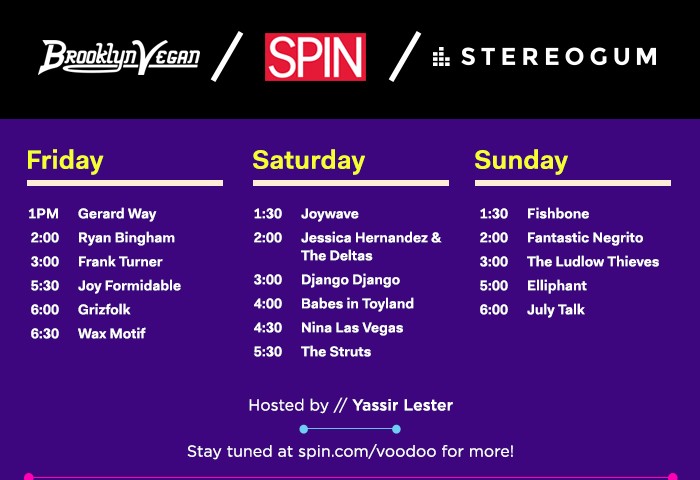 TOYOTA MUSIC DEN SCHEDULE
FRIDAY
1PM Gerard Way
2PM Ryan Bingham
3PM Frank Turner
5:30PM Joy Formidable
6PM Grizfolk
6:30PM Wax Motif
SATURDAY
1:30PM Joywave
2PM Jessica Hernandez & The Deltas
3PM Django Django
4PM Babes in Toyland
4:30 Nina Las Vegas
5:30 The Struts
SUNDAY
1.30PM Fishbone
2PM Fantastic Negrito
3PM The Ludlow Thieves
5PM Elliphant
6PM July Talk
--
YAHOO LIVE STREAM SCHEDULE

Friday, 10/30 (Times in CT)
3:00 - 3:15pm - Dan Dyer
3:15 - 3:30pm - Flow Tribe
3:45 - 4:45pm - The Joy Formidable
4:50 - 5:30pm - Jauz
5:30 - 6:30pm - Gerard Way
6:30 - 7:30pm - Metric
7:30 - 8:30pm - Ryan Bingham
8:30 - 9:30pm - Modest Mouse
9:30 -11:00pm - Florence & The Machine
Saturday, 10/31
3:00 - 4:00pm - The Suffers
4:00 - 5:00pm - Fantastic Negrito
5:00 - 6:00pm - Clutch
6:00- 7:00pm - Peaches
7:00 - 7:45pm - The Growlers
7:45 - 9:00pm - Jane's Addiction
9:00 - 9:30pm - Lettuce
9:30 - 11:00pm - Steve Angello
Sunday, 11/1
3:00 - 4:00pm - Ruby Amanfu
4:00 - 5:00pm - Jason Isbell
TBD - Zac Brown
TBD - Fishbone
7:00 - 7:30pm - Dumpstaphunk
8:00 - 8:45pm - Slightly Stoopid
8:45 - 9:30pm - Third Eye Blind
9:30 - 11:00pm - deadmau5