Voxtrot @ Prospect Park Bandshell (Celebrate Brooklyn), NYC | pics
Voxtrot opened the big-free-annual-indie-rock show in Brooklyn's Prospect Park Friday night (June 30, 2006). Matt Pond Pa and TV on the Radio were also on the bill. Last year's concert equivalent featured The Sadies, Stars & The New Pornographers. This year The New Pornographers' Carl Newman returned, but only to watch the show.
Voxtrot frontman Ramesh's mom was also at the show; he told us. She flew in all the way from Austin for the event, and the crowd cheered for her. It was Voxtrot's largest NYC show yet (by a lot). Though not nearly as packed as it was for TV on the Radio later in the night, the band was most likely playing to thousands.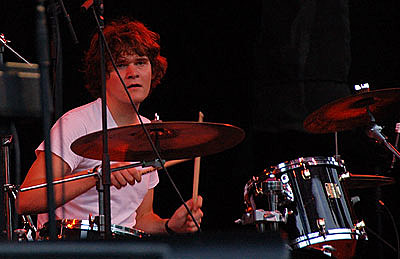 Catch Voxtrot on a NYC roof right before the fireworks on July 4th.