Wakarusa 2008 pics, sticks, Flaming Lips, more nude women
The Flaming Lips are hitting at least 17 music festivals this summer. Of that 17, four have already happened. There was Summer Camp, Jam on the River and Sasquatch. And then there was last weekend at Wakarusa in Lawrence, Kansas (home of Williams S Burroughs from 1981-1997). Like Jam on the River, Wakarusa was heavy on the jam bands. STS9, Lotus, Galactic, Tea Leaf Green, and Keller Williams were all on the bill. So were Mates of State, Dr. Dog, Cake, Tilly and the Wall, Bettye Lavette, Old 97's, Del Tha Funkee Homosapien, Arrested Development, Built to Spill and many more. And like a lot of summer festivals, Wakarusa was forced to deal with rain delays and related artist cancellations. And there was camping....
People of all ages find elaborate ways to set up their campsites, entertain themselves, sleep comfortably, at least as well as you can in 85 degrees, and grill up some grub. Since it's equal parts music and camping at Wakarusa, having the right supplies improves the experience. T.J. Baker, 23, Lawrence, said sleeping comfortably is key. Hammocks are the best, he said.

"I'm envious I don't have one with me, especially for napping," he said, looking at a yellow hammock his friend was sound alseep in. Eric Blakie, 22, and Jake Via, 23, both from Buffalo, N.Y., made the 16-hour road trip for the festival, so there was no going back for that forgotten toothbrush or towel... [Lawrence Journal]
No, there was no going back.
As you know by now, Flaming Lips have integrated nudity into their already-over-the-top stage show. That stayed true at Wakarusa and one of the girls even seemed to be sending NYC a message. We read you loud and clear...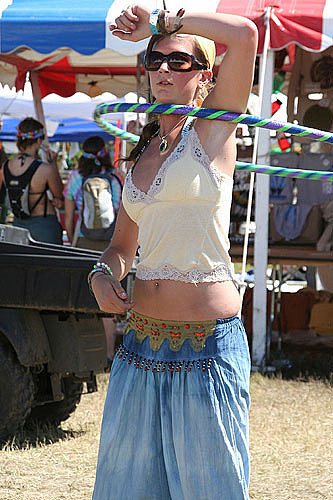 More of Ailecia's Wakarusa pics can be found HERE.
In related news, "An Oregon man has been sentenced to 33 months in federal prison, after he pleaded guilty trying to peddle LSD, mushrooms and other drugs from a van at the 2005 Wakarusa Music and Camping Festival."
Flaming Lips @ Sasquatch HERE.
Flaming Lips @ Jam on the River HERE.