Walkmen, Grizzly Bear?, High Places & other bands playing the Guggenheim, Nico Muhly critiques NY Times review
The Walkmen @ Sasquatch 2009 (more by Chris Graham)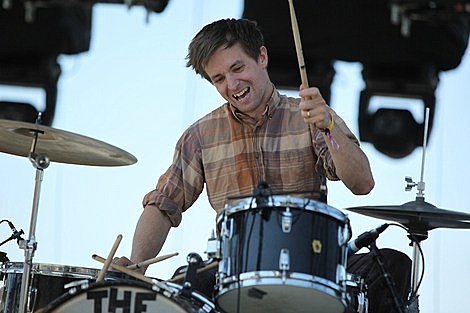 It Came From Brooklyn inaugurates a new series of live music concerts in the [Guggenheim] rotunda. The program will showcase ten bands over the course of five Friday evenings commencing mid-August, with each night featuring a music set by two bands, interspersed with a short reading by a Brooklyn-based writer or actor. The series, taking place within the rotunda, will cast a spotlight on Brooklyn's musical renaissance by providing a platform for a new crop of musicians. The line-up includes bands such as The Walkmen and High Places.
In fact, High Places and The Walkmen will play the same It Came From Brooklyn show, its inaugural night on Friday, August 14th. The Gugg website also NO LONGER reports that Grizzly Bear will be one of the series' acts. Stay tuned for more announcements.
UPDATE: We are told Grizzly Bear is not confirmed for this. They have been removed from the museum's website....
The museum's Frank Lloyd Wright-designed rotunda should add some interesting reverb effects to Grizzly Bear's harmony-heavy tunes. Especially good news if you missed the last three Grizzly Bear NYC shows, when they played May 28th and 29th at Town Hall and May 31st at MHOW.
Times: But wow, these songs are precious, and they occasionally came spangled with extras that made them even more so. The chorus was one of those elements, sorry to say.

Nico: Oh snap! Apology accepted. Now, I have major objections to the word "precious." It tends to be borderline homophobic in its coded usage, first of all, but second of all, it's a derogatory adjective with no alternative. It's reviewspeak. What I mean is: if you say, "that's ugly" somebody else can say, "no, it's beautiful." If you say, "it's over-stuffed" somebody can say, "really, I thought it was pretty thin." So the problem with a word like precious is that the scale of adjectives with "precious" on it belongs solely to the reviewer and is just a way of being mean. Case in point: this whole nonsense about Sufjan Stevens's's BQE Thing. Words like fey, twee, and precious have become these little nuggets of coded disdain, but they are really just useless self-congratulatory gestures on the part of the reviewer. What is the opposite of twee? Muscular? It all reminds me of the insane misogynist critiques of Jane Austen's novels. I guess the place for a word like that would be in a larger piece about the music world -- there was an enormous brouhaha in Iceland about the so-called Krútt scene. Krútt is probably the closest approximation in Icelandic of "precious" -- it refers to Múm, kind of Sigur Rós, and a lot of imitators: it denotes little bells, reversed glockenspiels, fairytale vocals, cutely-outfitted brass bands. Now, all of that is just a description and not derogatory; my iPod overflows with this shit. Anyway, to go to a concert of that kind of music and be like, "it's precious," all you're doing is going to a Chinese restaurant and being like, "wow, they were serving mad chinese food up in there!"
All Walkmen, High Places and Grizzly Bear tour dates below...

The Walkmen - 2009 Tour Dates
Jul 16 Benicassim International Festival - Benicassim Festival Benicassim, Barcelona
Jul 18 Super Bock Super Rock Festival Lisbon
Jul 19 Union Park - Pitchfork Music Festival Chicago, Illinois
Jul 21 Turner Hall Ballroom - with Cass McCombs Milwaukee, Wisconsin
Jul 22 Mad Hatter Club - with Cass McCombs Covington, Kentucky
Jul 23 Beachland Ballroom & Tavern - with Cass McCombs Cleveland, Ohio
Jul 24 Lee's Palace - with Cass McCombs Toronto, Ontario
Jul 25 Mr. Smalls Theatre - with Cass McCombs Pittsburgh, Pennsylvania
Aug 14 Guggenheim Museum New York, New York #
Aug 16 Central Park Summerstage New York, New York
Sep 05 Electric Picnic Music and Arts Festival Dublin
Sep 12 Monolith Festival Morrison, Colorado
Oct 02 Austin City Limits Austin, Texas
# w/ High Places
High Places - 2009 Tour Dates
Aug 08 Off Festival Myslowice, Poland
Aug 14 Guggenheim Museum New York, New York #
# w/ The Walkmen
Grizzly Bear - 2009 Tour Dates
Jun 18 Tucson, AZ - Centennial Hall (w/ Wilco)
Jun 19 Los Angeles, CA - Wiltern (w/ Here We Go Magic)
Jun 20 West Hollywood, CA - Troubadour (w/ Here We Go Magic)
Jun 21 San Francisco, CA - The Fillmore (w/ Here We Go Magic)
Jun 22 San Francisco, CA - The Fillmore (w/ Here We Go Magic)
Jul 19 Chicago, IL - Pitchfork Music Festival
Aug 07 Osaka, Japan - Summer Sonic
Aug 09 Osaka, Japan - Summer Sonic
Aug 13 Olso, Norway - Øya Festival
Aug 14 Göteborg, Sweden - Way Out West Festival
Aug 15 Rees-Haldern, Germany - Haldern Pop Festival
Aug 16 St. Malo, France - La Route du RockFestival
Aug 18 London, UK - Koko
Aug 20 Hasselt, Belgium - Pukkelpop
Aug 21 Biddinghuizen, Netherlands - Lowlands Paradise
Aug 22 Glanusk, UK - Green Man Festival
Aug 30 Brooklyn, NY - Williamsburg Waterfront [free!]
Aug/Sept New York, NY - Guggenheim Museum
Oct 02 Austin, TX - Austin City Limits Festival