Walter Schreifels played w/ Split Lip/Chamberlain @ Bowery (pics) – playing 2 shows this week (1 w/ Telepathe – win tix)
Walter Schreifels band @ Bowery Ballroom

Free Booze. Walter Schreifels. Best combo ever? Walter and band, which features Art of Gorilla Biscuits and musician/comedian Dave Hill on six-string, have scheduled a pair of NYC shows this week in celebration of the holidays. The first show kicks off tonight (12/14) at The Charleston with Birds of Paradise and Give and will feature free Jameson whiskey while supplies last. Flyer below.
The second show is Wednesday (12/16) at The Studio @ Webster Hall (it's their holiday party). At that show Walter & band will be supporting Telepathe. Gordon Voidwell is also on the bill. And yes, Nick Zinner will be there... this time spinning between sets. To cap it all off, the party will feature free booze courtesy of Pabst Blue Ribbon and although a limited number of tickets are currently available for a meager $5 a piece, I ALSO have a metric shit-ton of them to giveaway! For more on how to win entry to the show, dig on details at the bottom of this post (where the flyer can also be found).
Walter Schreifels's last show was as part of the Split Lip / Chamberlain reunion at Bowery on 12/7. The provided support for the reunited headliners along with Atlantic Pacific (ex-Texas is the Reason).
Walter's set included a cover of Quicksand's "Thorn in My Side". Split Lip was joined onstage by their long-time tour manager who belted out an Op Ivy cover. Full setlist from Split Lip / Chamberlain, tons of pics from the show, contest details, and flyers from both upcoming Walter shows are below...

---
Atlantic Pacific @ Bowery Ballroom...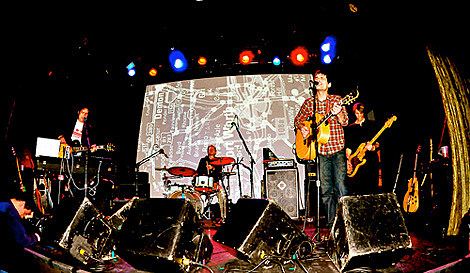 Walter Schriefels Band @ Bowery Ballroom...
Split Lip @ Bowery Ballroom...
===============================
Gordon Voidwell is playing this too

TO WIN TELEPATHE / WALTER SCHREIFELS TICKETS (we have lots of pairs): Email us at BVCONTESTS@HOTMAIL.COM with a subject line of "Studio Holiday Party". Include your first and last name. Winners will be selected at random and notified ASAP.