Wanda Jackson album out today, plays Conan tonight, played MHOW w/ Jack White on Friday (pics & video)
"On Tuesday, Third Man and Nonesuch Records will release "The Party Ain't Over," Ms. Jackson's first studio album in eight years and the first produced by a paragon of contemporary rock: Jack White. The collaboration, with Mr. White playing guitar, is largely retro, a collection of covers recorded live with a 12-piece band. But everyone involved hopes it will introduce Ms. Jackson to a new audience, affording her a level of attention that's closer to her more famous contemporaries like Buddy Holly, Jerry Lee Lewis, Carl Perkins and Johnny Cash, all of whom she performed with. "She's influential to every modern female singer, whether they know about her or not," Mr. White said. "She broke down those walls in the beginning, when it was the hardest to do."" [NY Times]
Wanda Jackson's album, as the big NY Times feature points out, is out today (Tuesday). Thursday night Wanda, Jack, and the "Third Man House Band" played Letterman. One night later was the big (small) show at Music Hall of Williamsburg in Brooklyn. Pictures from that show are in this post.
Since then, Jack and Wanda went on to play two shows at the El Rey in LA...
"He led an 11-piece band of youngish talents, including drummer Joey Waronker, bassist Olivia Jean and pedal steel player Rich Gilbert, through rollicking versions of Jackson's old hits and new tunes. The septuagenarian singer held forth center stage, relishing her comeback with a charming mix of feisty come-on and self-confessed senior moments.

A true raconteur, Jackson amused the crowd with tales of Presley and White, the charismatic, genius sex symbols who book-end her career. "He's a velvet-covered brick," she said of White. "He's going to get his way, but he does it so sweetly." Before playing the classic lament "Busted," she pointed out that she'd seen Elvis play in Vegas, then fluttered a piece of paper: "If the King of Rock can have notes, so can the Queen."" [LA Times]
More pictures & some videos from MHOW are below...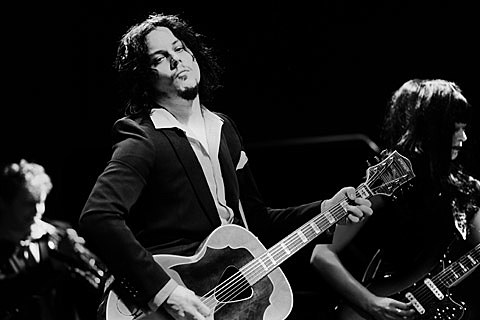 Wanda Jackson + Jack White - Shakin' All Over (Live @ the Music Hall of Williamsburgl)

Wanda Jackson w/ Jack White - Elvis Presley's "Heartbreak Hotel"

wanda jackson with jack white "shakin' all over" live at music hall of williamsburg 1/21/11

Wanda Jackson 1/21/11 " Let's have a party"