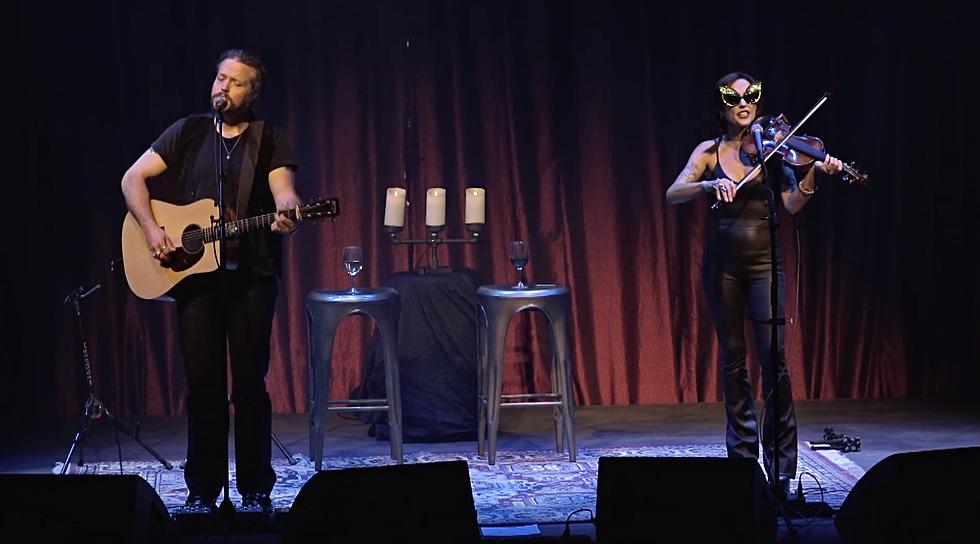 watch Jason Isbell & Amanda Shires' excellent 'Reunions' release show
Jason Isbell and the 400 Unit released their excellent new album Reunions today (read our review), and Jason and his wife/bandmate Amanda Shires celebrated with a livestreamed album release show in an audience-free venue, Brooklyn Bowl Nashville. It was actually the first ever show at Brooklyn Bowl's new Nashville location, which was supposed to open in March, but was delayed first due to the deadly tornado that hit Tennessee in March and then due to the coronavirus pandemic.
Though Jason and Amanda couldn't play to a live audience, anyone watching from around the world could join the "audience" via Zoom, and the screens above the lanes in Brooklyn Bowl were showing fans all night, making it feel a little more like a real concert, and it was honestly kind of touching to see everyone gathering around their devices and looking so excited to watch Jason and Amanda. (Making it feel even more like a real concert, people held up signs too.) The pair played all of Reunions start to finish, and I thought I might find myself yearning to hear these songs performed with a full band, but they sounded just as gorgeous and powerful with Jason's acoustic guitar, Amanda's violin, and their harmonizing voices. It's a different experience than the album -- and, presumably, than when the 400 Unit finally get to actually take these songs on the road -- but it's a great experience in its own right.
If you missed the stream, or just want to rewatch it, you're in luck. The stream has been archived and you can watch below. Jason and Amanda are also encouraging fans to leave donations to help support the 400 Unit's crew and the MusiCares COVID-19 Relief Fund. You can donate here.
Jason Isbell & Amanda Shires @ Brooklyn Bowl Nashville - 5/15/20 Setlist
1. "What've I Done to Help"
2. "Dreamsicle"
3. "Only Children"
4. "Overseas"
5. "Running With Our Eyes Closed"
6. "River"
7. "Be Afraid"
8. "St. Peter's Autograph"
9. "It Gets Easier"
10. "Letting You Go"