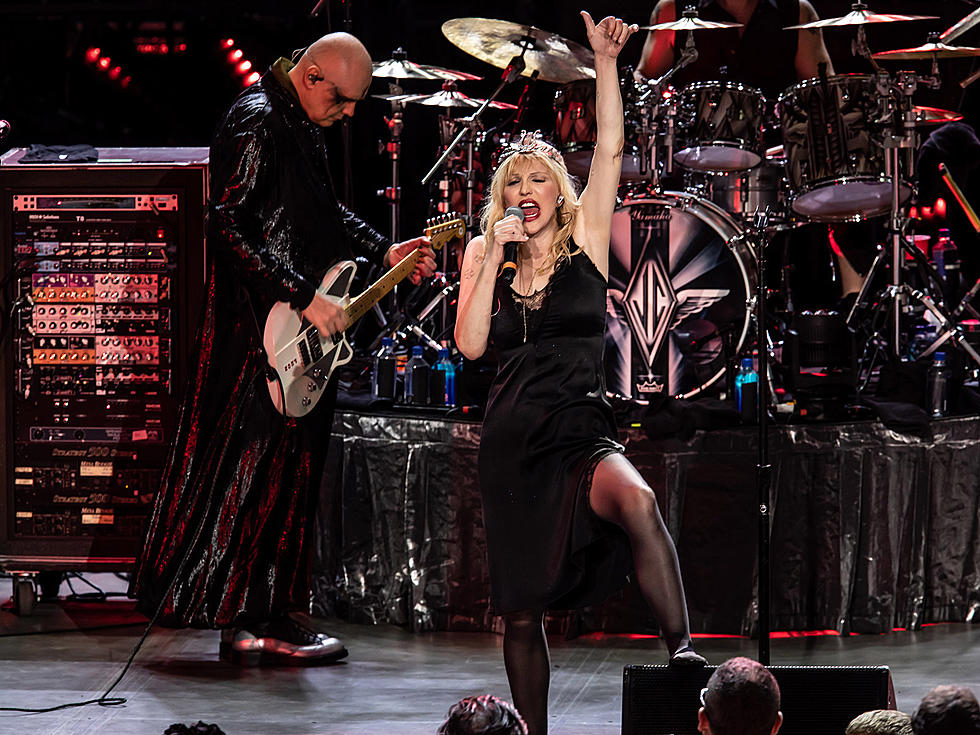 watch Smashing Pumpkins play NJ w/ Courtney Love, Peter Hook, Chino Moreno, Davey Havok, Mark McGrath
photo by P Squared
After playing MSG, The Smashing Pumpkins brought their ongoing "reunion" tour (Billy Corgan, James Iha, and Jimmy Chamberlin included) to NJ's PNC Bank Arts Center on Thursday (8/2) for a special 30th anniversary show. As promised, they brought out tons of huge guests at this show.
First up was Deftones frontman Chino Moreno, who joined the Pumpkins for "Bodies" (which they hadn't played in a decade) and "Snail" (which they hadn't played since 2000). Then they brought out Dave Keuning and Mark Stoermer of The Killers for popular fan faves "Cherub Rock" and "1979." Then, for reasons still unknown, Sugar Ray frontman Mark McGrath (who made vaudeville-style videos that the Pumpkins had previously been showing on tour) came out to do his band's '90s hit "Fly," followed by a cover of Judas Priest's "Breaking the Law."
After Mark left, Billy brought out his longtime friend and collaborator Courtney Love. Before Courtney took the stage, Billy introduced her by saying, "This next special guest and I -- and actually the whole entire Smashing Pumpkins -- we go way back, to about 1990." Turning to James Iha, Billy asks, "Do you remember the day we met this young lady?" "Yes," replies James. "She was in this band called Hole," says Billy, to huge cheers from the crowd. "They had like kind of a few indie hits and then they faded into obscurity... I jest! She's one of my favorite people in the world, we've made love, we've not made love, we've made up, we've broken up, but we're back together again like George and Tammy. Ladies and gentlemen, my dearest friend, Ms. Courtney Love!" Courtney then came out, and said, "Nemesis, best friend, lover, and what a lover -- and I asked for permission to say that -- worst friend, best friend, protector, career-maker, I love this man with all my soul." "And he co-wrote, like, the songs that, like, keep me sustained," Courtney added, before they went on to play two Hole classics that Billy co-wrote with the band, "Celebrity Skin" and "Malibu."
Regarding "Celebrity Skin," Courtney says, "I was like 'this sucks,' and [Billy] goes, 'no the kids will love it,' and I said 'no Billy it sucks,' and he goes 'no the kids will love it.' So here's the deal: BILLY'S ALWAYS RIGHT." Courtney also mentioned that she original wrote "Malibu" for Stevie Nicks but then "Billy made it so good I kept it for myself." After those two, Courtney stuck around to sing with the Pumpkins on their own classic, "Bullet with Butterfly Wings."
And finally, former New Order/Joy Division bassist Peter Hook came out for a few songs by his old bands, as he has done before. First they did "Age of Consent," and then "Transmission," for which they brought out AFI frontman Davey Havok (who also covered that song with the Pumpkins at a warm-up show in June). And finally, Courtney came back on stage, joining the Pumpkins, Peter Hook, and Davey Havok for "Love Will Tear Us Apart."
The Pumpkins then returned for an encore that included their recent "reunion" single "Solara" and the cover of "Baby Mine" from Dumbo that they've been doing this tour.
The set also included tons of other Pumpkins classics like "Rocket," "Siva," "Rhinoceros," "Zero," "Mayonaise," "Tonight, Tonight," "Today," and more, plus a cover of Led Zeppelin's "Stairway to Heaven." Watch videos of the guest appearances and see the full setlist below, and check out pictures in the gallery above.
Like the rest of the tour, Metric opened.
Setlist (via)
Rocket
Siva
Rhinoceros
Zero
The Everlasting Gaze
Stand Inside Your Love
Thirty-Three
Eye
Soma
Blew Away
Mayonaise
Bodies (with Chino Moreno) (First performance since 2008)
Snail (with Chino Moreno) (First full band performance since 2000)
Tonight, Tonight
Stairway to Heaven (Led Zeppelin cover)
Cherub Rock (with Dave Keuning and Mark Stoermer of The Killers)
1979 (with Dave Keuning and Mark Stoermer of The Killers)
Fly (Sugar Ray cover) (with Mark McGrath)
Breaking the Law (Judas Priest cover) (with Mark McGrath)
Today
Celebrity Skin (Hole cover) (with Courtney Love)
Malibu (Hole cover) (with Courtney Love)
Bullet With Butterfly Wings (with Courtney Love)
Age of Consent (New Order cover) (with Peter Hook)
Transmission (Joy Division cover) (with Peter Hook and Davey Havok)
Love Will Tear Us Apart (Joy Division cover) (with Peter Hook, Davey Havok, and Courtney Love)
Encore:
Solara
Baby Mine (Betty Noyes cover)